Gary Glitter has been jailed for 16 years at Southwark Crown Court for a string of historic sex attacks on three schoolgirls.
Glitter, real name Paul Gadd, was found guilty of one count of attempted rape, four counts of indecent assault, and one count of sexual intercourse with a girl under the age of 13 between 1975 and 1980 on 5 February.
The 70-year-old was the first person to be arrested as part of Operation Yewtree.
There was standing room only in court as loyal fans of the former glam rock singer gathered in the public gallery. Earlier, they had read a Glitter annual together, the Press Association reports.
In her mitigating speech, Sallie Bennett-Jenkins QC, defending Glitter, told the court: "We would draw attention to the fact there are those who think highly of this man," apparently in reference to his fans.
Glitter remained passive as his sentence was read out to the court and began walking out of the dock after hearing the total number of years he will spend in jail. He attended court wearing a black velvet coat and burgundy scarf.
Sentencing Glitter, Judge Alistair McCreath said impact statements from all three of his victims made it clear "they were all profoundly affected" by the abuse.
He described Glitter's abuse of a girl under the age of ten, who Glitter had tried to rape in 1975 when he climbed into her bed, as "appalling". "It is difficult to overstate the depravity of this dreadful behaviour," he continued.
All three of Glitter's victims gave tearful accounts of the abuse they suffered at the hands of Glitter during the trial.
Gary Glitter through the years
Gary Glitter through the years
1/10 Gary Glitter

Gary Glitter in London, 1973

Getty Images

2/10 Gary Glitter

Gary Glitter performing in Oxford in 1974

Rex Features

3/10 Gary Glitter

British disc jockey David Hamilton of BBC Radio One with pop star Gary Glitter and a copy of Glitter's new single 'Oh Yes You're Beautiful', 1974

4/10 Gary Glitter

Gary Glitter at the Beverly Hills Hotel, 1974

5/10 Gary Glitter

Gary Glitter pulls a crowd in London's Leicester Square, standing on the roof of a black cab dressed in one of his eye-catching silver costumes as it drives through the streets, 1984

6/10 Gary Glitter

Gary Glitter signs an autograph for a fan at IMF Roll of Honour Awards at the Hilton Hotel in London, 1995

7/10 Gary Glitter

Gary Glitter takes tea at the Silver Clef Awards in London, 1997

8/10 Gary Glitter

Gary Glitter, sits flanked by Vietnamese police before the guilty verdict is read out at the People's Courthouse in Ba Ria, Vietnam. Glitter was sentenced to three years in prison for commiting obscene acts with two underaged girls in Vietnam, 2006

9/10 Gary Glitter

Gary Glitter arrives at Westminster Magistrates Court in London, to face eight charges of sexual offences involving young girls, 2014

10/10 Gary Glitter

Gary Glitter, arrives at Southwark Crown Court in London, 2015
One woman described how she had attended a party at a house - where she had previously met Alvin Stardust - on the night she was attacked in 1975.
She remembered Glitter smelling of "booze and cigarettes" and putting his arm over her, making her feel "uncomfortable".
Glitter's second victim was 12-years-old when he attacked her after a show at Leicester nightclub Baileys in 1977.
She initially went backstage with her mother and had a gold jacket autographed while drinking Moet champagne, but was then invited to the singer's Holiday Inn hotel suite.
Once back in the room, star songwriter, producer and Glitter's manager, Mike Leander led the girl's mother away, while Glitter then led her into the bedroom, the court heard.
The girl tried to push the naked singer away, but as she lifted her hands, he shouted at her not to touch his hair, telling her he had a "phobia".
He then pushed her on to the bed and sexually abused her.
Two indecent assault charges related to a third girl, who was aged 13 when he asked her to sit on his lap in his dressing room between October 1979 and December 1980.
Wearing a silver sequined jumpsuit unzipped to the navel, and silver platform boots, he forcefully kissed the youngster and then slid his hand up her skirt in a club called Baileys in Watford.
Glitter claimed it was impossible that he could have abused the girls in his dressing room because his meticulous wig-maintenance routine required him to return to his suite immediately and clean his hairpiece.
Judge McCreath told Glitter: "You did all of them real and lasting damage and you did so for no other reason than to obtain sexual gratification for yourself of a wholly improper kind."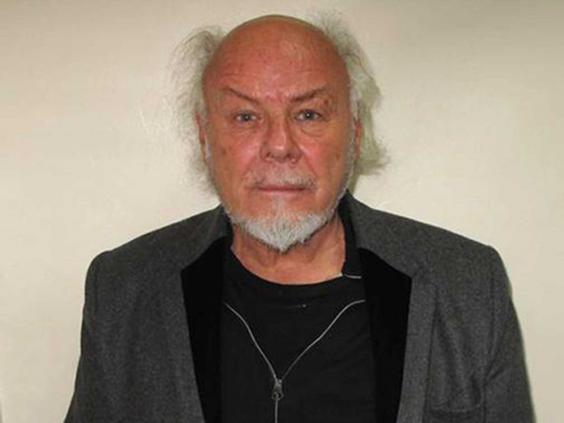 He noted that the legal guidelines in place at the time he committed the offences meant the maximum sentence was "considerably lower" than what can be passed today.
Glitter had a dramatic fall from grace when he admitted possessing 4,000 child pornography images and was jailed for four months in 1999.
In 2002 Glitter was expelled from Cambodia over unspecified allegations, and in March 2006 he was convicted of sexually abusing two girls, aged 10 and 11, in Vietnam.
Glitter, from Marylebone, central London, denied the allegations against him. He was cleared at trial of one count of plying a girl under 13 with alcohol in order to facilitate sexual intercourse, and two further counts of indecent assault.
Additional reporting by Press Association
Reuse content