George Galloway's use of parliamentary funds has been referred to the police by an expenses watchdog following a complaint by his former assistant.
The Independent Parliamentary Standards Authority (Ipsa), which oversees MPs' business costs and their use of public money, has investigated claims made by Aisha Ali-Khan.
She had lodged an official complaint alleging that while she worked for Mr Galloway, she spent a large amount of time on non-parliamentary duties including underwear shopping, making preparations for his wedding and helping the Viva Palestina charity.
Ms Ali-Khan's lawyers claim that it amounted to a breach of obligations to use parliamentary funds to pay staff exclusively for associated functions and activities.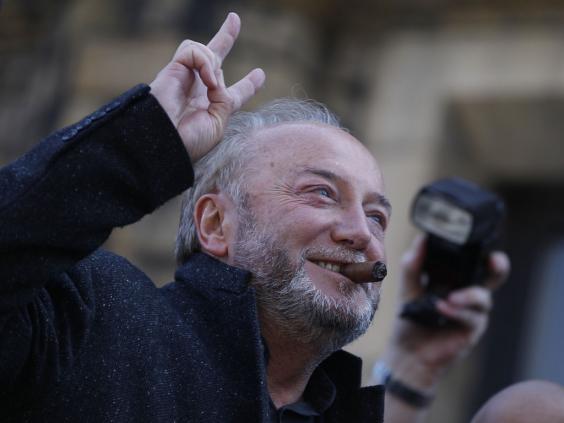 Trevor Asserson, a leading litigation solicitor representing Ms Ali-Khan, said his firm had analysed around 2,000 documents and records to estimate that she spent around 75 per cent of her time on non-parliamentary work.
"We have looked very carefully at the information and we believe this is a credible and compelling case," he told The Independent.
Mr Galloway has previously denied the allegations and claimed his former employee had a "vendetta" against him after she was sacked.
The Respect leader lost his seat as MP for Bradford West to Labour in the general election.
George Galloway's most memorable moments
George Galloway's most memorable moments
1/7 George Galloway

Galloway with Saddam Hussein in 2002

AP

2/7 George Galloway

George Galloway ducks as an egg is thrown at him during a May Day rally in Wallasey, in 2003

PA

3/7 George Galloway

Galloway takes his oath in the US senate in 2005

Getty Images

4/7 George Galloway

Not many can forget the sight of George Galloway licking milk out of the lap of actress Rula Lenska pretending to be a cat on Celebrity Big Brother 2006, but many would like to

5/7 George Galloway

British MP George Galloway (C) is given a rousing welcome by Palestinians after crossing from Egypt into the southern Gaza Strip border town of Rafah in 2010.

Getty Images

6/7 George Galloway

George Galloway was mocked for appearing on Big Brother in a silly catsuit, but he emerged a household name and was re-elected as an MP in 2012

Getty Images

7/7 George Galloway

The outspoken politician George Galloway will turn his hand to film making following an announcement that he intends to produce a feature-length documentary entitled The Killing of Tony Blair in 2012.

PA
A spokesperson for Ipsa said: "Ipsa's compliance officer has completed his assessment of the George Galloway complaint and has passed it to the Metropolitan Police Service."
Scotland Yard confirmed that they had received the referral and a spokesperson said the matter was "currently being assessed".
Responding to the Ipsa statement, Mr Galloway said: "This is news to me. According to the media, Ipsa have had a complaint but they haven't informed me who has complained or exactly what the complaint is about.
"And then, without even a call, an email or a letter, they appear to have handed it on to the Met and gone public about it.
"If Ipsa's compliance officer has completed some kind of investigation without asking for any response from the person complained about, or even letting him know who has complained and what the complaint is about, then that is surely a breach of natural justice, and undoubtedly inspired by Kafka. When I know officially what this is all about, I will respond more fully."
Ms Ali-Khan was given a 12-month conditional discharge last year after admitting encouraging her partner, who was then in the Metropolitan Police, to access confidential emails.