A 14-year-old boy and 16-year-old girl have been arrested on suspicion of terror offences.
The North West Counter Terrorism Unit and Lancashire Constabulary detained the boy on Friday "following the examination of a number of electronic devices", a spokesperson said.
He was arrested at a home in Blackburn on suspicion of "preparing for an act of terrorism".
Also on Friday, police raided a home in the Longsight area of Manchester and detained a 16-year-old girl in connection with "engaging in conduct in preparation" for terrorist acts.
The crime, introduced under the 2006 Terrorism Act, is punishable by life imprisonment for adults.
A spokesperson for Greater Manchester Police said: "As part of an ongoing investigation, officers from the Tactical Aid Unit and North West Counter Terrorism Unit executed a warrant at a house in Longsight.
"A 16-year-old girl was arrested on suspicion of engaging in conduct in preparation for acts of terrorism."
Witnesses speaking to the Manchester Evening News described the street being "full of terrorist police" as the girl was arrested.
Both teenagers have been bailed until 28 May.
The force said the arrests were not related to the continuing investigation into a family of nine people including a one-year-old baby stopped at the Syrian border last week.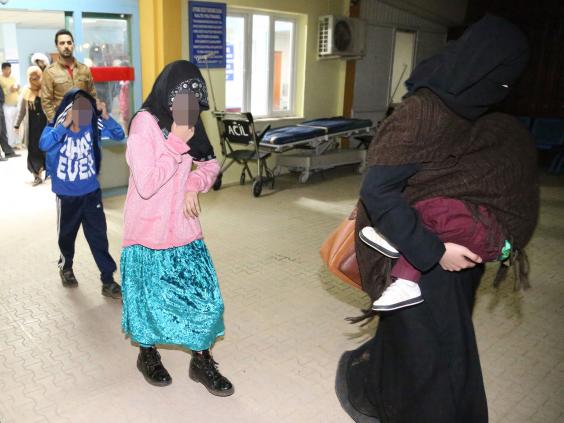 The group from Rochdale were detained by Turkish police on Wednesday. They included Waheed Ahmed, the 21-year-old son of a local councillor, two other men aged 24 and 22, two women aged 47 and 22 and four children aged one, three, eight and 11.
Five men and a woman aged between 23 and 28 were arrested at the port of Dover on suspicion of Syria-related terror offences on Friday.
Around 600 Britons have travelled to Syria and Iraq since the conflict began, the Metropolitan Police believe, while around half are believed to have returned to the UK.
Isis is fighting to establish a so-called Islamic State in both countries and gained control of huge swathes of territory in an offensive last year.
Reuse content