At least six people died and eight others were seriously injured after a bin lorry lost control and crashed into a group of people in Glasgow city centre on Monday afternoon, police have confirmed.
The vehicle was travelling north on Queen Street at around 2:30pm, when it mounted the pavement and hit the side of the Millennium Hotel in George Square, where pedestrians were waiting to cross the road outside Queen Street Station.
Witnesses described how the truck careered 150 yards along the pavement, knocking down victims "like pinballs" in one of Glasgow's busiest areas.
On Monday evening, emergency services were still at the scene where six people died. At least eight people were seriously injured and taken to Glasgow Royal Infirmary, the Southern General, and the Western Infirmary, Police Scotland.
Sadly, six people have died as a result of the #GeorgeSquare major road incident. A further update will be issued in due course.

— Police Scotland (@policescotland) December 22, 2014
The cause of the crash was not immediately clear but there were unconfirmed reports that the driver, who survived, might have suffered a heart attack.
Superintendent Stewart Carle said the driver is receiving hospital treatment, but would not comment on speculation that he or she had fallen ill at the wheel.
Attempting to reassure the public, Mr Carle told reporters at the scene that the incident was a road traffic accident, and "nothing more sinister".
"For now it does not look to be a criminal or deliberate act that has taken place here this afternoon, but we need to have time to investigate it," he said.
He added the police will remain on the scene "for many hours and throughout the night as we investigate the scene and eventually as we recover the dead".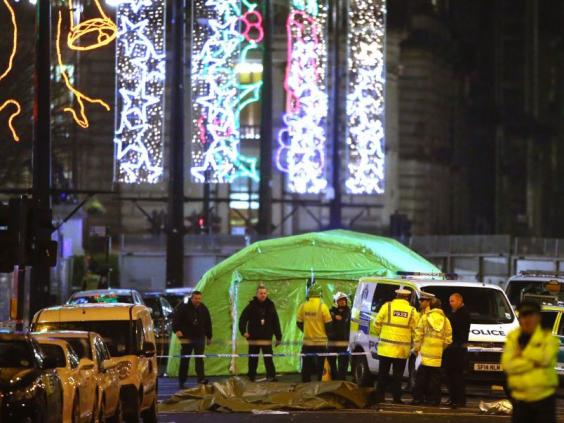 Emergency services, including as many as six ambulances, fire crews and the police rushed to the scene, in an area which was packed with Christmas shoppers.
All roads surrounding the busy area are closed, and the public are advised to stay away from George Square, and make alternative travel arrangements.
We are attending a serious road incident at George Square in Glasgow, which occurred at 2.30pm. More updates to follow.

— Police Scotland (@policescotland) December 22, 2014
Those with concerns relating to the incident are asked to contact Police Scotland on its major incident hotline: 01786 289 070.
However, Police Scotland Assistant Chief Constable Wayne Mawson, asked those in the city to let their loved ones and friends know they are safe, due to the volume of calls to the hotline.
"This is a tragic incident which has taken place at a very busy time in the centre of our city. Please be assured my officers and other members of the emergency services will do everything they can to respond to this collision," Mr Mawson added.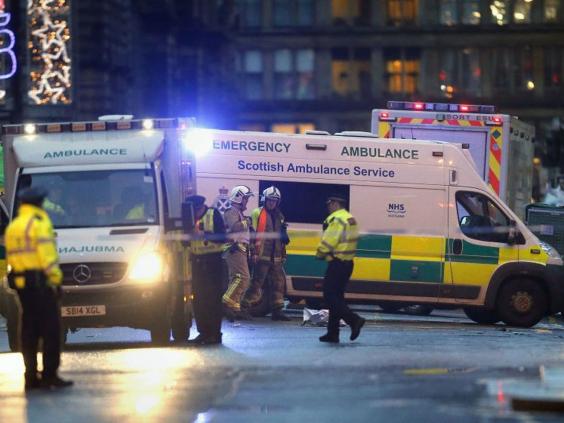 Reports suggest the lorry first struck pedestrians queuing at the Gallery of Modern Art (GoMA), a short distance from George Square, before plowing into the hotel.
A spokesman at GoMA said the museum had not been closed, but could not add any further details.
Witnesses described seeing bodies lying in the road after the incident, and tweeted images of the scene, as #GeorgeSquare trended on social media.
Bin Lorry loses control at Queen Street Station @STVNews what happened? pic.twitter.com/He5FM9MTbg

— Georgina Paton (@GeorginaStar) December 22, 2014
Newsflash: Refuse truck crashes into Millenium Hotel in George Square in Glasgow. Will cause traffic probs. pic.twitter.com/qtq0psdxyg

— Calgacus MacAndrews (@CalgacusMacA) December 22, 2014
Witness Janey Godley told BBC News that people were "getting CPR on the ground" when she arrived in the square.
Christmas shopping was strewn across the street as emergency crews worked to save victims' lives.
Another witness, Melanie Greg, said the lorry travelled 150 yards along the pavement before crashing in George Square.
She told Sky News: "The bin lorry just lost control. It went along the pavement, knocking everyone like pinballs.
"There was a baby in a buggy, and it just continued knocking people down until it ended up in the building. Quite horrific, very scary."
"People were trying to run out of the way. But when something was coming out behind them like that, how can they run out of the way?"
She added: "There was noise, bangs, screams and everything. It was just horrific."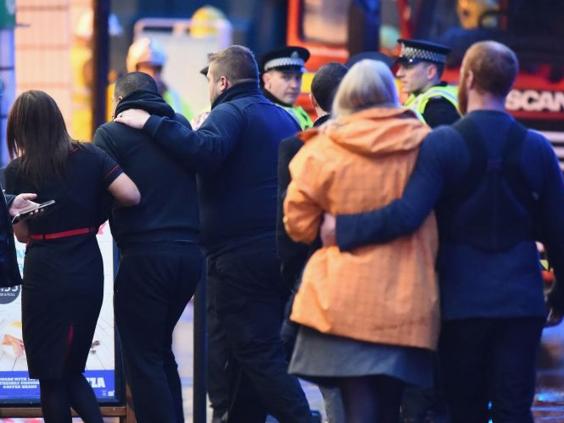 Glasgow City Council tweeted that it considered switching off Christmas lights in George Square as a mark of respect for the victims, but police said the decorations would help with their investigation.
Council leader Gordon Matheson called the incident "a terrible tragedy".
"Our thoughts and prayers are with all those affected," he said.
Other political leaders in Scotland and at Westminster have also expressed their shock and paid tribute to the emergency services.
Prime Minister David Cameron wrote on Twitter that he was being briefed on the incident.
"My thoughts are with the families of those involved & the emergency services," he said.
First Minister of Scotland and SNP leader Nicola Sturgeon and Labour MP for Glasgow Central, Anas Sarwar, mirrored police calls for those in the city to notify loved ones of their safety.
My thoughts with everyone involved in dreadful #GeorgeSquare incident. If you are in city centre, please let your relatives know you are ok.

— Nicola Sturgeon (@NicolaSturgeon) December 22, 2014
Labour leader Ed Miliband tweeted: "Terrible news from Glasgow - my thoughts are with all those affected by this horrific accident."
Newly appointed Scottish Labour leader Jim Murphy expressed his condolences for families affected by the tragedy so near Christmastime.
He told BBC News: "People in Glasgow and across the whole of Scotland will be mourning this loss of life so close to Christmas. No words will be able to do justice to the pain the families involved will be feeling this evening.
"I want to pay tribute to our emergency services, who are performing heroics in the worst of circumstances. They will have the admiration of every Glaswegian and all Scots."
Liberal Democrat leader Nick Clegg tweeted: "Horrific news in Glasgow. My heart goes out to the families of all those caught up in this awful incident."
Moderator of the General Assembly, Rt Rev John Chalmers, said: "The news from the city centre of Glasgow just a few days before Christmas is simply devastating.
"For the second year in a row Glaswegians will have to dig deep into their reserves of compassion and sympathy as they support the families of those who have been killed and injured today.
"I am sure that in these circumstances the churches and faith communities of Glasgow will do all that they can to bring support and comfort to those caught up in this tragedy and that all round Scotland and beyond; Glasgow will be remembered in the prayers of the people."
Appearing to refer to the tragic helicopter crash at the Clutha pub in central Glasgow  on 29 November last year, comedian Rory Bremner tweeted: "Terrible that Glasgow's mighty spirit is being tested yet again by tragedy. At this time too. Heartfelt sympathy to victims & families."
During that incident, ten people died when a police helicopter crashed on to the roof of the pub.
Additional reporting by PA
Reuse content