The Government ramped up pressure on Russia today by announcing a public inquiry into the poisoning of former KGB officer Alexander Litvinenko – after previously refusing such calls on grounds of "international relations".
The abrupt change of policy was welcomed by the former agent's widow, Marina Litvinenko, as an opportunity to secure justice and to hold the Russian state responsible for his agonising death eight years ago.
Experts expressed scepticism about the Government's assertion that the timing of the announcement was unrelated to attempts to increase pressure on Vladimir Putin following the downing of the Malaysia Airlines passenger jet over Ukraine. Whitehall officials said it was only announced yesterday to ensure the process was started before MPs' summer recess began.
"No one in Russia will be thinking this is accidental and it probably isn't," said Henry Plater-Zyberk, a senior research fellow at the Prague Security Studies Institute. "I think it comes out as a cheap shot."
Mrs Litvinenko welcomed the U-turn, but said she accepted that the result of any inquiry would not change Russian policy in refusing to send the two main suspects for the killing, Andrei Lugovoi – a former KGB officer and current member of the Russian parliament – and Dmitri Kovtun, to Britain to stand trial.
Under the terms of the inquiry, investigators can examine whether the Russian state was behind the murder but cannot look into whether the British authorities could have done anything to prevent his death. Mrs Litvinenko's legal team will also not be able to view some documents on grounds of national security.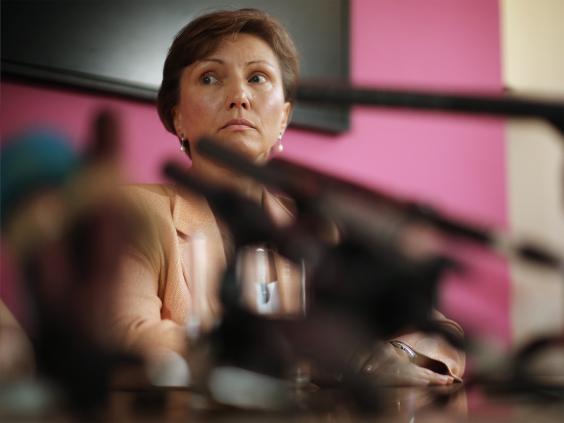 The Government had previously refused to consider holding an inquiry until an inquest had run its course. But in February the High Court told the Home Secretary, Theresa May, to rethink her decision following a court challenge by Mrs Litvinenko. The inquiry will be chaired by senior judge Sir Robert Owen, the current coroner in the inquest.
Ms May detailed the change of plan yesterday in Parliament after the Prime Minister called for tougher sanctions against Russia over its policies in Ukraine. Mrs Litvinenko's legal team said the timing of the decision was a "convergence of circumstances".
"I don't want to be used," said Mrs Litvinenko. "I said from the beginning … it's a case of murder but it's happened because some state is behind this." She said that she was "relieved and delighted" with this decision.
"It sends a message to Sasha's murderers: no matter how strong and powerful you are, truth will win out in the end and you will be held accountable for your crimes," she said in a statement.
"It has taken nearly eight years to bring those culpable for Sasha's murder to justice. I look forward to the day when the truth behind my husband's murder is revealed."
Mr Litvinenko, 43, fled to Britain in 2000 and spent the last years of his life as a Kremlin critic, claiming that the FSB security service was linked to a series of bombings around Russia, which served as the pretext to go to war against Chechnya.
Mr Litvinenko died an agonising death in hospital three weeks after drinking a cup of tea believed to have been contaminated with polonium-210 during a meeting in London with the two suspects in 2006. The two men – named as suspects by the CPS – refused to take part in any inquest, and Russia's refusal to co-operate in the police investigation led to a crisis in relations between the two countries.
A government spokesman said: "It is more than seven years since Mr Litvinenko's death and this Government remains committed to seeking justice for his family."
Reuse content