The Government is under mounting pressure from MPs, vets, and animal welfare campaigners to ban religious slaughter, after scenes of cruelty – shown in an undercover video of a halal abattoir - sparked public revulsion.
The disturbing findings of the investigation at the Bowood Lamb abattoir in North Yorkshire, by Animal Aid, reported in today's Independent, have already resulted in one slaughterman being sacked and three suspended.
Undercover footage showed scenes including workers repeatedly hacking at sheep's throats and animals being kicked in the head and face.
In a statement, the company described animal welfare as "its highest priority" and said: "We set very high standards for the way in which animals that pass through our premises are treated and we enforce those standards rigorously."
But the cruelty caught on camera shows that the Government should "bite the bullet" and ban the religious slaughter of animals who are not stunned first, a senior Conservative backbencher told The Independent.
Warning: Contains graphic footage
"This highlights the very real concern over halal and kosher slaughter. My impression is that all political parties have fought and fight shy of addressing the issue because of the concern not to upset certain faith groups," said Sir Roger Gale MP, a former vice chair of the Conservative Party. "The bottom line is there is no justification for ritual slaughter without pre-stunning. We should bite the bullet and legislate if necessary and simply say point blank there will be no ritual slaughter without pre-stunning," he added.
His views were backed by members of the commons select committee on environment, food and rural affairs.
"This issue is not going to go away until we get to the point where all animals are stunned before they are killed," said committee member Mark Spencer MP.

Muslim and Jewish abattoirs are exempt, on religious grounds, from laws requiring that animals be stunned before they are killed.
More than 100,000 people have signed a petition by the British Veterinary Association calling for an end to slaughter without pre-stunning for all animals.
In its response to the petition, the Government states that it "encourages the highest standards of welfare at slaughter and would prefer to see all animals stunned before they are slaughtered for food" but that "we also respect the rights of the Jewish and Muslim communities to eat meat prepared in accordance with their religious beliefs".
Ukip backed calls for a ban on the killing of animals which are not stunned first.
The cruelty documented at the halal abattoir is symptomatic of a wider problem across the industry, rather than one confined to religious slaughter, say campaigners.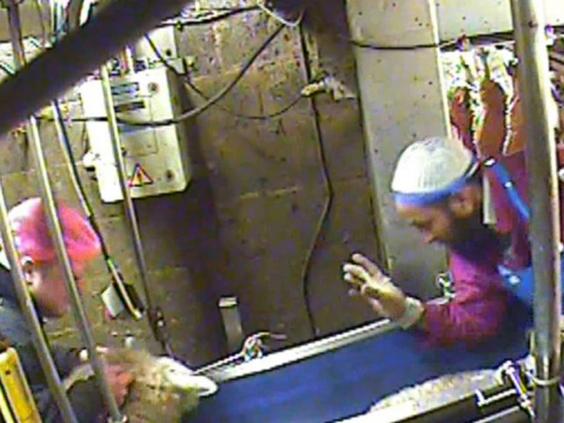 Neil Parish MP, chair of the all-party parliamentary group on animal welfare, commented: "There is a danger that an outright ban on religious slaughter would not improve the welfare of animals at the point of slaughter." He added: "Driving our halal meat industry abroad to countries without our robust animal welfare standards and our supply chain traceability might result in more animals being slaughtered without stunning."
Conservative MP Henry Smith, who led a debate in the Commons last night calling for CCTV in slaughterhouses, told The Independent: "It is about ensuring an 'independent eye' exists to help prevent animal abuse."
A spokesperson for the Muslim Council of Britain said: "Animal welfare should be observed by all slaughterhouses," and added: "We also believe, to increase trust for the consumers, that the use of CCTV cameras in abattoirs should be seriously considered."
A report by the Farm Animal Welfare Committee, released today, recommends that slaughterhouses install CCTV "in a manner that allows for the clear and uninterrupted recording of all actions and areas involving live animals and animal killing". It said the footage should be "regularly and securely monitored".
In a statement, a Defra spokesperson said: "Safeguarding animal welfare is important, that is why we commissioned the Farm Animal Welfare Committee to look at this issue. We will look at options in the light of their report which shows that CCTV can play a role in facilitating inconspicuous monitoring but it also has limitations and relies on regular monitoring."