A major international child abuse ring has been dismantled by police who controversially "captured" and operated for several months online sites which shared images of children being abused.
Police and other law enforcement agencies actively ran the child abuse sites, believed to be the world's two largest, in an effort to identify the abusers who hid their true identities on the Tor network.
Hundreds of arrests took place worldwide following the operation. One of the first Britons arrested pleaded guilty at Blackfriars Crown Court, south London, and was jailed in January. Vithusan Puvaneswaran, 21, used the encrypted Tor software to access anonymously one US site and build up a massive collection of photos and videos. National Crime Agency officers found "sickening images of children in cots" and other abuse material when they raided his home in west London last year.
His identity was uncovered by US investigators who seized and then began operating a US-based site known as Playpen. US court documents describe the site as "the largest remaining known child pornography hidden service in the world".
In February 2015, FBI agents seized control of the site and used it to hack the computers of users to reveal their true identities and arrest them. It is claimed the FBI identified more than 1,300 users of the site in a two-week period and passed on information to forces all over the world. Arrests as far afield as Greece and Chile as well as Britain followed, according to one report by the website Vice Motherboard.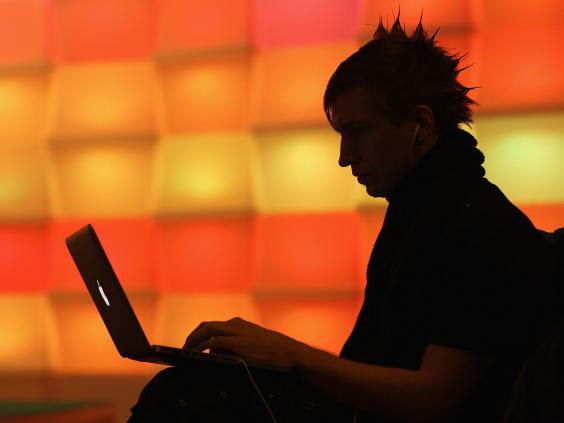 The US operation was run jointly with a Europol operation which targeted a second so-called "dark web" child abuse site based in Europe which also employed Tor encryption software to hide users' identities.
Tor – which stands for The Onion Router – gives many layers of privacy protection by routing the user's unique computer address through thousands of servers before delivering it to the child abuse site. This network makes it almost impossible for law enforcement to trace the original source. The network was developed by the US military to protect its communications but became popular with political activists facing persecution. 
The FBI operation led to the arrest of three US citizens alleged to have administered the site. Two have pleaded guilty while a third is still being dealt with. The US site was uncovered following a joint investigation by Australian and Europol police into a separate child abuse site which has proved crucial in cracking open the international child sex ring.
World news in pictures
World news in pictures
1/30 27 May 2016

An aerial picture shows firefighters spraying foam at the engine of a Korean Air Lines plane after smoke rose from it at Haneda airport in Tokyo, Japan

Reuters

2/30 26 May 2016

A man walks his donkey and its load through flooded streets Beledweyne, north of Mogadishu. Hundreds of families have been forced out of their homes following flash floods in Beledweyne after torrential rains pounded the area in the last few days. The heavy rains led to the bursting of River Shabelle which caused massive floods in residential areas along the river

Getty Images

3/30 26 May 2016

A worker checks a mask of U.S. Republican presidential candidate Donald Trump at Jinhua Partytime Latex Art and Crafts Factory in Jinhua, China

Reuters

4/30 26 May 2016

Estonia's olympic team female marathon runners triplets (L-R) Leila, Liina and Lily Luik pose for a picture after a training session in Tartu

Reuters

5/30 25 May 2016

Lightning from a severe storm fills the sky behind a grain elevator in Bellevue, Kansas

AP

6/30 25 May 2016

Riot police stand guard behind a fire as refinery workers hold a blockade of the oil depot of Douchy-Les-Mines to protest against the government's proposed labour reforms

Getty

7/30 25 May 2016

Vehicles are stuck in a sinkhole near Ponte Vecchio. A sinkhole measuring about 200 meters long and seven meters wide opened up in central Florence

EPA

8/30 24 May 2016

Protesters picket outside the event site before Republican U.S. presidential candidate Donald Trump begins a rally with supporters in Albuquerque, New Mexico

Reuters

9/30 24 May 2016

An Indian policeman uses a baton to disperse demonstrators during a protest by government employees demanding their long pending arrears and a regularisation of their temporary jobs, according to protesters, in Srinagar

Reuters

10/30 23 May 2016

Confiscated rare and protected wildlife products such as these stuffed Sumatran tiger skins are burned and destroyed during a ceremony by government forestry and wildlife officials in Banda Aceh, Indonesia

Reuters

11/30 23 May 2016

A woman leads a school pupil away from tear gas and a burning barricade in Kibera slum, during a demonstration of opposition supporters protesting for a change of leadership ahead of a vote due next years in Nairobi

Getty Images

12/30 23 May 2016

A crane destroys over one million pirated music, movie and software CDs and DVDs in a campaign against piracy organised by the government in Algiers, Algeria

Reuters

13/30 23 May 2016

Shi'ite fighters forces launch a rocket towards Islamic State militants on the outskirts Falluja, Iraq

Reuters

14/30 22 May 2016

Yemenis take part in celebrations marking the 26th anniversary of Yemen's 1990 reunification in the capital Sanaa

Getty Images

15/30 22 May 2016

Indonesian soldiers carry resident's belongings as they aid in evacuation efforts from a village impacted by the Mount Sinabung eruption at Gamber Village in North Sumatra. At least six people were killed and two others were seriously wounded after the Mount Sinabung volcano in North Sumatra province of western Indonesia erupted

EPA

16/30 21 May 2016

Demonstrators clash with riot police in the surroundings of the Congress in Valparaiso, while Chilean President Michelle Bachelet delivers her annual message to the nation

Getty Images

17/30 21 May 2016

The Egyptian military spokesman released pictures of debris that the search teams found in the sea after the EgyptAir Airbus A320 crashed in the Mediterranean

Getty Images

18/30 21 May 2016

Sri Lankan flood victims push a trishaw through floodwaters in the Kolonnawa suburb of Colombo

Getty Images

19/30 20 May 2016

A protester write on the facade of the Ministry of Justice building with color spray during an anti-government protest in Skopje, in a series of protests dubbed Colourful Revolution. Crisis-hit Macedonia postponed elections due next month, after the European Union called on Skopje to delay the polls to ensure they could take place freely and fairly

Getty Images

20/30 20 May 2016

Members of the Ukrainian national guard "Azov" regiment and activists of the Azov civil corp take part in a protest against local elections in pro-Russian rebel-held areas of eastern Ukraine under the Minsk peace agreement, in Kiev

Reuters

21/30 19 May 2016

Families of passengers who were flying in an EgyptAir plane that vanished from radar en route from Paris to Cairo react as they wait outside a services hall at Cairo airport

Getty Images

22/30 18 May 2016

A man clashes with policemen during a protest against new emergency powers decreed this week by President Nicolas Maduro in Caracas. Public outrage was expected to spill onto the streets of Venezuela, with planned nationwide protests marking a new low point in Maduro's unpopular rule

Getty Images

23/30 18 May 2016

A police car explodes after being set on fire during an unauthorized counter-demonstration against police violence in Paris, as Police across France demonstrate today against the "anti-cop hatred" they say they have endured during a wave of anti-government protests since early March

Getty Images

24/30 18 May 2016

Sri Lankan military personnel take part in relief and rescue efforts following a landslide in the village of Bulathkohupitiya. Rescue workers recovered the bodies of 17 villagers buried in landslides in Sri Lanka after three days of torrential rain. The disaster hit two small villages in Kegalle, a mountainous area northeast of Colombo, and takes the overall death toll from flooding and landslides in recent days to 36

Getty Images

25/30 18 May 2016

A protester against visiting Zhang Dejiang, the chairman of China's National People's Congress, confronts police in Hong Kong

Reuters

26/30 18 May 2016

Chicks dyed to draw attention are offered for sale at a small poultry market in Jakarta, Indonesia

Reuters

27/30 17 May 2016

A man throws a fire extingusher at Parliamentary security behind a closed door after members of Julius Malema's Economic Freedom Fighters (EFF) were evicted from Parliament during President Jacob Zuma's question and answer session in Cape Town, South Africa

Reuters

28/30 17 May 2016

Supporters of Federal Alliance, a coalition of Madhes-based parties and other ethnic political parties and organizations, protest against the constitution near the Prime Minister's official residence in Kathmandu, Nepal

Reuters

29/30 17 May 2016

Members of a Sri Lankan Army rescue team carry a woman to safety through floodwaters in the suburb of Kaduwela in capital Colombo. Emergency workers in Sri Lanka found the bodies of a woman and two children killed in a landslide, taking the toll from two days of heavy rain to 11, with thousands more forced to flee their homes

Getty Images

30/30 16 May 2016

Protesters light flares and wave flags marching through a street, during an anti-government protest in Skopje, in series of protests dubbed "Colorful Revolution". Macedonia has been politically gridlocked for two years but the crisis rose a notch on 12 April when President Gjorge Ivanov halted a probe into more than 50 public figures suspected of involvement in corruption and a wire-tapping scandal. The move triggered street protests against Ivanov and the ruling party's leader, Nikola Gruevski. Fresh demonstrations drew several thousand, mostly young people who demanded Ivanov resignation

Getty Images
Australian police gained access to KidClub, one of the world's biggest child abuse networks with more than 400,000 members, allegedly controlled by a Danish citizen. To join and access the images, members had to provide graphic videos and photos of their own abuse. Child victims held signs bearing the words "the KidClub" and their abuser's username.
The Australian officers were able to identify an Adelaide man called Shannon McCoole. McCoole, 34, who was a key administrator of the online site, was jailed for 35 years for sexually abusing children in his care last year. After arresting him police impersonated him online for several months, enabling them to hijack the site and identify other abusers including the US website organisers.
They also identified a key Danish abuser, described as one of Europe's most prolific paedophiles, who they say also helped control KidClub. The 48-year-old was arrested after the Australian detectives posing as McCoole engaged him in an online conversation while Danish detectives entered his house to arrest him and gain access to his computer.
The arrested man, who cannot be named for legal reasons, has gone on trial in Denmark. Investigators said there was evidence to suggest that he was responsible for uploading 3,696 photos and 116 videos of child abuse. Danish police said the site's membership rules undoubtedly led to many sexual attacks on children. Prosecutors told the court that the man allegedly travelled to Romania with the intention to "buy or in some other way acquire an infant for the purposes of abusing the child sexually". 
The man denies being a senior figure in the network. McCoole gave evidence against him last December via video from prison.
Europol director Rob Wainwright said Operation Pacifier had succeeded in shutting down the site and securing its abuse images so they could not be used again. He said the investigation had generated more than 3,200 cases.