A major international child abuse ring has been dismantled by police who controversially "captured" and operated for several months online sites which shared images of children being abused.
Police and other law enforcement agencies actively ran the child abuse sites, believed to be the world's two largest, in an effort to identify the abusers who hid their true identities on the Tor network.
Hundreds of arrests took place worldwide following the operation. One of the first Britons arrested pleaded guilty at Blackfriars Crown Court, south London, and was jailed in January. Vithusan Puvaneswaran, 21, used the encrypted Tor software to access anonymously one US site and build up a massive collection of photos and videos. National Crime Agency officers found "sickening images of children in cots" and other abuse material when they raided his home in west London last year.
His identity was uncovered by US investigators who seized and then began operating a US-based site known as Playpen. US court documents describe the site as "the largest remaining known child pornography hidden service in the world".
In February 2015, FBI agents seized control of the site and used it to hack the computers of users to reveal their true identities and arrest them. It is claimed the FBI identified more than 1,300 users of the site in a two-week period and passed on information to forces all over the world. Arrests as far afield as Greece and Chile as well as Britain followed, according to one report by the website Vice Motherboard.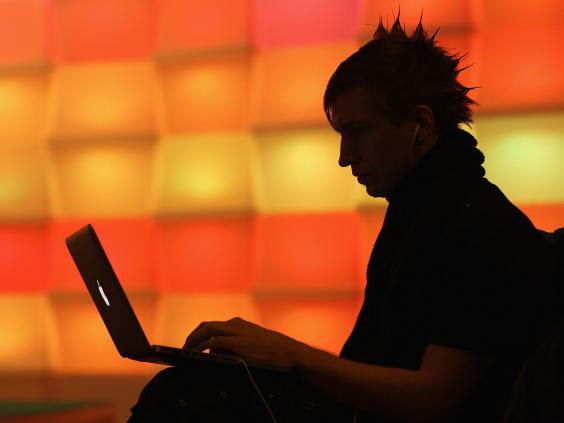 The US operation was run jointly with a Europol operation which targeted a second so-called "dark web" child abuse site based in Europe which also employed Tor encryption software to hide users' identities.
Tor – which stands for The Onion Router – gives many layers of privacy protection by routing the user's unique computer address through thousands of servers before delivering it to the child abuse site. This network makes it almost impossible for law enforcement to trace the original source. The network was developed by the US military to protect its communications but became popular with political activists facing persecution. 
The FBI operation led to the arrest of three US citizens alleged to have administered the site. Two have pleaded guilty while a third is still being dealt with. The US site was uncovered following a joint investigation by Australian and Europol police into a separate child abuse site which has proved crucial in cracking open the international child sex ring.
World news in pictures
World news in pictures
1/30 26 June 2016

A LGBT member waves a rainbow flag during a rally staged by the LGBT community on Istiklal avenue in Istanbul. Riot police fired tear gas and rubber bullets to disperse protesters defying a ban on the city's Gay Pride parade. Authorities in Turkey's biggest city had banned the annual parade earlier this month citing security reasons, sparking anger from gay rights activists

AFP/Getty Images

2/30 26 June 2016

A burned out truck rests on a roadside after the Erskine Fire burned through Weldon, California

REUTERS

3/30 26 June 2016

Men flagellate during the Shiite Youm Ali procession in Islamabad, Pakistan

REUTERS

4/30 25 June 2016

A man raises his hands as he runs from the scene of a suicide bomb attack outside Nasahablood hotel in Somalia's capital Mogadishu

REUTERS

5/30 25 June 2016

A Ukrainian Forces soldier fires a heavy machine gun during a battle with pro-Russian separatists at Avdeyevka, in Ukraine's Donetsk region

AFP/Getty Images

6/30 25 June 2016

A man practices his contact juggling skills in Manila, Philippines

AFP/Getty Images

7/30 24 June 2016

A rider rears up on his horse while surrounded by a cheering crowd during the traditional Fiesta of Sant Joan (Saint John) in downtown Ciutadella, on the island of Menorca, Spain

REUTERS

8/30 24 June 2016

A man throws a bucket of water at a motorcyclist as residents join in a water-splashing frenzy to honor their patron St. John the Baptist's Feast Day in San Juan, Metro Manila, Philippines

REUTERS

9/30 23 June 2016

Migrant workers supporting Myanmar Foreign Minister and State Counselor Aung San Suu Kyi wave to her during a meeting at the coastal fishery centre of Samut Sakhon, Thailand

REUTERS

10/30 23 June 2016

A general view shows the financial district of Lujiazui in Shanghai

AFP/Getty Images

11/30 23 June 2016

A cat walks past Muslim women offering afternoon prayers at a mosque at the shrine of Sufi Saint Khawaja Naqashband during the holy month of Ramadan in Srinagar

REUTERS

12/30 23 June 2016

A test launch of ground-to-ground medium long-range ballistic rocket Hwasong-10 in North Korea

REUTERS

13/30 22 June 2016

Family members cry near coffins containing the bodies of Nepali nationals, who were killed when a suicide bomber struck a minibus in Kabul, lined up after being flown from Afghanistan at Tribhuvan International Airport in Kathmandu, Nepal

REUTERS

14/30 22 June 2016

Villagers carry banners which read "Plead the central government to help Wukan" (in red) and "Wukan villagers don't believe Lin Zuluan took bribes" during a protest in Wukan, China's Guangdong province

REUTERS

15/30 21 June 2016

A plane drops retardant on a wildfire as it attacks the flames on a hillside in the San Gabriel mountains near Monrovia, California

REUTERS

16/30 21 June 2016

Aymara indigenous hold up their hands to receive the first rays of sunlight in a New Year's ritual in the ruins of the ancient city Tiwanaku, Bolivia. Bolivia's Aymara Indians are celebrating the year 5,524 as well as the Southern Hemisphere's winter solstice, which marks the start of a new agricultural cycle

AP

17/30 21 June 2016

A resident making his way through a flooded area in a village in Poyang county, in southeast China's Jiangxi province

AFP/Getty Images

18/30 20 June 2016

Seagulls fly as the full moon rises behind the ancient marble Temple of Poseidon at Cape Sounion, southeast of Athens, on the eve of the summer solstice

AP

19/30 20 June 2016

An aerial view shows people practising yoga on a glass sightseeing platform ahead of the International Day of Yoga, on the outskirts of Beijing, China

REUTERS

20/30 20 June 2016

Dessana indigenous shaman Raimundo Dessana holds the Olympic Torch during a ritual at the Tupe Reservation in the outskirts of Manaus, Amazonas, Brazi

AFP/Getty Images

21/30 20 June 2016

An emu runs to escape an approaching wildfire as it burns near Potrero, California

REUTERS

22/30 20 June 2016

Wales' supporters cheer downtown Toulouse, before the Euro 2016 football match of Russia vs Wales

AFP/Getty Images

23/30 19 June 2016

A rescuer grabs a rope to prevent a raft carrying residents from being flushed away as residents are evacuated from a flooded area in Jiujiang, China

REUTERS

24/30 19 June 2016

Palestinians scuffle with an Israeli border policeman as Israeli troops demolish sheds belonging to Palestinians near the West Bank village of Yatta, south of Hebron

REUTERS

25/30 19 June 2016

People hold placards reading "A kiss against hate", "Rome loves Europe" as they gathered in front of the Colosseum to send a message of affection, sealed with a kiss to Britain, before next week's referendum, in Rome, Italy

REUTERS

26/30 19 June 2016

People perform dragon dance and present it in a shape of the Chinese character "father" to celebrate Father's Day in Yueyang, China

REUTERS

27/30 19 June 2016

A humming bird is seen landing on a bird feeder at a public square in Santiago, Chile

REUTERS

28/30 18 June 2016

A reveller participates in Regenbogenparade gay pride parade in Vienna, Austria

REUTERS

29/30 18 June 2016

Mohammed Tofeeq holds his 10-month-old daughter, Gulshan Tofeeq, while he prays at the grave of his wife Muqadas Tofeeq, who local police say was killed by her mother, in Butrawala village on the outskirts of Gujranwala in Pakistan. Police have arrested the mother of Muqadas Tofeeq who is accused of killing her pregnant daughter for marrying against the wishes of her family. Violence against women is not uncommon in Pakistan where nearly 1,000 women are killed each year in so-called "honor killings" for violating conservative norms on love and marriage

AP

30/30 17 June 2016

A relative of a an Indian man convicted for the 2002 Gujarat riots cries after the court announced the lengths of the sentences in Ahmadabad, India. An Indian court has sentenced 11 people to life in prison for murder in one of the many deadly religious riots that swept across the western state of Gujarat in 2002, leaving more than 1,000 dead. Special Court Judge P. B. Desai rejected the demand for death penalty as the prosecution failed to prove charges of criminal conspiracy against the defendants. The judge also sentenced 12 defendants to seven years in prison and one to 10 years in prison in the case

AP
Australian police gained access to KidClub, one of the world's biggest child abuse networks with more than 400,000 members, allegedly controlled by a Danish citizen. To join and access the images, members had to provide graphic videos and photos of their own abuse. Child victims held signs bearing the words "the KidClub" and their abuser's username.
The Australian officers were able to identify an Adelaide man called Shannon McCoole. McCoole, 34, who was a key administrator of the online site, was jailed for 35 years for sexually abusing children in his care last year. After arresting him police impersonated him online for several months, enabling them to hijack the site and identify other abusers including the US website organisers.
They also identified a key Danish abuser, described as one of Europe's most prolific paedophiles, who they say also helped control KidClub. The 48-year-old was arrested after the Australian detectives posing as McCoole engaged him in an online conversation while Danish detectives entered his house to arrest him and gain access to his computer.
The arrested man, who cannot be named for legal reasons, has gone on trial in Denmark. Investigators said there was evidence to suggest that he was responsible for uploading 3,696 photos and 116 videos of child abuse. Danish police said the site's membership rules undoubtedly led to many sexual attacks on children. Prosecutors told the court that the man allegedly travelled to Romania with the intention to "buy or in some other way acquire an infant for the purposes of abusing the child sexually". 
The man denies being a senior figure in the network. McCoole gave evidence against him last December via video from prison.
Europol director Rob Wainwright said Operation Pacifier had succeeded in shutting down the site and securing its abuse images so they could not be used again. He said the investigation had generated more than 3,200 cases.