A major international child abuse ring has been dismantled by police who controversially "captured" and operated for several months online sites which shared images of children being abused.
Police and other law enforcement agencies actively ran the child abuse sites, believed to be the world's two largest, in an effort to identify the abusers who hid their true identities on the Tor network.
Hundreds of arrests took place worldwide following the operation. One of the first Britons arrested pleaded guilty at Blackfriars Crown Court, south London, and was jailed in January. Vithusan Puvaneswaran, 21, used the encrypted Tor software to access anonymously one US site and build up a massive collection of photos and videos. National Crime Agency officers found "sickening images of children in cots" and other abuse material when they raided his home in west London last year.
His identity was uncovered by US investigators who seized and then began operating a US-based site known as Playpen. US court documents describe the site as "the largest remaining known child pornography hidden service in the world".
In February 2015, FBI agents seized control of the site and used it to hack the computers of users to reveal their true identities and arrest them. It is claimed the FBI identified more than 1,300 users of the site in a two-week period and passed on information to forces all over the world. Arrests as far afield as Greece and Chile as well as Britain followed, according to one report by the website Vice Motherboard.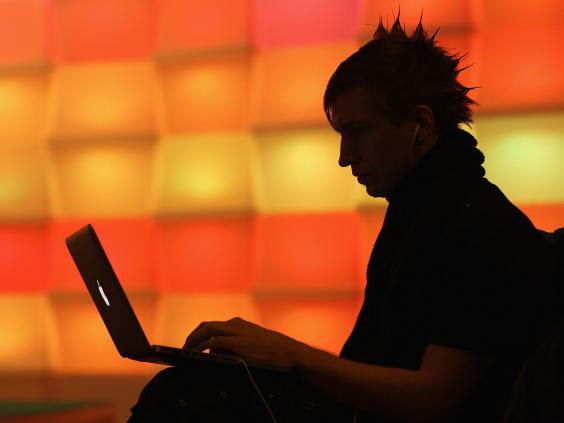 The US operation was run jointly with a Europol operation which targeted a second so-called "dark web" child abuse site based in Europe which also employed Tor encryption software to hide users' identities.
Tor – which stands for The Onion Router – gives many layers of privacy protection by routing the user's unique computer address through thousands of servers before delivering it to the child abuse site. This network makes it almost impossible for law enforcement to trace the original source. The network was developed by the US military to protect its communications but became popular with political activists facing persecution. 
The FBI operation led to the arrest of three US citizens alleged to have administered the site. Two have pleaded guilty while a third is still being dealt with. The US site was uncovered following a joint investigation by Australian and Europol police into a separate child abuse site which has proved crucial in cracking open the international child sex ring.
World news in pictures
World news in pictures
1/30 17 August 2016

Indonesian students play traditional drums called "Dol" from Bengkulu province as they participate in the Indonesian Independence day ceremony in Jakarta

AFP/Getty Images

2/30 17 August 2016

A woman attempts to cover a tear gas canister fired by police at a crowd in Srinagar protesting against the recent killings in Kashmir

REUTERS

3/30 17 August 2016

Participants struggle to reach the prizes on the top of greasy slippery poles in Jakarta, as part of Indonesia's celebrations to mark its 71st independent day anniversary

AFP/Getty Images

4/30 16 August 2016

An air tanker drops fire retardant on the Blue Cut wildfire in Lytle Creek, California. The fire is currently 9,000 plus acres, with 700 personnel on scene. Fifty-seven engines, 8 crews, 8 air tankers, 2 Very Large Air Tankers (VLATS), with additional firefighters and equipment on order

AFP/Getty Images

5/30 16 August 2016

Free Syrian army fighters stand atop of a hill as the moon is seen in the background in the south of Nawa city, in Deraa Governorate, Syria

REUTERS

6/30 16 August 2016

A Palestinian youth is being evacuated after he was wounded during clashes with Israeli soldiers conducting searches in the Palestinian al-Fawwar refugee camp, south of the West Bank city of Hebron

AFP/Getty Images

7/30 16 August 2016

AFP/Getty Images

8/30 16 August 2016

Mine workers sing as they wait for the commemoration to get under way near Marikana in Rustenburg, South Africa. On 16 August 2012 police shot and killed 34 Lonmin striking miners, apparently while trying to disperse them and end their strike. Ten people, including two police officers and two Lonmin security guards, were killed in the preceding week

AP

9/30 16 August 2016

People look at a crater caused by a Saudi-led coalition air strike at the yard of a hospital operated by Medecins Sans Frontieres in the Abs district of Hajja province, Yemen

REUTERS

10/30 15 August 2016

People cool off at a swimming pool in Daying county, China

REUTERS

11/30 15 August 2016

Turkish soldiers from a military guard of honor carry coffins during a mass burial ceremony for Turkish Cypriots who went missing in 1974 and whose remains have been found by the Committee on missing people in Cyprus (CMP), at a cemetery in the village of Tashkent (Vouno) in the self-declared Turkish Republic of Northern Cyprus. More than 30 Turkish Cypriots, who had disappeared in Tochni near the coastal southern city of Limassol in August 1974 and were found in 2014 in a mass grave in the village, were buried during the ceremony

AFP/Getty Images

12/30 15 August 2016

Indian paramilitary soldiers hug each other as they react to the news of killing of two suspected rebels in a gun-battle in the Nowhatta neighborhood of Srinagar, Indian controlled Kashmir. Suspected separatist rebels and government troops were engaged in two gun battles in Indian-controlled Kashmir despite a complete security lockdown in the disputed region as India celebrated its independence from British rule

AP

13/30 14 August 2016

A spectator poses ahead of the Women's Marathon during the athletics event at the Rio 2016 Olympic Games at Sambodromo in Rio de Janeiro

AFP/Getty Images

14/30 14 August 2016

Family members of Sylville Smith gather where he was shot and killed by police in Milwaukee. Police say a black man whose killing touched off arson and rock-throwing, was shot by a black officer after turning toward him with a gun in his hand

AP

15/30 14 August 2016

Men carry a dog, wearing a costume and seated on a stool, as a form of respect as they believe that dogs found water for their ancestors, during a local festival for the Miao ethnic minority in Jianhe county, Guizhou Province, China

REUTERS

16/30 14 August 2016

A truck burns in the town of Lower Lake, California. A wildfire destroyed at least four homes and forced thousands of people in two Northern California towns to flee as flames jumped a road and moved into populated areas

AP

17/30 14 August 2016

Kurdish Peshmerga forces fire a rocket toward Islamic State militants on the southeast of Mosul , Iraq

REUTERS

18/30 14 August 2016

An armed boy walks as he attends a gathering held by tribesmen loyal to the Houthi movement to show support to a political council formed by the movement and the General People's Congress party to unilaterally rule Yemen by both groups in Sanaa

REUTERS

19/30 13 August 2016

A jockey takes part in a traditional cattle race or "Pacu Jawi", to mark the end of the rice harvest in Tanah Datar, West Sumatra, Indonesia

REUTERS

20/30 13 August 2016

Rescue workers carry a survivor on a stretcher, after he was extracted from a collapsed wall in an informal settler house, just beside the city jail building in Manila

AFP/Getty Images

21/30 13 August 2016

Revellers take part in the Monsoon Holi Madrid festival in Madrid, Spain

REUTERS

22/30 13 August 2016

Revellers chat on Havana's Malecon seafront before performing at a carnival parade, Cuba

REUTERS

23/30 13 August 2016

A man fights against the active front of a forest fire near Arouca, Portugal

REUTERS

24/30 12 August 2016

A meteor streaks past stars in the night sky above medieval tombstones in Radmilje near Stolac, south of Sarajevo, Bosnia and Herzegovina

REUTERS

25/30 12 August 2016

An injured man receives first aid after two bombs exploded in the Thai seaside resort of Hua Hin

Reuters

26/30 12 August 2016

Children try to push an injured and weak dolphin back into the water after it washed ashore during bad weather and high tide on a beach in Cilacap, Central Java, Indonesia

REUTERS

27/30 12 August 2016

A man collects coconuts and other items thrown as offerings by worshippers in the Sabarmati river, a day after the "Dashama" festival in Ahmedabad, India

REUTERS

28/30 11 August 2016

An injured riot policeman is helped by comrades during clashes with independent miners against Bolivia's President Evo Morales' government policies, in Mantecani near La Paz, Bolivia

REUTERS

29/30 11 August 2016

A team equipped with anti mosquito spray packs walks through the Koumassi district of Abidjan during an operation aimed at preventing the spread of the zika virus in Côte d'Ivoire

AFP/Getty Images

30/30 11 August 2016

An Indian policeman uses a slingshot during clashes with demonstrators following a protest in Srinagar against the recent killings in Kashmir

REUTERS
Australian police gained access to KidClub, one of the world's biggest child abuse networks with more than 400,000 members, allegedly controlled by a Danish citizen. To join and access the images, members had to provide graphic videos and photos of their own abuse. Child victims held signs bearing the words "the KidClub" and their abuser's username.
The Australian officers were able to identify an Adelaide man called Shannon McCoole. McCoole, 34, who was a key administrator of the online site, was jailed for 35 years for sexually abusing children in his care last year. After arresting him police impersonated him online for several months, enabling them to hijack the site and identify other abusers including the US website organisers.
They also identified a key Danish abuser, described as one of Europe's most prolific paedophiles, who they say also helped control KidClub. The 48-year-old was arrested after the Australian detectives posing as McCoole engaged him in an online conversation while Danish detectives entered his house to arrest him and gain access to his computer.
The arrested man, who cannot be named for legal reasons, has gone on trial in Denmark. Investigators said there was evidence to suggest that he was responsible for uploading 3,696 photos and 116 videos of child abuse. Danish police said the site's membership rules undoubtedly led to many sexual attacks on children. Prosecutors told the court that the man allegedly travelled to Romania with the intention to "buy or in some other way acquire an infant for the purposes of abusing the child sexually". 
The man denies being a senior figure in the network. McCoole gave evidence against him last December via video from prison.
Europol director Rob Wainwright said Operation Pacifier had succeeded in shutting down the site and securing its abuse images so they could not be used again. He said the investigation had generated more than 3,200 cases.
Reuse content