A British jihadist convicted of plotting attacks against military bases had made a chilling video called "Isis drives around Westminster", it has emerged.
It featured Junead Khan and his uncle Shazib Khan passing by high-profile terror targets including Downing Street, the Houses of Parliament and Canotaph war memorial, investigators said.
The Crown Prosecution Service said a leaflet entitled "Terrorists or terrorised", a book called "Guide to the Islamic State" and the group's flags were found at their home.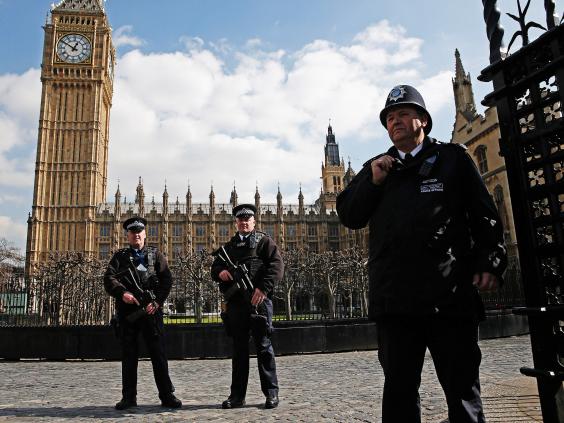 Junead, 25, was found guilty of preparing for acts of terrorism and planning to join Isis in Syria at Kingston Crown Court on Friday and faces life in prison.
Shazib, 23, was also convicted of planning to fight for Isis in Syria and awaits sentencing alongside him in May.
The jury heard that the pair made plans to travel to the so-called Islamic State between August 2014 and July last year but that Junead changed his mind and shifted his focus of domestic attacks.
While using his job with a pharmaceutical firm as cover to scout United States Air Force bases in East Anglia, he exchanged online messages with an Isis fighter in Syria on how best to launch an atrocity.
Terror plots foiled by British security since 7/7 attack
Terror plots foiled by British security since 7/7 attack
1/10 'Poppy terror plot'

Nadir Ali Sayed, 21, his cousin Yousaf Shah Syed, 19, and Haseeb Hamayoon, 27, were charged with terrorism offences over an alleged plot to behead a member of public. The trio were arrested in London and High Wycombe, Buckinghamshire on 6 November - three days before Remembrance Sunday

2/10 Heathrow airport arrests

A 19-year-old from Coventry man was arrested at London's Heathrow airport on suspicion of preparing for acts of terrorism in November 2014

3/10 Extradition of Abu Hamza

Radical muslim cleric Abu Hamza was used as an example of the kind of people the Home Office has extradited

Getty

4/10 South East Counter Terrorism Unit arrests

Six people were arrested on suspicion of terrorism offences after a series of dawn raids in the south of England in October 2014. Three men and three women were detained separately in two properties in Portsmouth, one in Farnborough and one in Greenwich following an operation by the South East Counter Terrorism Unit. Counter-terror officers said they had disrupted what was believed to be the early stages of what could have turned into a "significant plot"

5/10 Law student arrest

A law student who was the subject of a controversial secret trial was convicted for possessing a bomb-making manual, it can now be reported. Erol Incedal, 26, is said to have kept the manual on a memory card adhesive-taped to the inside of his iPhone cover. He now faces a retrial starting on 23 February next year after jurors failed to agree whether he was plotting a terrorist attack

PA

6/10 October 2014 arrests

Three men were arrested in central London on 13 October as part of an investigation into Islamist-related terrorism. The arrests come nearly a week after five men were arrested in dawn raids that Whitehall officials said "may have foiled the early stages" of a plan to attack the UK

Peter Macdiarmid/Getty Images

7/10 Anjem Choudary arrest

Anjem Choudary, the radical activist and co-founder of the banned al-Muhajiroun group, was arrested in September 2014 as efforts intensify to disrupt the ideological backers of young British Muslims travelling to fight in foreign conflicts. Mr Choudary was among nine men held on suspicion of supporting a banned terrorist group and encouraging terrorism. The arrests came shortly after Mr Choudary fired off a series of angry tweets after David Cameron called on MPs to back air strikes against Islamic State militants in Syria

Oli Scarff/Getty Images

8/10 North West Counter Terrorism Unit funds seizing

Police seize £250,000 of cash intended to fund Isis at Manchester Airport and north-west ports. Using powers under the Terrorism Act, the money was confiscated by officers from the North West Counter Terrorism Unit

Getty Images

9/10 Tarik Hassane arrest

A medical student who was offered a place at a London university has been named among four men who are being questioned by counter-terror police after a series of raids across the capital. Tarik Hassane, 21, is believed to have been Tasered when he was arrested on suspicion of being involved in a "significant" Islamist terror plot on 7 October

10/10 Abu Qatada removed from UK

Radical preacher Abu Qatada will not be returning to the UK after being cleared of terror charges in Jordan

Reuters
The messages sent to "Abu Hussain", believed to be British hacker Junaid Hussain, showed them discussing the possibility of faking a road accident before attacking passers-by and comparing the plot to the murder of Lee Rigby.
Hussain claimed he could pass Junead addresses of British soldiers, but added: "Most soldiers live in bases which are protected. I suppose on the road is the best idea. Or if you want akhi (brother) I can tell u how to make a bomb (sic)."
After he was killed by a US drone strike in August, David Cameron said he was recruiting sympathisers to "orchestrate barbaric attacks against the West" including unspecified plots in the UK last summer. 
After Junead's arrest, police found pictures on his phone of him posing in his bedroom with an Isis-style black flag later found in the attic.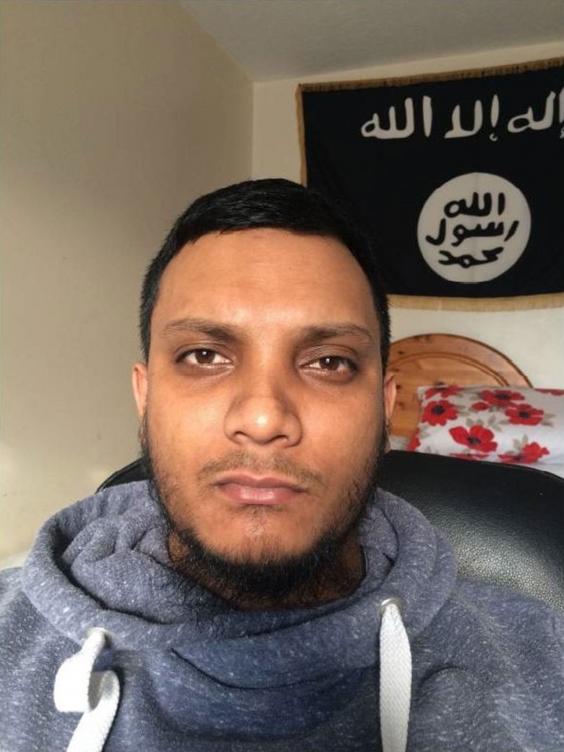 His computer was found to contain an al-Qaeda bomb manual and Amazon searches for a large combat knife, alongside graphic propaganda and execution videos.
Commander Dean Haydon, the head of Scotland Yard's SO15 counter-terrorism unit, said specialist officers had reached out" to Junead, of Luton, a year before his arrest.
"They offered to help him follow a positive life path. Junead Khan's refusal spiralled into extremism and plotting acts of terrorism," he added.
Detectives trawled through approximately 66,000 text messages, social media messages and emails to piece together how the Khans planned to travel to Syria.
The pair spoke of "jihad" training and in one message to an unidentified person, Shazib talked of becoming a martyr: "I've always had that dream to become shaheed [Muslim martyr] on the path of Allah."
Sue Hemming, of the Crown Prosecution Service, said they were "supporting terrorism" and had spent a significant amount of time planning how to join Isis.
"Through early detection and prosecution of these individuals more serious crimes have been avoided which could have had devastating consequences in the UK or Syria," she added.
Judge Mr Justice Edis remanded the men in custody ahead of sentencing on 13 May.