The Rwandan spy chief arrested in London for extradition on suspicion of orchestrating massacres has secured release on £1m bail following representations from a legal team featuring Cherie Booth.
At an extraordinary court hearing, a judge set aside prosecution concerns that General Karenzi Karake could abscond on the back of fury in the Rwandan government at his arrest and ordered that the impoverished east African country pay a £1m security to secure his release from a high-security prison.
The ruling followed a detailed assault on the charges faced by Gen Karake under a 2008 Spanish indictment by defence lawyers including Mrs Booth, whose husband, former Prime Minister Tony Blair, has been one of the strongest supporters of Rwanda and its autocratic president Paul Kagame.
Shortly before Mrs Booth and her colleagues made their case in court, Mr Kagame launched a broadside against Britain for the arrest of his intelligence chief, accusing the UK authorities of "arrogance and contempt" and treating Gen Karake like "an illegal immigrant".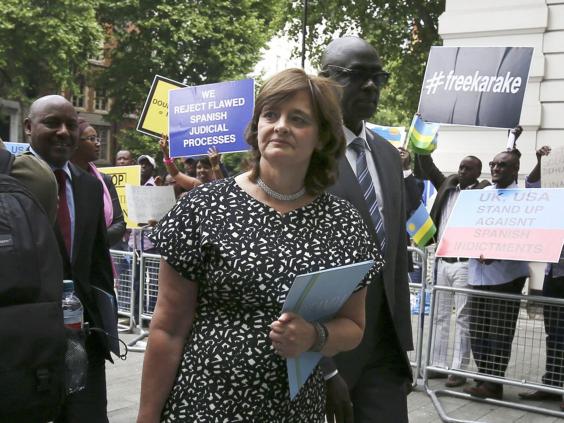 Dressed in a yellow and green jumpsuit with the words "HM Prison" emblazoned on his back, the stony-faced 54-year-old general was greeted with cheers from a packed public gallery as he clasped his hands over his head. Asked whether he consented to extradition to Spain, he said: "I do not."
Mrs Booth, who sat behind the general's barrister and made a thumbs-up gesture to her colleagues once bail was granted, said after the hearing that her law firm, Omnia Strategy, had been engaged to defend the spy chief. She added: "I am on the defence team."
The release on bail of the intelligence chief was the latest twist in a tumultuous week which saw Gen Karake arrested by Scotland Yard detectives on 20 June on an European Arrest Warrant issued by a Spanish judge accusing him ordering revenge killings in the wake of Rwanda's 1994 genocide, which claimed 800,000 lives. It is understood he has been held in the Category A Belmarsh Prison in south east London.
He is accused of orchestrating the deaths of three Spanish aid workers on a lengthy indictment which also links him and the Rwandan military intelligence unit he headed until 1997 to the death of two Britons.
But in a packed hearing at Westminster Magistrates' Court in central London, lawyers for Gen Karake, who is currently director general of Rwanda's combined intelligence agencies, insisted he was "a man of impeccable character" who had been in Britain on official business at the time of his arrest to meet the head of an unnamed "UK body".
Rwanda's justice minister and attorney general, Johnston Busingye, confirmed outside court that the general had been expecting to meet his opposites in British security services. Mr Busingye said: "I believe his visit was to his counterparts in the UK."
Mark Summers QC, for Gen Karake, said "sensitive evidence" concerning the meeting, likely to have been with MI6, and a claim that Gen Karake enjoys diplomatic immunity would be presented at a later stage. He also attacked the Spanish indictment accusing 49 serving members of the Rwandan government, citing leaked American diplomatic cables which described it as a "bloated political tract".
Top 10 world's unhappiest countries
Mr Summers said: "This is a private prosecution brought in Spain, driven by private interest groups with, it has to be said, links to those responsible for the underlying genocide."
Prosecutors, acting on behalf of the Spanish authorities, denied claims that the indictment was no longer valid following a ruling by Spain's highest court halting so-called "universal jurisdiction" cases and insisted the general posed a significant flight risk.
Aaron Watkins, prosecuting, said the intelligence officer was facing five charges which carried a potential sentence of 30 years' imprisonment and his government made clear it did not accept "the legitimacy of these proceedings".
Mr Summers said such a "level of distrust" was "unwarranted" and offered on behalf of the Rwandan government to pay a £200,000 security for bail.
District Judge Quentin Purdy, noting the seriousness of the charges against Gen Karake, ordered that the sum of £1m be paid and granted the spy chief bail on condition that he remain under curfew at a house rented in London by the Rwandan High Commission.
The general is expected to be released later on 26 June ahead of a full extradition hearing in October. As he left the dock, his supporters chanted "tuzarurwana", meaning "we will fight this war".
Reuse content