A lecturer has spoken of the terrifying moment four men clad in balaclavas violently assaulted him before burgling his home and threatening his wife, after he opened the front door to them.
Paul Kohler, 55, required surgery for a fractured eye socket and sustained life-changing head injuries, police said, after the group knocked on the door and then forced their way in.
Mr Kohler, a father-of-four who is Head of Law at the School of Oriental and African Studies (SOAS) in London, had been playing a board game with his wife Samantha MacArthur, 50, his daughter Eloise and her boyfriend when the incident happened on Monday at 10pm.
The suspects repeatedly shouted "Where's the money?" while demanding cash and ransacking the home.
Ms MacArthur was threatened by two men who tried to tape her to a chair, the Metropolitan Police said, while Eloise and her boyfriend locked themselves in a room upstairs and called 999.
Mr Kohler, who is still in hospital, told the Evening Standard: "The first punch in the hall took my eye out, I thought I had lost the eye at that stage because it stopped functioning.
"But I just kept thinking of my wife and daughter and her boyfriend upstairs.
"They got me on the floor but I managed to stand up and at one stage and trade blows with them.
"I got a few blows in, but these were thumps like I never had in my life - they could really punch."
Two of the suspects were apprehended at the scene, in Wimbledon, while the other two "made off on foot," police said.
A fresh appeal has since been made with the release of CCTV footage, showing one of the two outstanding suspects a minute after the attack, fleeing through Wimbledon Theatre car park.
Police are reportedly looking into whether there's a link between the assault and Mr Kohler's ownership of Cellar Door, a cabaret venue in Aldwych, amid concerns that the masked group were looking for takings.
No-else was injured in the burglary, while a number of items that had been stolen from the home were later recovered as they had been discarded by the suspects.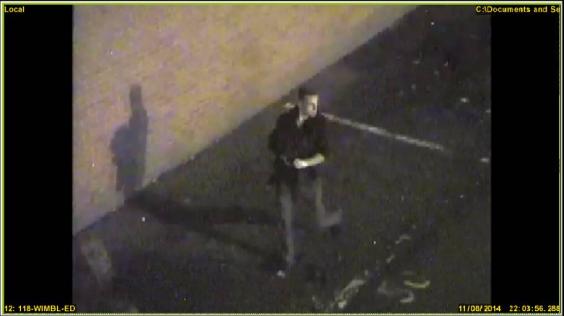 A 32-year-old man and a 23-year-old man have both been charged with grievous bodily harm (GBH) and aggravated burglary and are due to appear at Kingston Crown Court on 23 August.
The two outstanding suspects are described as being in their 20s and of Eastern European descent.
Mr Kohler added: "I was thinking that they had the wrong house.
"English was not their first language, but they were using the definite article talking about 'the money', like there was a particular stash, but there was no money to give them.
"I've got a pretty graphic memory of it all, I never lost consciousness and eight minutes can last a long time."
Police said that the level of violence used in the incident was "unprecedented for this borough" and appears to be isolated.
They are appealing for information and have urged anyone who saw a "silver Volkswagen two-door cabriolet style car" to contact officers.
Detective Inspector Dan O'Sullivan, of Merton Burglary Squad, said: "This new piece of CCTV is crucial in the identification of one of the outstanding suspects, and we are calling to anyone who recognises this man to come forward.
"It is my firm belief that this man and his other outstanding associate, would have been stained with blood spatter from the violent attack inside the house.
"Both were also wearing white surgical gloves when they fled. Whilst they attempted a quick exit, I'm sure that members of the public would have seen them."
Anyone with information can call the incident room on 020 8649 3159 or call Crimestoppers anonymously on 0800 555 111.