A man wearing nothing but skimpy swimming trunks reportedly pitched up with a deckchair for a spot of sunbathing in the middle of a London street - before swiftly being arrested.
The man, said to be in his 50s or 60s, showed up late on Thursday afternoon in trendy Shoreditch, east London, as the capital basked in warm, sunny weather.
But it was not long before the police turned up to spoil the man's fun, as amused and bemused office workers looked on.
The moment was captured by Twitter user Alex Totaro, who posted a picture of the man apparently being put into handcuffs outside the Barley Mow pub.
He wrote: "BREAKING. Naked man arrested for day drinking in Shoreditch."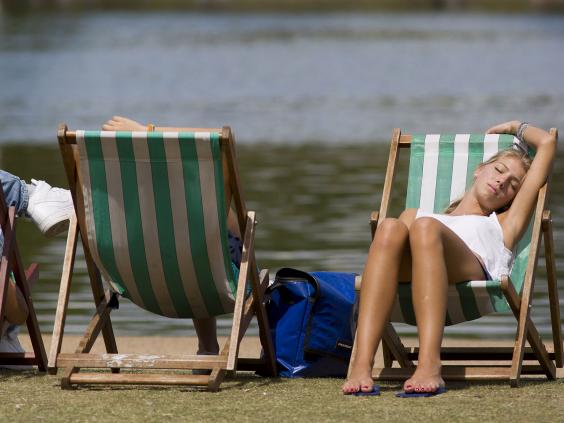 The man was arrested at just after 5pm on Thursday, on suspicion of being drunk and disorderly on Rivington Street, Shoreditch, A Scotland Yard spokeswoman said.
When The Independent checked on Friday lunchtime, the man was still in custody.
Another nearby worker, who wished to remain anonymous, told the Evening Standard: "He just came with a deck chair and put it in the road.
"Taxis were trying to turn into the street and obviously he was blocking it. He was sunbathing there and then he walked around a bit and the police came and arrested him.
"Four officers came up and asked him to move, he wouldn't and so they cuffed him and led him away."
She described the man as very tanned, with a ponytail and apparently in his 50s or 60s.
"He was quite clearly drunk but he didn't seem to mean any harm."
Reuse content