A 15-year-old boy arrested on suspicion of starting the fire at Manchester Dogs' Home that killed more than 50 dogs has been released on bail.
The teenager, who cannot be named for legal reasons, could face arson charges over the blaze that also injured about 150 animals.
More than £1.2 million has already been raised in donations to repair the dogs' home, partly through a viral "dog selfie" campaign that has seen thousands of owners post pictures with their pets on social media.
Colin Ballance, Manchester Dogs' Home liason officer, described the "horrendous" scene when he arrived at the burning compound on Thursday night.
"You could hear them screaming but the thing was, you couldn't do anything," he told Sky News.
"It was unbearable, it was like something out of a horror film. Something I don't want to remember if you know what I mean, but I will never forget it."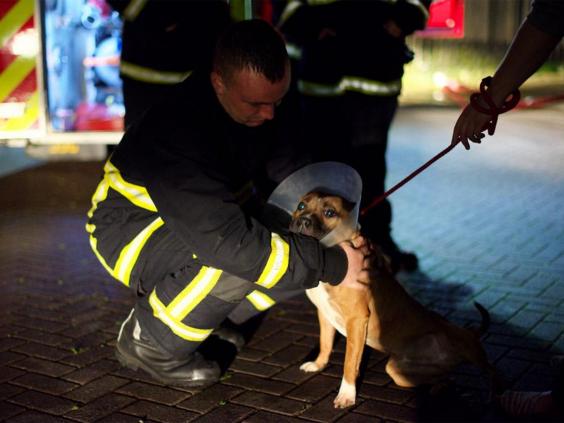 People living near the shelter in Moss Bank Road desperately tried to break in to stop the fire as it took hold shortly after 7pm and more than 30 firefighters were needed to douse the flames.
Hundreds of people rallied round the rescue operation, providing refreshments to workers, animal food and help for the saved dogs.
The rescued animals have been taken to the centre's sister site near Warrington, in Cheshire.
Lisa Graham, from the home, said the Manchester and Cheshire Dogs' Home charity had served the community for generations.
"To think…that one of them would come and do this to us is sickening," she added.
"We had staff here [on Thursday] that were coming out of the kennels in tears with dogs they knew. There were dogs in there that they cared for that they lost."
The charity, which relies entirely on donations, has been running since 1893 and has re-homed more than 1 million dogs.
Hundreds of thousands of people have donated money through the home's JustGiving page, with some individuals raising more than £2,000 each, and others have used a site set up by the Manchester Evening News (MEN).
That page alone had raised more than £1.2 million by Saturday morning from 124,000 people and rising.
Dog selfie for Manchester Dogs' Home
On its Twitter page, Manchester Dogs' Home said: "A million. A million good hearts, a million amazing people thank you thank you thank you."
The appeal was given a boost early on when comedian Ricky Gervais retweeted a message to his six million Twitter followers.
Rob Irvine, editor in chief of the MEN, said: "This is a tragic story and the fact that it is believed to be an arson attack has left people shocked and angered.
"The response to the appeal also demonstrates what a local news organisation can do when it works with its readers and I am just pleased that the MEN can somehow help the dogs home recover from this terrible event."
Additional reporting by PA
Reuse content