A 92-year-old British veteran of the Second World War has had his medals stolen by burglars on the 70th anniversary of the D-Day landings.
The Metropolitan Police said a man claiming to be from a water company distracted the pensioner while an accomplice rifled through his belongings, stealing 11 war and service medals in total.
The veteran served with the Grenadier Guards during WWII, mainly in Italy and North Africa, but also had medals for his work as a fireman and had two First World War medals which were awarded to his father.
A police spokesperson said the veteran remained "very upset" over the incident, which occurred shortly before 9.30am on Friday as hundreds of his fellow war heroes and world leaders gathered in Normandy to pay tribute to those who fought and died in the D-Day landings 70 years ago.
The veteran opened the door of his home in Whetstone, Barnet, north London to a man wearing grey clothing "of the sort an engineer would wear" who said he needed to check the water pressure, police said.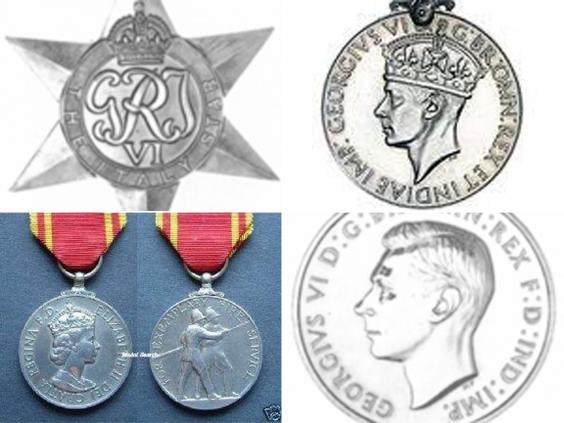 He allowed the man in and followed him into the kitchen, where he appeared to check the taps before leaving a short while later.
Later that evening the veteran noticed that items in his bedroom had been disturbed and discovered that the 11 war and service medals were missing. Nothing else is believed to have been taken.
To all veterans. Please take a photo of your medals so if they are ever stolen (yes there are scum who do that) we can tweet them.

— Lord Ashcroft (@LordAshcroft) June 8, 2014
The man who posed as a water company representative was described as stocky, white, about 5ft 10in (1.78m) and spoke in an Irish accent.
MPS Barnet said officers from its Burglary Squad based at Colindale Police Station were investigating, and issued pictures of medals like the ones stolen via its Twitter page.
Lord Ashcroft, the former deputy chair of the Conservative Party who earlier this year published a report into the care of former military service personnel, appealed to veterans to take photos of their medals "so if they are ever stolen (yes there are scum who do that) we can tweet them".
Police appealed to anyone with information to contact them on 101 or anonymously via Crimestoppers.