A senior NHS manager accused a female colleague who rejected him of dressing "like a hooker" and "sleeping her way to the top" while posing as a Christian woman in a series of letters, a court has heard.
Karl Perryman, 52, of King's Lynn, is accused of sending the "dark and spiteful" notes to Joanne O'Neill after allegedly becoming infatuated with her at a job interview.
He denies one count of stalking and another of intimidating a witness at King's Lynn Crown Court.
Perryman was head of complaints and legal services at the town's Queen Elizabeth Hospital, where Ms O'Neill was his junior.
Prosecutors told the jury the letters started in December 2012 after she started dating another member of staff, who she has since married.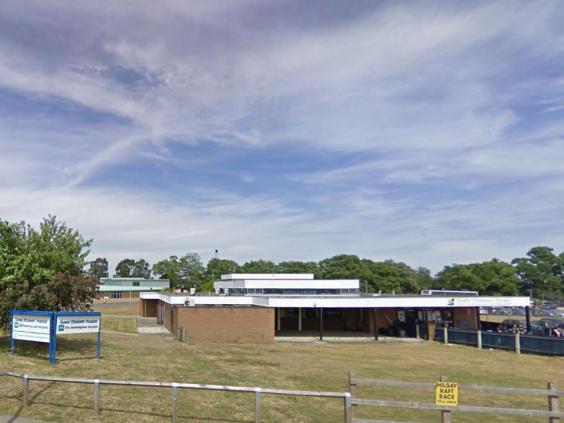 They allegedly purported to be from an anonymous Christian woman who wanted to put a stop to her conduct.
Perryman is accused of sending eight letters to other managers, Ms O'Neill's partner and her mother, one of which allegedly claimed she had noisy sex during working hours.
Opening the case, Jude Durr, a lawyer for the prosecution, said they all concerned "rank, status, sex, lying, cheating, flirting, dressing inappropriately and reaping what you sow".
He added: "She felt genuinely frightened that she was being watched every time she attended a meeting or saw a colleague in the corridor. It was also affecting her home life.
"She didn't at that stage have any idea who could be so vindictive and hateful.
"The invasion of her personal, professional and private life caused a real devastating fear of escalation."
Ms O'Neill told the court she was originally turned down for a job as a complaints manager in Perryman's department but he later phoned her and, in a conversation lasting an hour and a half, said he would find her a role.
Giving evidence today, she told the jury that after the relationship with her future husband started: "I would be called into his office with him boasting about his conquests, how important he was and how powerful he was.
"He would talk about my relationship and how odd it was."
When asked by barrister Susannah Stevens how Perryman knew so much about her, Ms O'Neill claimed she had never shared personal information with him but knew he had access to her personal file and medical records.
"I believe he overhead conversations with my female colleagues and then passed comments about that," she told the court.
Ms O'Nell claims Perryman offered her presents from high street jewellers Ernest Jones even though she was "professional" and maintained a "working relationship".
She told the jury that her manager reacted with "bravado" when told his behaviour could be reported.
"He said nobody would believe me and if I told anybody he'd deny it and that he was cleverer than me," Ms O'Neill said.
Perryman is currently suspended from his role and the trial continues.
Additional reporting by PA
Reuse content