A 32-year-old British woman and her mother are reportedly among five members of the same family shot and killed in an apparent murder-suicide in the US.
Local police in Lindon, Utah, said serving officer Joshua Boren, 34, turned a gun on his wife, mother-in-law and two children before then taking his own life.
Kelly Boren, 32 and her mother Marie King, 55, both lived in Northampton before moving to the US to be with Boren, who was a patrol officer with the Utah County Sheriff's Office for seven years before joining the city's police in October 2013.
Officers in the town of Spanish Fork, neighbouring Lindon, said they found the bodies of the three along with seven-year-old Joshua "Jaden" Boren and Haley Boren, aged five, at the family home on Thursday night.
The victims were discovered after Mr Boren's colleagues alerted local officers when he failed to turn up at work for his night shift.
Officials said they did not find a suicide note at the crime scene but Lieutenant Matthew Johnson of Spanish Fork Police said the couple had been experiencing marital problems in the months leading up to the shooting.
Chief Steve Adams, of Spanish Fork Police, said that when officers got to the family home to carry out a welfare check they immediately discovered blood marks and bullet casings inside.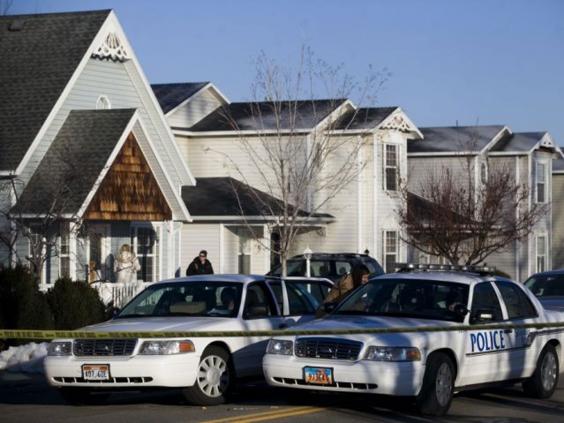 Mr Boren's colleagues said they were aware the couple had undergone a period of separation but were on "friendly terms", with the family holidaying together in Disneyland, Florida, over Christmas.
His boss, Chief Cody Cullimore, of Lindon City Police, told The Salt Lake Tribune: "There were no red flags - everything about him was outstanding."
"We're a small department, our families are one big family so we knew his entire family as well," he said. "It's just a tremendous shock."
Mr Cullimore said: "I was aware that there had been a recent period of separation, but I am not aware of any violence in the past or anything like that.
"His wife Kelly was a friend of mine and a friend of my wife so anything major that would have happened I probably would have known about.
"I know as a family they went to Disneyland over the Christmas holidays."
According to The Salt Lake Tribune, Ms Boren was employed as a finance director for nearby Bluffdale city.
Meanwhile, Ms King's sister Jeanette Malpas, of Northampton, paid tribute to her "beautiful" family.
Writing on her Facebook page, she said: "I cannot get my head around this and will never understand why someone has to take away lives like this.
"My beautiful sister Marie, her daughter Kelly and Kelly's children; Jaden and Haley, may you all rest in peace.
"Love you loads, to the moon and back."
The tribute page 'RIP Kelly, Marie, Jaden 'n' Haley' has also been set up on the social media site, attracting dozens of messages of condolence and support.
Additional reporting by AP
Reuse content