The number of women imprisoned in Britain every year represents a "litany of despair", Nick Clegg will say tomorrow, in a tacit admission that the coalition has failed to tackle high rates of female incarceration.
The number of women behind bars has not significantly fallen from the 4,000 that the coalition inherited from the last Labour government. However, there is a significant fall in the number of children in prison, which is 65 per cent lower than six years ago.
Mr Clegg will propose creating a new Women's Justice Board, based on the same principles as the successful Youth Justice Board, to attempt to reduce the number of women in prison.
In a speech on Liberal Democrat justice policy, Mr Clegg will highlight the huge proportion of women offenders who have suffered domestic abuse, drug addiction or mental illness. And he will say it is unacceptable that thousands of children every year are separated from their jailed mothers.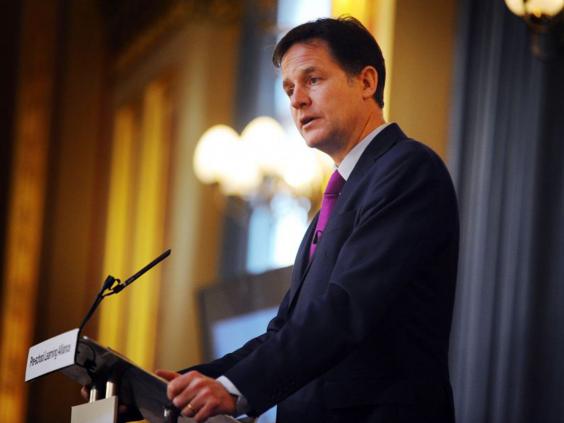 But his remarks are likely to be greeted with scepticism because the coalition has significantly failed to reduce the female prison population during its time in office. In 2011, around 4,100 women were held in prison at any one time compared to the most recent figure of 3,876.
"Abused and vulnerable women are crammed like sardines into crowded prisons," Mr Clegg will say.
"That is not proof that prison is working. It's a litany of despair ... Half suffer from anxiety or depression and a quarter have reported symptoms of psychosis. Too often, for too many offenders, prison is not the answer. It is not the answer for every mother left sobbing in her cell."
Mr Clegg will propose that a new Women's Justice Board could intervene earlier with women who come into the criminal justice system and help keep them out of custody.
"The Youth Justice Board has been an instrumental part of our success in reducing the number of young offenders, and I want to see the same principles now applied to bringing down the number of women."
But Frances Crook, chief executive of the Howard League for Penal Reform, described the idea as "well-meaning but wrong". She said, when it was set up, the Youth Justice Board had overseen an explosion of young people going to jail and it was only through the work of police reducing the numbers being charged that the figures had been brought down.
Reuse content