A director of an online gambling company linked to two Premier League clubs has been arrested in connection with a £21m fraud and money-laundering investigation, The Independent on Sunday can reveal.
Former football manager Harry Redknapp was signed for an advertising blitz last year by 666Bet, which announced deals with West Bromwich Albion and Leicester City. Last week, the UK gambling regulator suspended its licence.
One of the firm's directors was arrested at Heathrow airport last week as part of a joint HM Revenue & Customs and National Crime Agency investigation. Six other people were also arrested, 13 properties were raided and £1m in cash seized as part of Operation Bannock, an HMRC-led investigation involving police officers from across the UK, as well as investigators on the Isle of Man and the Channel Islands.
Paul Bell, a former stockbroker turned investor, was later released by police before being re-arrested the following day when he arrived on the Isle of Man by private jet.
Neil Andrews, 666Bet's head of brand, said in an email: "I can categorically state the [police] investigation does not relate to 666Bet's activities in the gamin [sic] world." He added that the inquiry has "nothing to do with the day-to-day running of 666Bet".
The Gambling Commission refused to comment yesterday, but has previously said its suspension of the Metro Play Limited licence, which covers 666Bet and Metro Play, does not prevent the firm from "returning outstanding balances to customers".
The most controversial club owners to have graced the English game
The most controversial club owners to have graced the English game
1/9 The Venkys – Blackburn Rovers owners The Venky's are often cited as an example of how not to run football club. When the Venky's took over in 2010 they made a series of footballing gaffes that clearly illustrated that India's largest poultry business have absolutely no idea how to run a successful football club. Their first mistake was to install false hope in their fans by claiming that they were going to sign the likes of David Beckham and Ronaldinho. They also promised to take the club into the Champions League, something that evidently has failed to materialise since. They then made the unpopular decision to sack then manager Sam Allardyce and appoint the relatively inexperienced Steve Kean, resulting in relegation to the Championship at the end of the 2011 / 2012 campaign. To top it off, the owners made their own players star in a deeply embarrassing Venky's chicken advert, which to any Rovers fan must be serious 'fowl' play.

GETTY IMAGES

Getty Images

2/9 Thaksin Shinawatra- former Manchester City owner Thaksin Shinawatra, the former Prime Minister of Thailand, bought Manchester City in 2008. Thaksin appointed Sven-Göran Eriksson as manager who later admitted that the owner didn't have a clue about football. It later emerged that the Thai business tycoon, turned politician, turned football owner faced charges for political corruption and human rights abuse in Thailand. He was sentenced to a two year jail term and is now on the run from Thai authorities.

GETTY IMAGES

Reuters

3/9 Flavio Briatore – Former QPR co-owner In 2007 Flavio Briatore completed his takeover of Queens Park Rangers alongside Bernie Ecclestone and Lakshmi Mittal. His time at the club, well documented by the documentary 'the four year plan', was unconventional to say the least. Briatore was renowned for interfering in first team selection. He dismissed several managers in quick succession and was famously quoted for saying "We found a band of drunkards. One hits a player. Another gets drunk. This is impressive." After falling out with the Football League, Briatore was forced to step down in February 2010. When interviewed about the QPR experience on an Italian chat show he stated "I will never invest in a Football Club again, it's only ever a good idea if you're very rich and looking for ways to waste your money. In two years you'll be very poor and won't have that problem anymore."

GETTY IMAGES

GETTY IMAGES

4/9 Tom Hicks and George Gillette - former co-owners at Liverpool Former Liverpool owners, Tom Hicks and George Gillette, shrouded themselves in controversy during their stay at Anfield. The pair were deeply unpopular with the supporters and their proposal of a ground share with arch-rivals Everton did little to enhance their profile. Embarrassingly, the owners failed to even get along with each other. Their feud was made public when Hicks infamously blocked Gillette's attempt to sell his stake in the club in 2008. Relations with former manager, Rafa Benitez were also strained. When Hicks and Gillett ended their ill-fated six year stint at the club, Reds fans rejoiced at the news.

GETTY IMAGES

Getty Images

5/9 Mike Ashley- Newcastle United owner Mike Ashley's tenure at the club since 2007 has been turbulent. The owner is often seen to be downing beers in the stands at St James's Park. In 2009 he controversially announced that he was changing the name of their ground to "sportsdirect.com @ St James' Park Stadium" until the end of the season. A move that didn't go down too well with the Newcastle faithful. He has since drawn criticism for handing Alan Pardew an eight year contract and then subsequently appointing ex-manager Joe Kinnear as director of football.

GETTY IMAGES

AFP/Getty

6/9 Assem Allam – Hull City owner The Hull City owner, Assam Allam, has alienated supporters by trying to change the name of the club to 'Hull City Tigers' against their wishes. The owner told fans he was going to consult them on the issue, however, shortly after he sent an official request to the Premier League to change the name.

GETTY IMAGES

7/9 Milan Mandarić – Former Portsmouth owner Milan Manderic had a reputation for being trigger happy when it came to firing managers. By the time that he appointed Harry Redknapp in 2002, Manderic had already disposed of Alan Ball, Tony Pulis, Steve Claridge and Graham. However the pair fell out after Manderic hired Velimir Zajec as executive director in 2004, a move that resulted in Redknapp's resignation shortly afterwards. In 2010 Manderic was charged with tax evasion regarding his time at Pompey.

GETTY IMAGES

8/9 Roman Abramovich – Chelsea owner Since taking over Chelsea in 2003, Abramovich has seen his side win three Premier League titles and the Champions League in 2012. However, during Abramovich's 10 year tenure at the club, he has overseen 10 managerial changes. Abramovich sacked Jose Mourinho after the pair fell out in 2007, before bringing him back to Stamford Bridge at the start of this season.

GETTY IMAGES

Getty Images

9/9 Maurizio Zamparini- owner of Palermo Maurizio Zamparini lost patience with his manager once again last week sacking manager Gennaro Gattuso. The ex-Italian international lost his job after the Serie B outfit suffered back to back defeats. Zamparini has now sacked 20 managers in 10 years since taking over Palermo.

GETTY IMAGES

GETTY IMAGES
The 666Bet website is currently offline; a holding message advises customers that it is "performing maintenance". There is no suggestion that Metro Play Ltd, 666Bet or Metro Play, are involved in the HMRC investigation.
Mr Bell, who is reported to be worth around £400m and is a shareholder in several FTSE-listed companies, is said to have interests ranging from payroll and recruitment to development, hospitals and care homes. A source said yesterday that Mr Bell "vigorously denied any wrongdoing" and was a "well respected" member of the business community on the Isle of Man who gave "generously" to local charities.
Documents from the Isle of Man Financial Crime Unit, seen by The IoS, lists Mr Bell as an individual who is currently "part of an active criminal investigation". The note to regulators lists three other individuals and 25 firms as also under investigation.
The most visible of Mr Bell's business interests, 666Bet entered the crowded online football betting market last year with a blaze of publicity and a promised £8m marketing budget and a shirt-sponsorship deal with Leyton Orient.
Last week, the League One side terminated its deal with the firm, while Mr Redknapp, speaking from Dubai, said: "I just did an advert for them. I don't know anything about it at all. Not a clue."
The adverts, which were a coup for 666Bet, also featured actor Vas Blackwood, best known for playing Rory Breaker in Lock, Stock and Two Smoking Barrels, describing the 666Bet as a "red-hot betting site".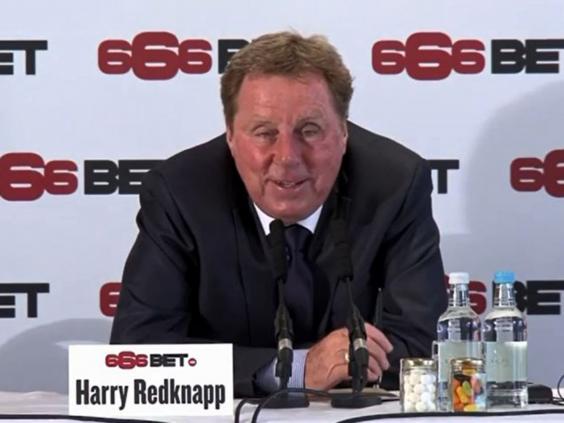 Simon Perfitt, founder of the Rethink Gambling charity, said "aggressive marketing and advertising" had allowed sport betting brands to become highly embedded in football culture", and led to a situation where many vulnerable young men "associate sport with gambling".
He added: "Given the high social costs and consequences of gambling addiction, it is vital that the regulator prioritises consumer protection over ensuring the growth of the sector, which has rather perversely been its policy until now."
According to gambling industry insiders, 666Bet had big ambitions in Asia, where many Premier League teams are popular, and had recently announced plans to open an office in Taiwan. However, like some other gambling firms, it was believed to be suffering from a new wave of regulation across Europe which is causing difficulties for the $37bn (£25bn) global online gambling industry.
In the UK, the Government has this year required overseas-based operators to apply for licences and will start taxing online companies on their British revenue. Meanwhile, a European Union "digital tax" is threatening profits.
Warwick Bartlett, of gambling consultancy GBGC, said additional tax regulation in the UK would cost firms hundreds of millions and that many were already "consolidating" to survive or "cutting back on marketing costs".
Gavin West, director of Ampla Consulting, which specialises in indirect tax advice to the gaming industry, said the introduction of VAT and further tax liabilities on online gambling operators made it "difficult and potentially financially unviable" for many to continue operation.
Mr Bell was unavailable for comment via several firms where he is listed as a director or has an interest.
Reuse content