Harry Roberts once tried to escape Parkhurst prison on the Isle of Wight by making a fake pistol out of wax and cotton reels. The planned jailbreak never happened as the 78-year-old "got in a panic" and hid the guns in the toilet, where they were eventually discovered by warders, according to one of his fellow inmates, Wally "Angel Face" Probyn.
Now it appears that Roberts will not have to engineer his escape after all, as it emerged yesterday that the Parole Board has concluded that, after 45 years behind bars, he is fit to be released. Roberts, one of Britain's most notorious killers who murdered three unarmed police officers in cold blood is expected to leave Littlehey Prison in Cambridge within days.
When he was jailed for life in 1966, the judge did not try and hide his contempt. As he handed down three life sentences, with a 30-year minimum tariff, Mr Justice Glyn-Jones described the murders as "the most heinous crime for a generation or more", adding: "I think it likely that no Home Secretary will ever think fit to show mercy by releasing you on licence. This is one of those cases in which the sentence of imprisonment for life may well be treated as meaning exactly what it says."
Yesterday, the Home Secretary Theresa May expressed her distaste at the decision to release Roberts. She recognised the decision by the independent Parole Board was outside her control, but stressed the Government is currently changing the law to ensure that future police killers will remain behind bars for the rest of their lives.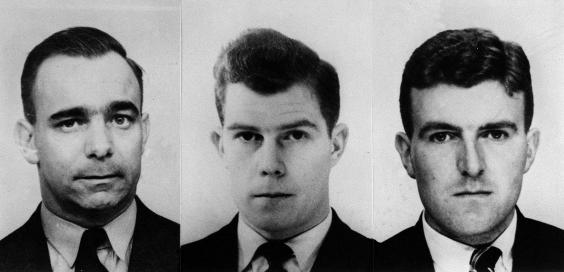 She said: "Policemen and women go out to work every day knowing that they might face great danger and they carry out their duties with great courage. I strongly believe that anyone who murders a police officer belongs behind bars  for life. That is why I have made sure the Government will change the law so life will mean life for anyone who murders a police officer."
The murder occurred when three police officers stopped a van Roberts was sitting in in Shepherd's Bush, west London, after being warned of a possible jail escape from nearby Wormwood Scrubs.
Seemingly worried that the police would find weapons in the van that they planned to use in a robbery, Roberts and an accomplice, John Duddy, opened fire in front of a group of children playing nearby,.
Roberts instantly killed Detective Constable David Wombell, 25, before chasing down and shooting Sergeant Christopher Head, 30. Duddy was convicted of murdering PC Geoffrey Fox, 41.
The murders shocked Britain and prompted concern about increased violence.
Roy Jenkins, the then Home Secretary, described the killings as "a threat to the whole fabric of society" and the Prime Minister Harold Wilson attended a Westminster Abbey memorial service for the murdered officers.
Roberts went on the run for three months and was at the centre of one of the biggest manhunts ever seen in Britain, using skills acquired during national service in Malaysia where, he said, he had learnt to kill, camp out and avoid capture.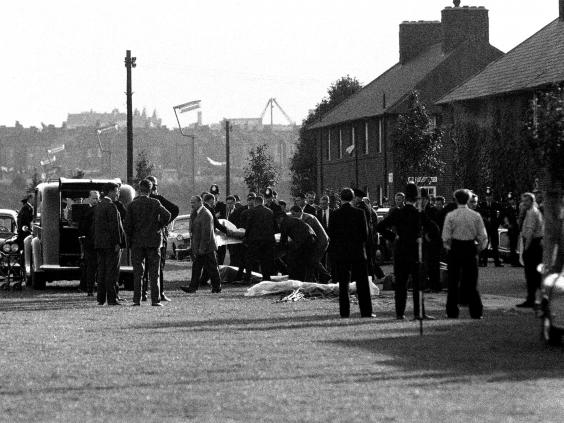 During his time at large, Roberts' face was everywhere, and his notoriety even led to an offensive football-terrace taunt: "Harry Roberts, he's our man. He shoots policemen, bang, bang, bang!"
The killer was eventually found in a wood near Bishop's Stortford, Hertfordshire – not far from where he had been evacuated as a child during the Second World War.
During his spell in prison, Roberts did not appear to show much remorse. In 1993, he said in a newspaper interview: "We shot them because they were going to nick us and we didn't want to go to jail for 15 years. We were professional criminals. We don't react the same way as ordinary people. The police aren't like real people to us. They're strangers. They're the enemy. And you don't feel remorse for killing a stranger.
"I do feel sorry for what we did to their families. But it's like people I killed in Malaya when I was in the army. You don't feel remorse."
Roberts' accomplice Duddy died in jail in 1981. Jack Witney, the third gang member who did not fire a shot, was murdered in 1999, eight years after his release.
Roberts has spent years battling for his release, applying repeatedly for parole, once even bringing a High Court action against then Home Secretary David Blunkett, who refused on one occasion in 2002.
The Parole Board's decision finally to free Roberts has caused outrage amongst the police. Steve White, chairman of the Police Federation of England and Wales, said: "I am appalled to learn that police killer Harry Roberts is being released from prison… It is abhorrent news.
"This decision by the parole board is a slap in the face for the families of the three police officers he brutally murdered who, once again, are forced to relive their pain and loss. It will spark fury among everyone in the police family who will feel badly let down."
However, the Deputy Prime Minister Nick Clegg defended the right of the justice system to make such a decision. "It's not about my feelings. It's about how the justice system works, and if you want to run our justice system according to whatever the latest emotion you feel, fine. But that would be an absolute disaster for the principles of justice."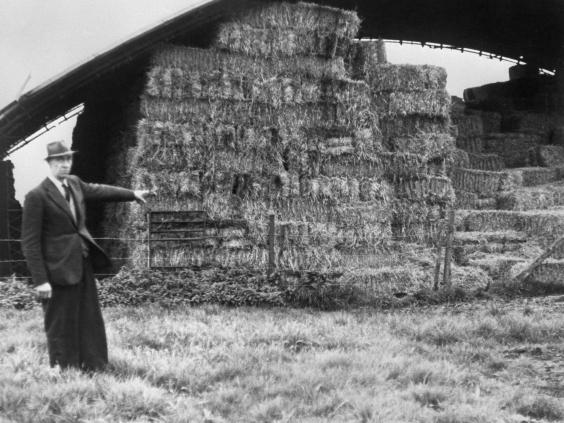 Roberts' return: Difficult reintegration
Harry Roberts will have already made tentative steps into the wider world.
The 78-year-old will have enjoyed a number of day releases on temporary licence from his low-security prison in Cambridgeshire and seen something of multicultural, digital Britain.
Frances Crook, chief executive of the Howard League for Penal Reform, pointed out Mr Roberts left behind a very different world when he was jailed in 1966, where people paid for things with "shillings and sixpence".
She said: "He will have to be reintegrated very carefully by people with enormous skill and precision."
Ms Crook refused to comment on the decision to release Mr Roberts, although she added: "Prison should be primarily about public safety, and if the Parole Board has considered that someone is safe to release then we as a society should support that view based on the basic principle of redemption."
Reuse content