A council whistleblower silenced by managers after raising the alarm about child sexual abuse in Oxfordshire has told how he believes senior staff must have known what was going on.
Dermot Norridge has been revealed as the retired police officer who detailed his concerns in a string of emails about one of six child victims targeted by sadistic gang members, six years before some of them were eventually jailed.
Despite alerting senior child protection staff, Mr Norridge was accused of being unprofessional and ordered to stop sending the emails. His unheeded warnings were revealed earlier this week in a serious case review of the catastrophic failings of Oxfordshire police and social services that allowed an estimated 370 girls to be sexual ly exploited.
Seven men were jailed in 2013 for crimes against the six girls following an investigation launched four years after Mr Norridge first reported seeing 14 and 15-year-old girls in cars with older men. The seven were found guilty of many offences – including 25 against the girl whom Mr Norridge had been trying to protect.
Mr Norridge told The Independent that he suspected financial pressure was one of the reasons why officials failed to back his request to move the child into secure accommodation outside the area after he spotted the 13-year-old under covers with an adult at a flat he was monitoring.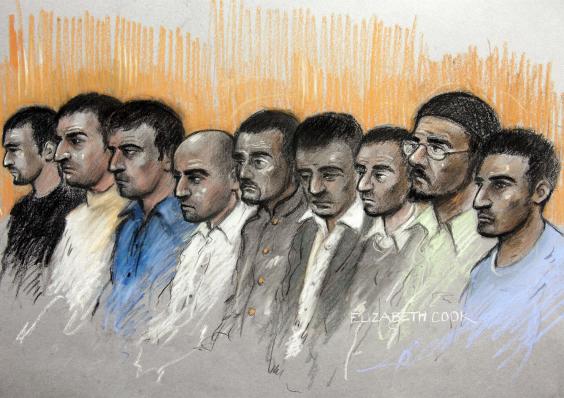 Mr Norridge had left the police after 30 years and was working with Oxford city council on tackling anti-social behaviour on estates, when he was told by neighbours about groups of men leaving a flat in the early hours. He said it swiftly became obvious that nothing was being done.
The former child protection officer said his alarm was so great that he once demanded to speak to the director of social services. An assistant director was sent to speak to him. "I was just trying to get somebody to do something," he said. "I can't see how they can say that senior managers didn't know. It became rather like a table-tennis match. I sent the emails because I was trying to get some attention and to get protection for the child. My emails were pointed, they were demanding, and they were saying things like: 'can you live with the risk that this girl is exposed?'"
Mr Norridge said that he contacted Andy Couldrick, then head of children's social care at the county council and now the chief executive of Wokingham Borough Council in Berkshire. He also sent intelligence reports to the police and emailed other senior social service managers.
During one exchange with Mr Couldrick, Mr Norridge suggested the girl should be moved to secure accommodation. "He [Mr Couldrick] didn't accept it," said Mr Norridge. "He regarded it as draconian… he said we don't do that anymore as if I was somebody from the old school. At least she would have been protected. It did cross my mind whether this was a financial issue."
The report provides backing for Mr Norridge's claim. It says that social workers reported that "asking for an out-of-county placement was seen as a failure and an unacceptable demand on budgets". It also said staff reported an "oppressive culture" within the department.
Mr Couldrick later asked a senior colleague to complain about Mr Norridge's emails and his style, the report reveals. A senior counterpart responded by "unreservedly" apologising for Mr Norridge's attitude and the way he had acted.
"They now assert that senior managers didn't know – and yet a complaint was made by senior county managers to senior managers at Oxford city council about the language and my approach," said Mr Norridge. "They never said: 'Dermot, come and have a meeting'."
He was told by his manager that the county council "did not like senior staff being criticised by a junior person", according to the report. Oxfordshire County Council has said that there was "absolutely no attempt" to discourage Mr Norridge from tackling the issues that he was dealing with.
In a statement, Mr Couldrick said the "concerns were not ignored, but different decisions were taken" about the girl's welfare. "This led to us continuing with what turned out to be the wrong approach," he said. "We did not understand this type of abuse and its scale at that time, and were focused on individual young people. Like everyone else, I deeply regret that we didn't have the correct information."
Reuse content