Police have been called on to justify using a painful tactic known as the "mandibular angle" technique to break up a protest in the West Sussex village of Balcombe against the possible use of fracking.
Keith Taylor, the Green Party's MEP for the South East, has written to Sussex Police to complain about the use of "excessive force" against the protestors - especially the mandibular technique, which involves pressing against the pressure point behind the ear. Police use the technique to forcibly remove people because it can cause considerable pain but no injury.
Mr Taylor's staff witnessed the use of the technique on Friday as 90 police officers descended on the village and removed protestors blocking the gate to the proposed oil and gas site.
"Given the peaceful nature of the protest I was concerned to hear reports from both my own staff and others that your officers seemed to be using excessive force against protestors last week," Mr Taylor wrote in a letter to the chief constable of the Sussex police, Martin Richards.
"Specifically I was concerned to see video and photographic evidence showing officers apparently using pressure point techniques against some protestors… Could you explain the rationale behind using pressure point techniques against protestors who were simply sitting down peacefully and locking hands?," he added.
A spokeswoman for the Sussex Police confirmed that the tactic had been used in Balcombe.
"It is a technique that we use in public order situations. Police officers will use the minimum use of force in circumstances to effect the arrest of people and this technique is commensurate with minimum force. It is only used after repeated requests are ignored," she said.
Fourteen people were arrested on Friday and at least nine more arrests have been made since, as the protest moved into its sixth day yesterday.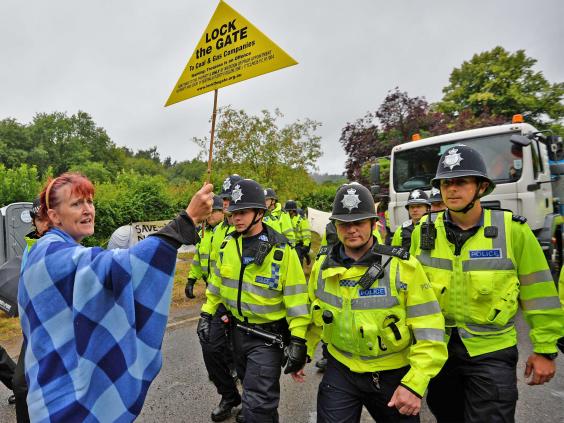 People are protesting over plans by Cuadrilla, a fracking company chaired by former BP chief executive Lord Browne, to explore for oil and gas on the site. The company says it may not need to resort to fracking to extract any oil and gas it finds on the site and it has neither sought or received permission to do so. However, most locals are concerned Cuadrilla will end up concluding that it will need to deploy the technique and then secure the necessary permits.
Fracking, or hydraulic fracturing, releases oil and gas from shale by blasting a mixture of sand, water and chemicals into the rock. It has been linked to earth tremors and water pollution.
The mandibular angle is the place on the lower jaw bone where it starts to angle down toward the chin.
Reuse content