The police watchdog is investigating how a 14-year-old sustained a serious head injury while being arrested.
Declan Diedrick was left with a wound requiring 20 stitches after allegedly cutting his head on a window while being detained by officers on suspicion of theft in Waltham Cross, in Hertfordshire.
A video of his arrest shows Declan screaming "get off me" as he is held by officers near a smashed window. Blood can later be seen streaming down his forehead and he turns around to the camera and shouts "look at me" before being led into the police car. He is then heard saying "I can't breathe" as he is held against the car by an officer, who tells him: "Declan, calm down mate". The same officer later asks for a first aid kit.
A video of the incident was filmed by Aziza Conry, the girlfriend of Declan's brother.
Declan's mother Lorraine Hall was not present during the arrest and told The Mirror that she was contacted by police as they took him to hospital. "Then the hospital rang me to ask if they could stitch him up," she said. "He was taken back to the police station straight after to be questioned.
"He's been off school ever since. He's still suffering headaches and feeling dizzy."
A spokesperson for Hertfordshire Police confirmed to The Independent that the incident had been referred to the Independent Police Complaints Commission (IPCC) and said no other action has been taken directly against the officers involved in the arrest. It could not confirm whether Declan's injury was sustained by him cutting his forehead on the window.
In a statement, the force said: "Police were called to Waltham Cross at around 5.30pm on Wednesday 6 May, following reports of a group of 10 people fighting in the High Street.
"Whilst dealing with this incident officers arrested a 14-year-old boy, in connection with a previous unrelated theft offence.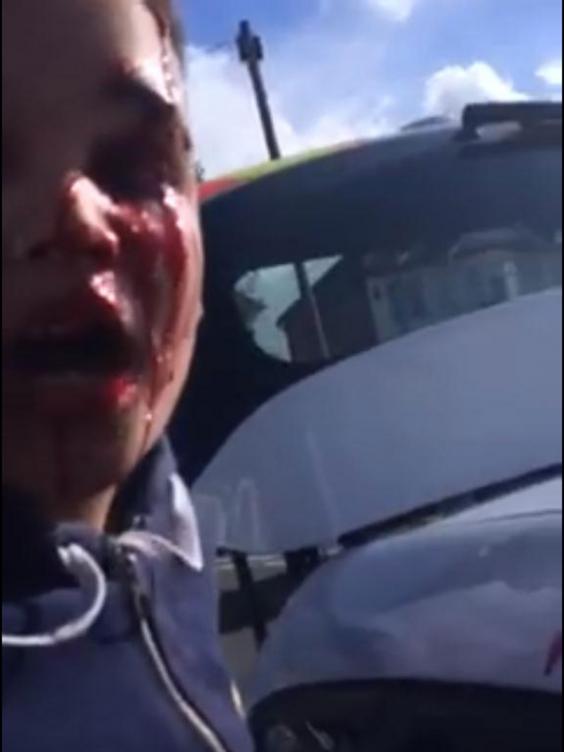 "During his arrest the boy had sustained a cut to his head and was taken to Princess Alexandra Hospital in Harlow for treatment and was discharged the same day. The boy remains on police bail at this time and is due to return to Hoddesdon Police Station on 20 June.
"Two other men were arrested at the scene for affray and enquires continue with regards to the wider incident.
"Following the mandatory guidelines regarding injuries sustained during arrests, Hertfordshire Constabulary has referred the incident to the IPCC for further investigation.
"At this time the Constabulary has received no complaints in relation to the incident."
The IPCC said it has received a referral from Hertfordshire Police. It said: "We are continuing to carry out as assessment to determine the level, if any, of IPCC involvement."
Reuse content