It's a crime wave that has shocked safety campaigners and spurred British Transport Police (BTP) to start a major trial of body cameras, as the number of passengers attacked on Britain's trains hits its highest figure in a decade.
More than 2,880 people were assaulted or abused on the nation's railways last year. Around half – 1,442, the highest number in 10 years – took place on trains. The remaining 1,446 assaults occurred on platforms and in station buildings.
Common assaults, which account for around half of crimes, have soared by 39 per cent in the past five years, from 1,053 in 2010-11 to 1,459 in 2014-15. And one in five offences is racially aggravated harassment, with cases rising by a third in five years.
The new figures, described as "shocking" and "alarming" by campaigners who blame cuts to staff on trains and at railway stations for the rise in violence, are contained in the latest annual safety report by the Rail Safety and Standards Board.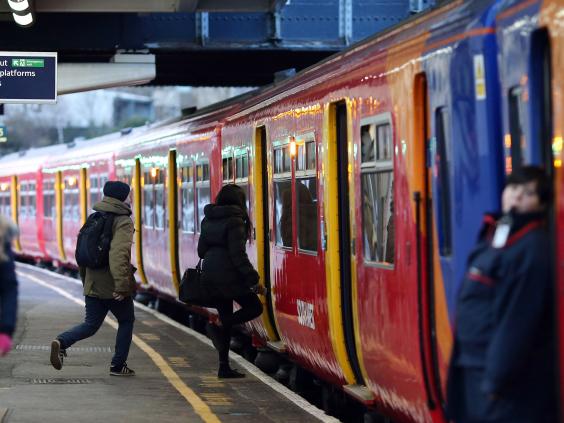 "Taking into account the growth in passenger journeys, there was a 6 per cent increase in the number of passenger and public assaults," says the report, released last week. "This is the first increase in the rate since 2008-09. Assaults in station and train locations both increased."
And it is members of the public who are bearing the brunt of the growth in attacks. "The number of assaults on the workforce leading to harm has remained essentially level for the past three years, at around 850 per year," adds the report.
Mick Cash, general secretary of the National Union of Rail, Maritime and Transport Workers (RMT), said: "These are shocking figures and RMT is in no doubt that they are directly linked to the drive to axe staff from both stations and trains." He added: "RMT warned repeatedly that sacking guards and removing platform staff would turn our railways into a criminals' and yobbos' paradise, and that's what's happened."
Up to a third of the savings which the Government wants rail companies to make by 2019 are expected to come through reduced staffing costs, according to the trade unions. This would mean the loss of some 14,000 train guards and station staff, according to TUC estimates.
"This alarming rise in assaults highlights the folly of allowing train companies to slash staffing on trains and at stations," said Frances O'Grady, TUC general secretary. "Ministers and rail firms should be making the railways more accessible, not making cuts that threaten passengers' health and safety."
Commenting on the figures, a BTP spokesman said: "Any rise in crime is, obviously, both disappointing and a concern." He added: "We now put more officers on late-evening and night trains to reassure passengers and deter problematic behaviour ...we are now also in the process of enhancing this coverage by carrying out a trial of body-worn cameras in a number of cities."
Senior officers hope that the video cameras will serve as a deterrent as they provide a strong form of evidence. More than 250 police officers and police community support officers (PCSOs) are involved in a series of pilots in London, Leeds, Leicester, Edinburgh, and Glasgow. The trials, which began in May, will run for 10 months and could lead to the cameras being rolled out throughout the force.
Meanwhile, government moves to promote driver-only trains, by telling companies bidding for franchises, such as Northern Rail, to operate half of trains with just a driver and no other staff, risk worsening the situation, say campaigners.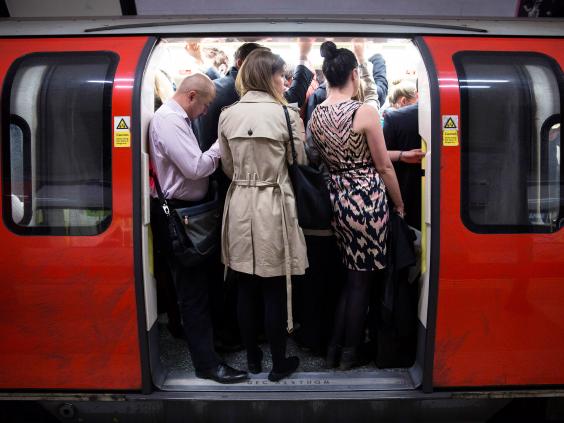 The closing of ticket offices in the evening and at weekends has increased the risk to the public, according to Manuel Cortes, general secretary of the TSSA rail union. "Unmanned stations are a target for vandals and troublemakers. Without staff to control them, they can cause trouble to the travelling public in the misguided belief that they think they can get away with it."
He added: "Private franchises must make sure that the safety of passengers is their number one priority at all times. This means properly staffed stations and trains."
David Sidebottom, passenger director at the independent watchdog Transport Focus, said: "Although it is generally very safe to travel by train, passengers will be concerned by this increase in the number of assaults. They tell us that the best deterrent against crime is visible staff and a police presence both on trains and at stations."
A spokesman for the Rail Delivery Group, representing train operators and Network Rail, said: "We will continue to do all we can to keep passengers, staff and the public safe."
Reuse content