A 14-year-old girl who died following a hit-and-run collision which also left a 12-year-old seriously injured has been described as "an active, friendly girl who was very giving".
South Yorkshire Police has launched an urgent investigation to trace a car driver following the incident in Sheffield last night which left Jasmyn Chan dead.
Senior officers have asked the motorist to consider Jasmyn's family as they issued a direct appeal for him or her to come forward.
A force spokesman said the teenager and a 12-year-old girl, who had not been named, were crossing Normanton Hill, close to its junction with Richmond Hill Road and near to Richmond Park, when they were in collision with a car at 9.20pm.
He said Jasmyn suffered fatal injuries. The 12-year-old girl was taken to hospital where she is being treated for serious injuries. Both girls are from Sheffield and Jasmyn lived in the local area, he said.
Chief Inspector Stuart Walne said: "Jasmyn was an active, friendly girl who was very giving.
"This situation is even more upsetting as the driver didn't stop at the scene.
"The driver may not have intended to cause this collision nor are they likely to have been aware of the extent of the injuries they caused last night.
"However I would urge them to think about the impact on Jasmyn's family, friends and community and please come forward.
"Investigating officers are working on a number of leads and people have been giving us information."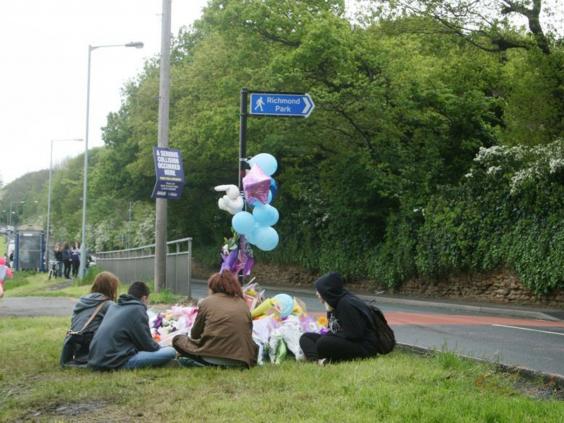 Officers have said the car has been described as small and dark-coloured, possibly green, and maybe a Volkswagen or a Honda. Mr Walne said it will have damage to the front and the driver's offside.
It was travelling downhill, towards the A57 Mosborough Parkway.
Friends laying flowers close to the spot where the crash happened said Jasmyn was walking from the nearby park to her house on the other side of the road.
They understood that three of the group of boys and girls had made it across the road when the collision happened and they had been told Jasmyn may have been trying to help the younger girl when they were both hit by the vehicle.
Dozens of floral tributes to the teenager - known as Jazzy - have been laid around a signpost by the road. A steady stream of friends have come to the spot during the day.
Some of the youngsters sat together around the flowers in an impromptu vigil, many in tears.
"In school, I never saw you without a smile on your face," one message read.
"You brightened up a room just by your presence. You were just a beautiful, smart, young lady with such a kind heart."
Another said: "I can't believe you've been taken from us"
The accident happened at the bottom of a long, straight hill on the 30mph road. Skid marks stretching for about 70m could clearly be seen on the road surface today.
Jasmyn lived with her parents and younger sister just a few hundred yards from where the crash happened. She was a student at Birley Community College, in Sheffield.
PA