A six-month prison sentence handed down to a Fathers4Justice campaigner who defaced a portrait of the Queen was condemned last night as "excessive" and "political".
Tim Haries, 42, told jurors at London's Southwark Crown Court he had scrawled on the portrait in Westminster Abbey last year to highlight the "social catastrophe" of fathers' not being allowed access to their children.
Both the Howard League for Penal Reform and the anti-monarchy group Republic condemned the severity of Haries's sentence. The father-of-two was found guilty of smuggling a can of purple spray-paint into the Abbey in June 2013 before writing the word "help" on the portrait with paint. His actions caused more than £9,000 of damage to the £160,000 work of art.
Judge Alistair McCreath told Haries: "You caused damage to the painting, disappointment to those who had come to see it… and almost certainly some degree of offence to many people who would regard an attack on a portrait of the monarch as unacceptable."
Republic's chief executive, Graham Smith, said it appeared that the act had been interpreted as "political" because the "subject of the portrait" was taken into account. "It was clearly a pretty stupid act of vandalism, but six months is an incredibly stiff sentence and comments in sentencing about offence caused by damaging a portrait of the monarch are completely inappropriate."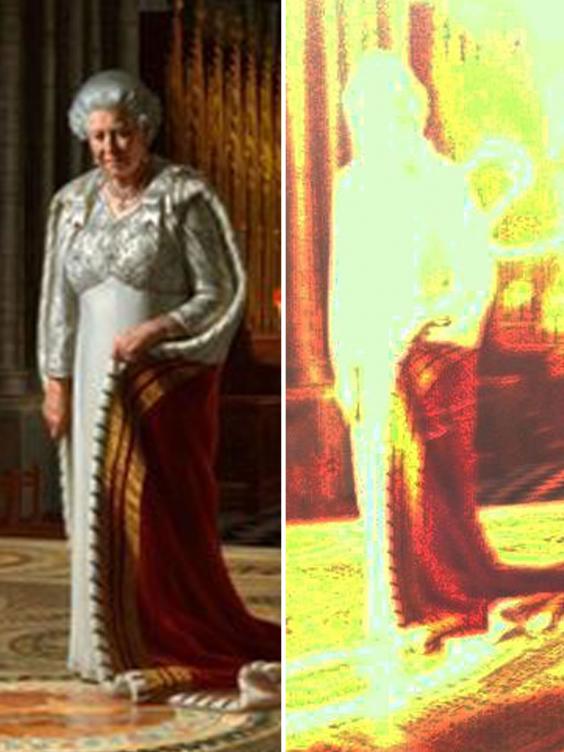 Haries shouted "Fathers4Justice" as he defaced the large oil painting by the Australian artist Ralph Heimans, which was part of an exhibition to celebrate the Queen's Diamond Jubilee. When tackled to the ground by an Abbey steward he said, "Sorry mate, I've got nothing against the Queen," before telling a police officer he was "guilty as charged".
Frances Crook, the chief executive of the Howard League for Penal Reform, said: "Custodial sentences are there to protect the public from people who have committed serious violent or sexual crimes. Locking someone up for a non-violent offence is a waste of public money that will in no way improve public safety."
Haries had about 20 supporters in court, some of whom directed shouts of "Disgusting", "Shame on you" and "Fathers4Justice" at the judge as he was sentenced. In a statement from the group after the hearing, Haries claimed that he was a "political prisoner".
He said: "The judge's decision to ignore the Probation Service's recommendation of a community-service order leaves me with no alternative than to enter an immediate hunger strike."
The judge observed that, in the system of family justice, the needs and interests of the children were paramount. "I accept that your separation from your daughters for a period of four years caused you real anguish… But I do not accept that the means that you chose to make your protest were justified."
Reuse content