A doctor raped and assaulted girls as young as 11 at a hospital where Jimmy Savile preyed on his victims, a court has been told.
Michael Salmon is on trial at Reading Crown Court accused of three counts a rape, 11 of indecent assault, and two of using an instrument with intent to procure a miscarriage.
Prosecutors claim he assaulted girls while treating them under the pretence of "vaginal examinations" and performed an illegal abortion on a 16-year-old before raping her, saying "one favour deserves another".
Salmon believed he was "bomb-proof" from allegations because no one would believe a child over him, the jury was told.
The 79-year-old, of Park Lane, Salisbury, denies all charges. They came to light during Operation Yewtree, the police investigation set up after Savile's death.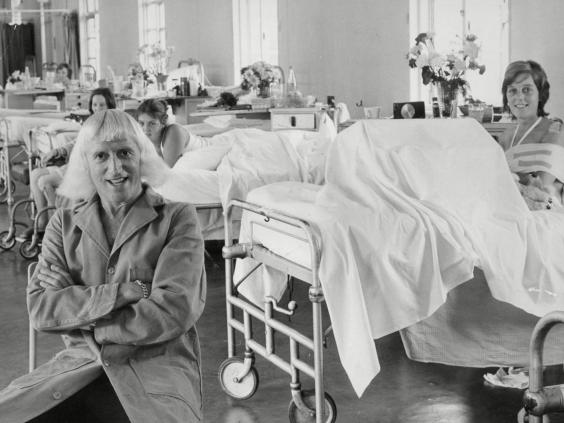 The alleged offences involve eight girls aged from 11 to 18, between 1973 and 1988 when he was working at Buckinghamshire hospitals including Stoke Mandeville, in Aylesbury, as a consultant paediatrician.
The hospital came under fire in the wake of the revelations about Savile's sex abuse, with former patients claiming they were told by nurses to "pretend to be asleep" as he did so-called ward rounds looking for girls to abuse.
Miranda Moore, a lawyer for the prosecution, said the late DJ would barely feature in the case.
"There might be the odd passing reference, but there's no suggestion that this defendant abused a young female patient in concert with Jimmy Savile. It's simply that these allegations relate to a time when the other things were happening," she told the jury.
"Each count relates to a young girl that he met while working as a consultant paediatrician based in Buckinghamshire.
"The witnesses will probably refer to him as Dr Salmon, he's no longer a doctor, not because he's retired, but because he was struck off the medical register in 1991 after being convicted in 1990 of three counts of indecent assault against young female patients."
Ms Moore said the defendant examined girls in a consulting room, with their parents either out of view behind a screen or in another room.
"On some of the occasions he handled the breasts of some of the young girls, with the pretence of listening to their heart, and he also on occasions carried out internal vaginal examinations, something for which there was no medical need whatsoever, without a nurse present and without wearing surgical gloves," she told the court.
"In one case he used a girl's distress to offer to undertake an illegal abortion, and raped her in the aftermath, at the same time."
The 16-year-old sought help from Salmon after he confirmed she was pregnant with a test, Ms Moore told the jury.
He allegedly her to the bedroom of his home, where he produced an instrument like a tube which he said would suck out the foetus, the court was told.
Afterwards, she went into the bathroom and cleaned herself up while bleeding and in pain, jurors heard, but he told her to lie on the bed, said "one favour deserves another" and raped her.
Weeks later he called her and said she may have been going to have twins to persuade her to return to his home and attempt to repeat the ordeal, Ms Moore said.
He managed to perform the same procedure but when he allegedly tried to rape the victim again, she managed to escape.
Another rape charge related to a child patient at Stoke Mandeville, who encountered abuse at the hands of others before she was introduced to Salmon, who told her to call him "Uncle Mike", Ms Moore said.
On one occasion Salmon, another abuser and a third man she did not know gang raped her, jurors were told. She was aged between 12 and 14 at the time.
"She remembers after being raped by three men, that she was taken back to her bed by a hospital porter," Ms Moore said.
When Salmon was arrested in November 2013, he described the allegations against him as "rubbish" and "absolute nonsense".
He called his accusers "gold diggers" and told police: "I'm speechless. I've never in my life raped anyone."
The trial continues.
Additional reporting by PA
Reuse content