The Home Secretary has been accused of a McCarthy-style witch-hunt after proposals were announced that would see radical preachers and campaign groups expressing extreme but legal opinions being outlawed from involvement with public sector bodies including schools.
Theresa May said Whitehall was drawing up a "banned list" of individuals and organisations in an effort to avoid a repeat of the "Trojan horse" affair in which Birmingham schools were infiltrated by hardline Islamists. The move brought charges of McCarthyism where people with views unpalatable to mainstream thought would be targeted.
Ms May also set out other plans for thwarting the spread of extremist ideology amid fears that it is responsible for radicalising teenagers and young adults. The measures are likely to be incorporated in the Conservative general election manifesto.
More than 600 British jihadis are believed to have headed to Syria to join Isis.
Women in Politics 2014: Females in Parliaments across the world
Women in Politics 2014: Females in Parliaments across the world
1/9 4th: Sweden

Swedish European Affairs Minister Birgitta Ohlsson pictured at the EU headquarters in Brussels. After Nicaragua, Sweden has the highest number of women in cabinet, with 56.5 per cent of Swedish ministers being female. 157 of the 349 seats in the single parliamentary house are held by women.

JOHN THYS/AFP/Getty Images

2/9 Afghanistan: 41st

Leading Afghan women's rights champion, author, lawmaker and former presidential hopeful Fawzia Koofi talks during an interview with AFP in Kabul. Not well known for its women's rights record, Afghanistan beats the UK. Of the 249 seats in the Afghan lower house, 69 are held by women. 28 of its the 102 seats in its upper chamber are taken by women.

JOHANNES EISELE/AFP/GettyImages

3/9 64th: UK

Home Secretary Theresa May leaves Downing Street in London, England. 147 out of 650 seats in the House of Commons are held by women, compared to 182 of 778 in the House of Lords.

Oli Scarff/Getty Images

4/9 1st: Rwanda

Rwanda Minister of Agriculture and Animal Resources Dr Agnes Kalibata, speaks at the African green Revolution Forum. 39 per cent of ministers in Rwanda are women, holding 51 out of 80 seats in the lower house. 10 of the 26 seats in the upper house are taken by women.

ISSOUF SANOGO/AFP/Getty Images

5/9 China: 61st

Chinese Vice Premier Liu Yandong pictured at the People-to-People Exchange at Diaoyutai State Guest House in Beijing, China. Outdoing the UK by three places, women hold 699 seats in the country's 2987-member-strong single house.

Feng Li/Getty Images

6/9 US: 83rd

Republican Senator Susan Collins speaks onstage at the FORTUNE Most Powerful Women Summit in Washington, DC. Hold its ranking joint with San Marino, only 79 of the 432 lower house members are women. 20 members of the 100-strong upper house are women.

Paul Morigi/Getty Images for FORTUNE

7/9 France: 47th

French minister Aurelie Filippetti attends the Opening ceremony and the 'Grace of Monaco' Premiere during the 67th Annual Cannes Film Festival. Sharing its ranking with El Salvador, 151 members of the 577-member-strong lower house are women. Meanwhile, female members hold 78 of the 347 seats of the upper house.

Pascal Le Segretain/Getty Images

8/9 Italy: 31st

Italy's Integration Minister Cecile Kyenge poses as she arrives for a lunch at the French embassy in Rome. 198 women of a possible 630 seats in the lower house are filled by women. 92 women hold seats in the 317-member-strong upper house.

GABRIEL BOUYS/AFP/Getty Images

9/9 South Sudan: 45th

South Sudan's Water Minister Jemma Nunu Kumba at the 10-nation Nile River forum in the Sudanese capital Khartoum. The world's newest country has 88 women in its lower house of 332 members. Of 50 seats in its upper house, women hold 5.

EBRAHIM HAMID/AFP/Getty Images
The list of banned groups is being compiled by the Home Office's "extremism analysis unit". Ms May said it would set out "clearly for the first time with which individuals and organisations the Government and public sector should and should not engage".
She added: "This will make sure nobody unwittingly lends legitimacy or credibility to extremists, and will make it very clear that government should engage with people directly and through their elected representatives – not just through often self-appointed and unrepresentative community leaders."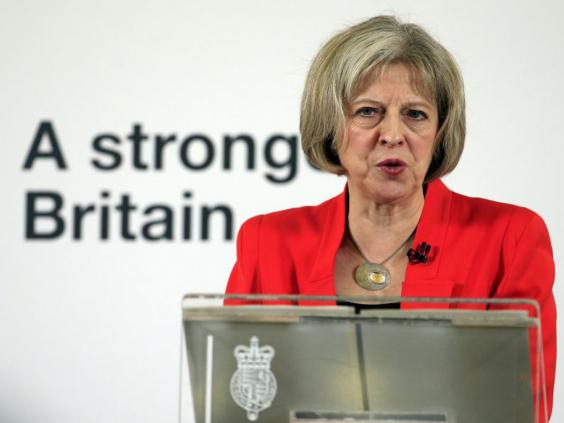 The Home Secretary had hoped to win Cabinet backing for other measures, but ran into opposition from party colleagues who argued the plans were not yet finalised.
Outlining proposals for an incoming Tory administration, she said it would give the authorities the power to shut down mosques which provide a platform to "messengers of hate". The threshold under which extremist groups are outlawed would be lowered, while individuals would face civil "extremism disruption orders".
So-called "extremism officers" would be appointed in prisons to try to combat radicalisation behind bars by Islamist gangs and a review ordered into the application of sharia in England and Wales.
The moves would be combined with a "positive campaign to promote British values" and extra money for English language lessons.
The Muslim commentator Mohammed Ansar attacked the "blacklist" proposal. He claimed that "anti-Muslim McCarthyism" had reached a new low ahead of the general election.
Peter Tatchell, the human rights campaigner, tweeted: "UK govt to ban hate preachers. How do you define hate? Danger of McCarthyism. Threat to free speech." The Islamic Human Rights Commission accused Mrs May of playing  the Islamophobia card and of attempting to "curtail the fundamental rights of Muslims under the pretext of combating extremism".
Reuse content