One of the world's most endangered species of big cat has given birth in a zoo to three cubs in a zoo in Yorkshire.
The birth of three Amur Leopard cubs to parents Freya and Drake has been celebrated by conservationists, as there are only 80 of the critically endangered species left in the wild.
Following their arrival in Yorkshire Wildlife Park in June, the cubs have been carefully shielded from the public, with the Park only releasing CCTV and stills of the cubs with their mother ahead of their vaccinations later this week.
Conservationists hope the cubs will spearhead an international movement to reintroduce the leopard species to their native habitat in east Russia.
"It is very exciting that in the next two to three years, we could be involved in working with the international conservation community in reintroducing Amur Leopards back into their native Russia," YWP Animal Collection Manager Simon Marsh said in a statement.
News of the birth comes amid information that the cat may be making a comeback in the wild, following intense efforts from conservationists in Siberia.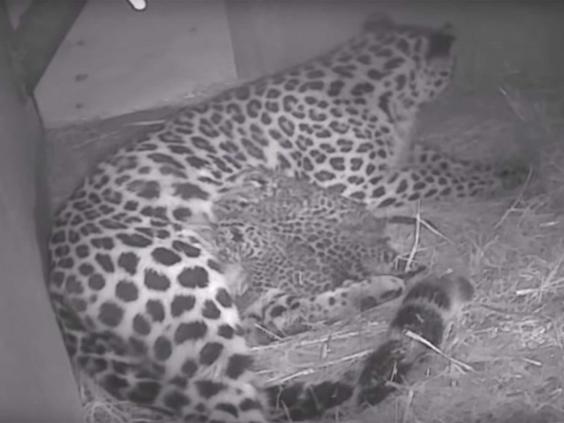 Amur Leopards, also known as Russian Far Leopards, can live for 15 to 20 years. They are especially adapted to survive in the freezing conditions of eastern Russia, but have been poached to near extinction due to the high value on their fur. Diminishing prey populations – also due to hunting in the region – also contributed to their vanishing numbers.
Reuse content