Ed Miliband will kick off Labour's "long election campaign" on Monday with a pledge by the party to speak directly to four million voters over the next four months.
Mr Miliband will attempt to make a virtue of Labour's lack of financial firepower by promising to fight a localised campaign based on its strong activist base.
He will pledge that Labour members will individually contact more voters than any party has ever done in an election campaign, while he will hold weekly public "question-time" events across the country over the next four months.
In a speech to activists in Manchester, Mr Miliband will attempt to contrast the Conservatives' poster campaign launched last week with Labour's approach.
"We will win this election, not by buying up thousands of poster sites, but by having millions of conversations," he will say. "This year we will be making our case, explaining our vision, house by house, street by street, town by town.
"And in every single one of those conversations, we will remind people of what is at stake, not speaking over people's heads but talking directly with them on their doorstep."
Mr Miliband will also attempt to counter the Tories' message on the improving economy by suggesting that the benefits of growth have only been felt by a few.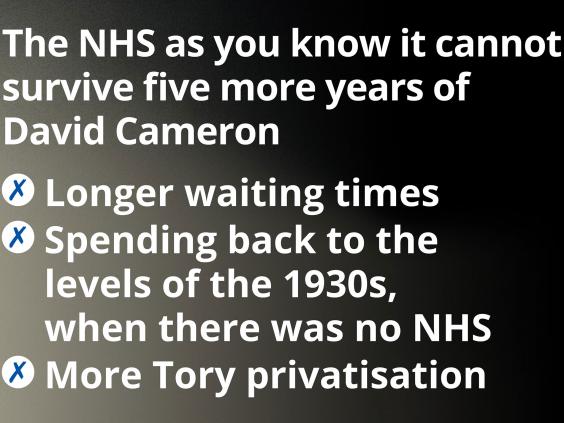 "The Tories are telling you about the good economic news. But you and your family are not having enough to pay the bills at the end of each month," he will say. "The Tories telling you that there has never been more opportunity for young people. But your son or daughter can't afford to go to university and the only other option is a zero-hours job."
But writing for The Independent's website today Patrick Diamond, a former adviser to Tony Blair and Gordon Brown, warns that with falling oil prices and signs that wages are growing this message may seem out of date by next May.
"Labour cannot afford to shackle itself to a narrative of 'unremitting economic pessimism'," he writes. The rhetoric of a 'cost-of-living crisis' may well feel past its sell-by date by the time of the election in May.
"To capitalise on George Osborne's and David Cameron's mistakes, Labour cannot afford to rest on its laurels as political battle resumes. Ed Miliband must now accelerate his party's shift into the political centre-ground if Labour is to have any chance of securing a parliamentary majority in May."
In pictures: Ed Miliband trying to look normal
In pictures: Ed Miliband trying to look normal
1/17 The beggar

Ed Miliband casually gives money to a homeless woman in Manchester, surrounded by press photographers.

2/17 The Bacon Sandwich

Ed Miliband buys a bacon sandwich from cafe owner Antonios Foufas at New Covent Garden Market in London as he kicks off a day of campaigning on the eve of the local and European elections

3/17 The Bacon Sandwich

Ed Miliband chats with a cafe owner Antonios Foufas at New Covent Garden Market in London

4/17 The Bacon Sandwich

Ed Miliband embarked on a whirlwind campaign tour of England - but struggled at the first hurdle (a bacon sandwich). Aides intervened after just a few less-than-elegant bites

Jeremy Selwyn

5/17 Flower Shopping

Ed Miliband talks with a couple of traders at New Covent Garden Market in London

6/17 Flower Shopping

Ed Miliband purchases some red roses for his wife at New Covent Garden Market in London

7/17 Talking Business

Ed Miliband talks with a trader at New Covent Garden Market in London

8/17 Good Morning Britain

Miliband on ITV's Good Morning Britain show on 20 May 2014, a day of gaffes in which he was also caught out by BBC Wiltshire for not knowing who the local Labour leader was

9/17 '£70 Weekly Shop'

Ed was accused of being 'out of touch with reality' after he seemed not to know what he - or the average British family - spends on a weekly food shop

PA

10/17 Drop in Polls

Ed Miliband paid a visit to Leighton Hospital in Crewe to speak with the staff about the NHS, but faced difficult questions about polls showing his personal ratings falling well behind those David Cameron and George Osborne

PA

11/17 On the Sofa with Farage

Ed Miliband appeared on the Andrew Marr Show to debate with Nigel Farage - but has all but conceded defeat in the Newark by-election, allowing Ukip a free run at the Tories

BBC

12/17 Wollies in Wellies

Miliband was among a number of politicians to come under fire for 'touring' the floods in the South and South West earlier this year

PA

13/17 Wollies in Wellies

The Labour leader admitted it was 'a difficult decision for politicians whether to visit areas like this'

14/17 Missed Opportunity

Miliband's performance at the Labour conference last year failed to make much of an impression on voters, polls suggested

Getty Images

15/17 Sharing the Moment

Miliband, Nick Clegg, David Cameron and Angus Robinson enjoy their moment with Andy Murray, after the tennis player's Wimbledon win

Getty Images

16/17 Casual Husband

Miliband and his wife Justine are pictured in their hotel room in Brighton as he prepares to give his keynote speech to the annual Labour Party Conference

Getty Images

17/17 The Milibands

Just your average family of four?

Getty Images
Labour also came under fire from the Conservatives for a poster claiming that the "Tories want to cut public services back to the levels of the 1930s".
Downing Street and independent commentators pointed out that the statement was wrong – as it failed to mention that the cuts were as a share of GDP rather than real terms.
"Labour's poster is misleading," said the editor of The Spectator, Fraser Nelson. "It uses share of GDP in language that makes the reader believe it's talking about real money. But given that George Osborne used precisely the same trick to pretend that he has halved the deficit, he is in no position to complain."
In his speech, Mr Miliband will claim that the "Tory experiment" has "failed" and that only Labour can bring economic prosperity to all. 
"Theirs is not a record to run on," he will say. "Theirs is a record to run from. And what is their plan for the next five years? We learnt that on Friday.
"Keep driving along the road to nowhere, but press down on the accelerator. Imagine what another five years would mean for you and your family."
Reuse content