A British couple might just be the luckiest lottery winners in the world after taking home £1m in the EuroMillions draw for the second time in two years.
David and Kathleen Long, from Scunthorpe, beat odds of 283 billion-to-one to secure the winning sum - a feat bookmakers William Hill claimed was less likely than "seeing Elvis alive and well".
They won their first £1m in the same lottery in 2013.
Mr Long said he "just knew it would be my turn again some day" - but admitted that when their numbers were first matched he just "couldn't believe it".
"I tend to play when I know there are lots of prizes on the go," he said.
"Last time I knew I had a good chance because there were 100 prizes of £1 million. Last Friday night I was passing the local shop and saw there were 10 £1 million prizes on EuroMillions and a nice car and thought yeah I'll give that a go.
"Got to be worth a few lines and I got five using my usual numbers.
We're in #Scunthorpe to meet David and Kathleen Long who are celebrating an unbelievable SECOND #EuroMillions win! pic.twitter.com/Mv6Cg8MPS8

; The National Lottery (@TNLUK) April 1, 2015
"On Saturday morning I sat down in front of our telly and started checking the numbers. On one line I'd matched two numbers and one star to get £7.20 and thought that's all right.
"Then I checked the raffle codes- something I've learnt to do automatically since winning last time. After a few moments I very calmly called Kath in and said 'Have a look at this. It's there. Look. Read that line'."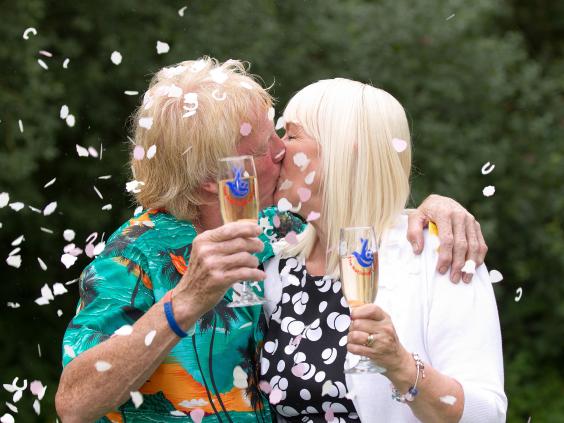 Mr Long said his wife checked the television and went online, adding: "Then she went up right close to our television on the wall, put on her glasses and stared really hard at the raffle numbers. It seemed ages and then she finally said: 'You said you'd do it again and you have!' Everything has been a blur ever since.
"It's definitely taking longer to sink in this time!"
David & Kathleen won £1m in the #EuroMillions 100 Millionaire draw in 2013 AND £1m & a dream car in Friday's #MegaFriday draw! #NoAprilFool

; The National Lottery (@TNLUK) April 1, 2015
A spokesman for lottery bosses Camelot said that they were "extremely shocked" and described the situation as "extraordinary".
"As you can imagine, we see winners who win once who are very, very shocked," he said. "It must be even more shocking to win twice."
Camelot said that in August 2013 Mr Long almost threw the winning ticket away - after thinking they had won just £2.70.
He went back to work as an HGV lorry driver at C & C Transport in Scunthorpe on the Monday morning as normal after the big news was revealed.
He said that he planned to treat himself to a season ticket for Liverpool FC, a cruise, maybe a luxury camper van, and a new car.
Camelot also revealed how the huge odds were calculated. A spokesman said they had taken the number of prizes available - 10 - divided by the number of entries, which are not released for commercial reasons.
This was done for the draw that the couple won originally - and then the two outcomes were multiplied.
Mr and Mrs Long also won a top-of-the-range Jaguar.
Meanwhile, a UK ticketholder won Tuesday's £53 million EuroMillions jackpot - the 10th biggest EuroMillions jackpot to be won in Britain - but has not yet claimed the prize.
Reuse content