Muslims in Britain have accused the government of acting like "members of the far right" after more than 1,000 Islamic leaders received a letter telling them they had "more work to do" in the wake of the Paris attacks that killed 17 people in total.
Communities Secretary Eric Pickles wrote to mosques in England to say that they had to work harder to root out those who have been radicalised and prevent others from being susceptible to recruitment by organisations such as Al-Qaeda.
Mr Pickles also asked faith leaders in the letter to make more effort in "promoting" how "British values are Muslim values".
2014 Right-Wing Power List - Top 25
2014 Right-Wing Power List - Top 25
1/22 1. Nigel Farage

A still from the Paddy Power advertisement

2/22 3. George Osborne

On 30 September, at the Tory conference in Birmingham, the Enterprise Forum hosted an invitation-only reception with the CBI and George Osborne

Getty

3/22 4. Boris Johnson

Boris Johnson argued that he could perform both roles as MP and Mayor

AFP/Getty Images

4/22 5. Lynton Crosby

Lynton Crosby has told ministers to stop announcing minor policies which distract from the party's core messages

Tal Cohen/Rex Features

5/22 6. Theresa May

Home Secretary Theresa May will outline plans to curb extremists' freedom of speech (Getty)

Getty

6/22 7. Philip Hammond

Foreign Secretary Philip Hammond says the killing of James Foley is an "utter betrayal of our country, our values and everything the British people stand for"

Getty

7/22 8. Sajid Javid

Baroness Warsi described Culture Secretary Sajid Javid as 'the only non-white person' in the Cabinet

Getty

8/22 9. Jeremy Hunt

Health Secretary Jeremy Hunt

Getty

9/22 10. Lord Ashcroft

Lord Ashcroft

PA

10/22 11. Samantha Cameron

Samantha Cameron: a high-flyer with a wealthy background

Getty Images

11/22 12. Michael Gove

Durham Free School had earlier been praised in the Commons by Mr Gove

Getty Images

12/22 13. William Hague

William Hague

Getty

13/22 14. Michael Fallon

Rex

14/22 15. Grant Shapps

Grant Shapps was mocked over the 'beer and bingo' ad

15/22 16. Edward Llewellyn

16/22 17. Chris Grayling

Chris Grayling, the Justice Secretary

Rex

17/22 18. Iain Duncan Smith

Iain Duncan Smith

Getty Images

18/22 19. Nicky Morgan

New education Secretary Nicky Morgan

Getty

19/22 20. Eric Pickles

Eric Pickles is often to be seen down at the RSPB's Rainham Marshes nature reserve in Kent

Getty

20/22 21. Oliver Letwin

Getty

21/22 24. Francis Maude

Francis Maude, Minister for the Cabinet Office

EPA

22/22 25. Patrick McLoughlin

Patrick Mcloughlin is considering using taxpayers' money to build homes around the HS2 line

Getty Images
The Muslim Council of Britain, a body which represents more than 500 organisations and mosques across the UK, said that it wanted Mr Pickles to explain what he meant as it suggested that almost three million followers of Islam in Britain are not part of the same society.
Lord Ahmed, who co-signed the letter, told BBC Radio 4 today that he was "disappointed" with the organisation's response.
Deputy secretary-general Harun Khan of the MCB said: "We will be writing to Mr Eric Pickles to ask that he clarifies his request to Muslims to 'explain and demonstrate how faith in Islam can be part of British identity'.
"Is Mr Pickles seriously suggesting, as do members of the far right, that Muslims and Islam are inherently apart from British society?"
Ridiculous and unhelpful intervention from the Communities Secretary, Eric Pickles this morning, by asking all Muslims to prove themselves.

; Mohammed Ansar (@MoAnsar) January 19, 2015
It turns out that Pickles isn't blaming all Muslims for terrorism, but victim-blaming them for Islamophobia. So much better. @bbcbreakfast

; Brian Lawton (@MrBLawton) January 19, 2015
WHAT! Eric Pickles asking Muslims 2 root out extremists Did we write 2 Catholic Churches during IRA terrorist bombings? CAUSES hatred WRONG

; rosita stefanyszyn (@rositastef) January 18, 2015
In the letter, Mr Pickles wrote: "We must show them the multitude of statements of condemnation from British Muslims, show them these men of hate have no place in our mosques or any place of worship, and that they do not speak for Muslims in Britain or anywhere in the world.
"Let us assure you that the Government will do all we can to defeat the voices of division, but ultimately the challenges of integration and radicalisation cannot be solved from Whitehall alone. Strong community-based leadership at a local level is needed."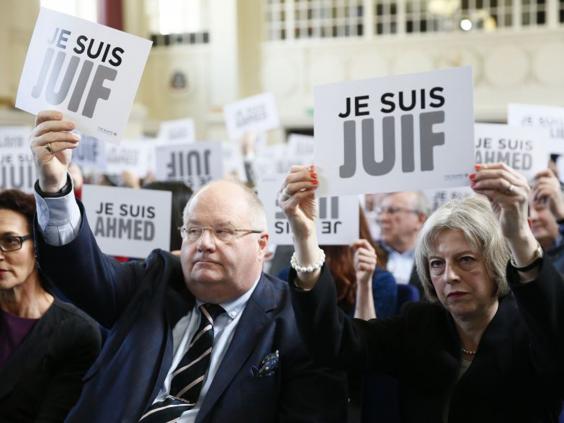 Mr Pickles and Lord Ahmad reassured the leaders that they had been in touch with police chiefs "to make sure they are providing the support that mosques need, a concern that some of you have expressed in our recent discussions".
Meanwhile, Home Secretary Theresa May promised to increase the Government's efforts to tackle the terrorist threat and a "chilling" rise in anti-Semitism. Ms May and Mr Pickles yesterday attended an event held by the Board of Deputies of British Jews and raised signs saying "Je suis Juif" (I am Jewish) while some others held up placards saying "Je suis Ahmed".
Mrs May said the attack on the supermarket in France, where four hostages died in the hands of Amedy Coulibaly earlier this month, was "a chilling reminder of anti-Semitism, not just in France but the recent anti-Semitic prejudice that we sadly have seen in this country" .