Britain is rapidly becoming a Methuselah nation with the number of centenarians increasing five-fold in the past 30 years.
New figures show that 12,320 people living in England and Wales are currently more than 100 not out, according to the Office for National Statistics (ONS). It is estimated that 610 of these are now aged more than 105.
The growing number of the very old has major implications for future pensions, social and health care policies as well as for the organisation of the workplace, communities and families.
Forecasts suggest that more than a third of British babies born today will live to receive a letter from a future monarch congratulating them on the milestone - assuming it does not become too commonplace an age for the tradition to continue.
It was found that nearly one per cent of the English and Welsh population is now aged more than 90 - up threefold since 1981.  Last year the number of those living into their 10th decade and beyond reached 465,500 or the equivalent of a city the size of Edinburgh.
This means Britain is now ranked ahead of countries including Norway, the United States and Australia in its number of very old people. Japan still heads the international longevity list with half as many people again as the UK making it to 90.
Figures have increased sharply since 2008 when the impact of declining birth rates during the latter stages of World War One saw a dramatic reduction in the number of nonagenarians
And whilst women have traditionally dominated the ranks of the "oldest old", men are rapidly catching up thanks to advances in healthcare the decline of manual labour.
Women however can still expect to live on average four years longer than men enjoying a current life expectancy of 82.6 years.
Yet whereas in 1981 there were four women for every man aged 90 and over there are now only 2.6 although wives are still six times more likely to reach 100 than their husbands.
The latest figures on longevity come as the Ready for Ageing Alliance warned that the Government is not ready for the impact of an ageing population.
Research released by alliance member Anchor, which provides homes and care to the over-55s, showed that the public is underprepared for the realities of growing old.
It said just 29 per cent of adults are saving money for when they get older and 48 per cent had not considered how they will pay for their own care.
Mervyn Kohler of Age UK said the figures showing increasing numbers of centenarians and over 90s were a cause for celebration.
"It is far better than the alternative," he said. But there needed to be faster change at government, community and a personal level to combat problems such as the multiple medical conditions associated with extreme age as well as loneliness and isolation.
"Most of us have a role model of our own grandparents who probably died in their 60s or 70s. We haven't adapted to the idea that we will live into our 90s or even 100s," he said. "It can be pretty bleak. There is a lot of survey evidence of loneliness increasing and as other peoples' lives become increasingly busy and frantic it is easy to get left in the slipstream."
The Queen currently sends a personal birthday message to anyone in the United Kingdom celebrating their 100th birthday, their 105th birthday and every birthday thereafter.
CASE STUDY: EDITH REGULARLY WALKS TWO MILES INTO TOWN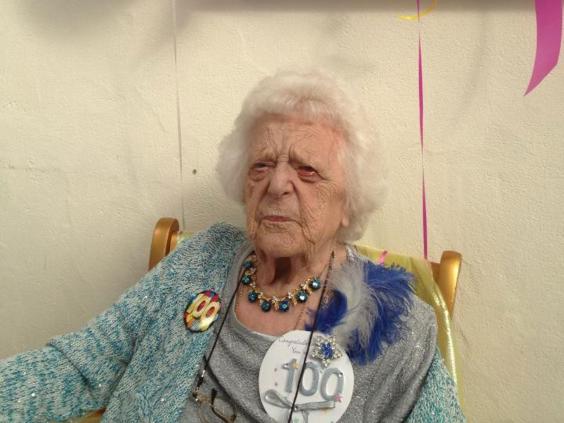 Edith Bassett celebrated her 100 birthday last month surrounded by her family at a sun-soaked garden party.
"You don't think about your age – you just get on with things," she said. "You should keep busy and keep in with things. Don't hide away because that is no use," she added. Mrs Bassett, who nursed her husband Harry, a former aeronautical draughtsman, through Alzheimer's until his death in 1996, was born in Blackburn, Lancashire before the First World War.
Her mother was a weaver in the cotton mills and she can recall the lamplighters coming up her street to light the gas with their long poles whilst the children played out. She went on to have two sons – now both in their 60s - and has three grandchildren and three great grandchildren.
She regularly walks the two miles into town and is an active member of her church and a regular at a local luncheon club.
"I have a cleaner who comes in for the heavy stuff but I have plenty to keep me going - knitting and sewing. There is never a dull minute," she said.
Reuse content