A new daily 'national' newspaper aimed at readers in the North of England is due to become available later this month.
Described as 'The North's National', 24 will be a tabloid style weekday newspaper costing 40p.
Launching on 20 June, 24 it is marketed to "Disenfranchised readers of national newspapers looking for a less expensive alternative to London-centric titles."
The publication will aim to offer politically neutral coverage of national stories, alongside features and regionally focussed columns from local writers. 
Readers can also expect a sports section focussing on northern football teams such as Manchester, Liverpool and Newcastle United, alongside puzzles and celebrity gossip. 
95 per cent of the newspaper's content will be provided by the Press Association – a UK-wide news agency with teams based in Scotland and the North of England. 
24 will be published by CN Group, which already publishes regional papers such as Cumbria News and the North West Evening Mail. 
Mike Haworth, who has previously held senior editorial positions on The Daily Express, The Daily Star and other regional publications, will be editing 24.
This will be the first time a regional publisher has released a title with a national scope, according to CN Group.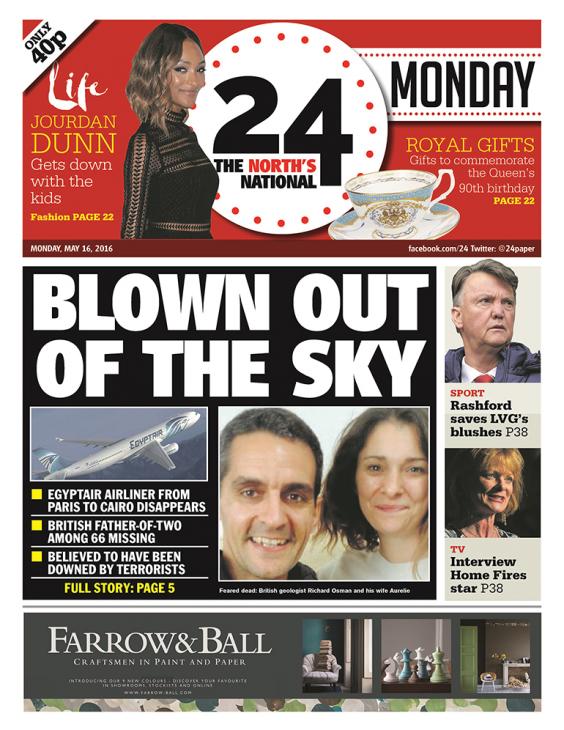 Miller Hogg, chief executive of CN Group said: "24 will fill a large gap in the regional market by providing a northern take on the national headlines."
 "We see our purpose as serving the communities in which we operate, so it follows that CN Group should produce a national newspaper tailored to our patch.
"We know our customers well and have the capacity to print, publish and distribute a new paper for the local market."
Editorial Director David Halliwell said: "After so much doom in the industry, this is an exciting new development.
We believe we have the right package of content and design, spiced up with a distinctly northern flavour, to provide a viable alternative in the national newspaper market."