Senior police officers revealed yesterday that some 60 British women and girls have travelled to Syria amid warnings of a campaign by Isis to target vulnerable teenagers to become brides for jihadist fighters.
More than a third have been reported missing by their families with most aged 20 or under, said Helen Ball, the senior national co-ordinator for counter-terrorism, as new CCTV images emerged of three girls who travelled to Turkey 13 days ago. Footage released by a Turkish television station showed three girls, believed to be Shamima Begum and Amira Abase, both 15, and Kadiza Sultana, 16, walking into a bus station wrapped in warm clothing from snow-covered streets and remaining there for around 18 hours. The girls, carrying day sacks and holdalls, are then seen boarding a bus bound for Urfa close to the Syrian border. People smugglers are believed to have taken them across the border before Scotland Yard appealed for their return three days after they were reported missing, hoping that the wintry weather could have delayed their departure from Istanbul.
The girls, all described as straight-A students, had been spoken to by police about the flight of one of their school friends from Bethnal Green Academy to Syria two months before. Police said there had been no reason to suspect that they were set to follow the same path as their schoolmate. It has emerged that one of the girls, Kadiza Sultana, was following more than 70 extremists on Twitter.
"About 60 women and girls have travelled", with 22 of the youngest reported missing by their "distraught" parents, Deputy Assistant Commissioner Ball told the BBC. "When I say young, all but four of those 22 were aged 20 or younger. The last five who have travelled were aged 15 or 16, so this is a growing problem and one of real concern."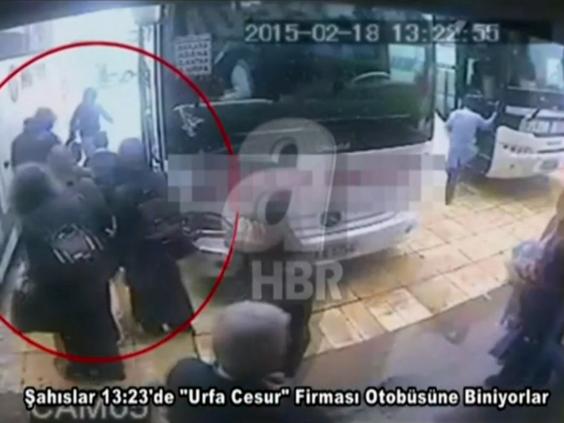 Kalsoom Bashir, of Inspire, which works with Muslim women to tackle extremism, said that Isis was targeting young, religiously illiterate women. "It's ideological grooming and sexual grooming too," she told the BBC. She criticised a tweet by Cage, the campaigning group, which said that police would "lock them up" if the three schoolgirls returned to Britain.
Details of how young women were encouraged to travel to Syria were given yesterday by a French journalist who posed as a 20-year-old jihadist bride.
She became a minor online celebrity after she attracted the attentions of a senior Isis commander who proposed marriage. Abou-Bilel, a commander in Raqqa, Syria, promised that she would be "treated like a princess" and would have a beautiful life, a big apartment and lots of children, according to an account in The Sunday Times. The journalist was encouraged to travel to Syria via Amsterdam to deflect the attention of the authorities. She was told that when she got to Turkey, she should take an internal flight to Urfa, close to where the three schoolgirls were believed to have crossed the border. The Isis commander was reported to have been killed several months ago.
Police said fighting in Syria had had a "galvanising" effect on the radicalisation of young Britons. Officers arrested 165 people last year linked to Syria, compared with 25 the year before, said Ms Ball.