It may seem as though we live in a Britain where the pace of life and dominance of modern technology has got way out of hand, from rapidly escalating Twitter spats, to people Instagramming their food, to teenagers Snapchatting 100 times an hour. But it should be observed that hand-in-hand with the rise in global connectedness has come a yearning for older ways of life, and the charming eccentricities of England's green-and-pleasant land.
These isles have a rich, not to mention suitably barmy, history of folkloric practices, mostly involving locals dressing up and running round their village getting up to mischief. Many have their origins in seasonal, pagan traditions, encouraging harvests to be fruitful, for instance, and they still take place today – or have been revived by drawing on the hazy memories of elders.
Happily, the gusto with which communities up and  down Britain celebrate their often hyper-local traditions has been caught on camera by Henry Bourne. In a new  book, Arcadia Britannica, which celebrates these merry souls, there are familiar sights, such as Morris Men, but also more obscure ceremonies – the straw bears of Whittlesey are quite the eye-opener.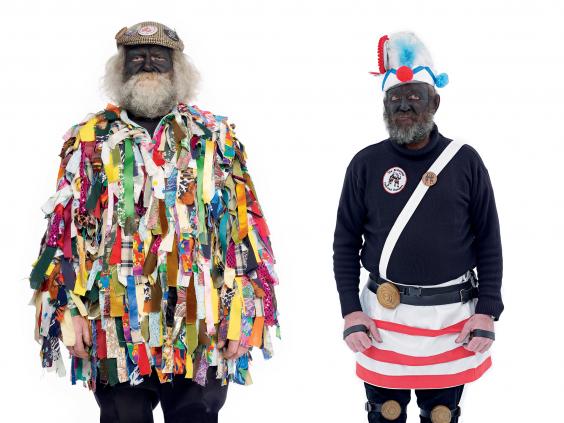 Bourne took up the project in 2009, when he met renowned art director and set designer Simon Costin, who, outraged that there was no museum dedicated to British folklore, was planning to start one by travelling the country in a 1960s caravan. Bourne was tickled by the idea, and quickly realised there was rich potential for photography, too. "I went off to different events with a portable studio – basically a tent – and set up on a bit of grass and asked people whether they'd be photographed," he explains. He found no shortage of willing volunteers; after all, if you're going to the trouble of covering yourself head-to-toe in straw, or finding the perfect shade of emerald-green corset on eBay, it's nice if someone wants to capture it for posterity.
Bourne always shot against a plain white backdrop,  stripping the revellers of context. "It concentrates on the individual rather than the chaos of the event." The plain background also invites the viewer to spot anachronistic details – a pair of modern shoes, or a watch. For Bourne, this is part of the charm; he never wanted the photographs to be stuffy historical documents. The origins of many of these rituals are lost to the mists of time, so why be fastidious about them?
The best and most lively events, he says, are ones that continue to flow and grow. "I think there is something k  quite comforting about ritual. But they're not always that traditional – they are evolving events. It's all quite unclear!"
The lack of clarity can sometimes cause problems – the Coco-nutters in Bacup, Lancashire, for example, have been lambasted for blacking up their faces. But, Bourne says, they're pretty sure it's nothing to do with race – the original reason for the make-up was either so that chimney sweeps, at the start of the quiet summer season, could beg anonymously, or to represent local coal miners, with sooty faces and coconuts strapped to their knees to protect them.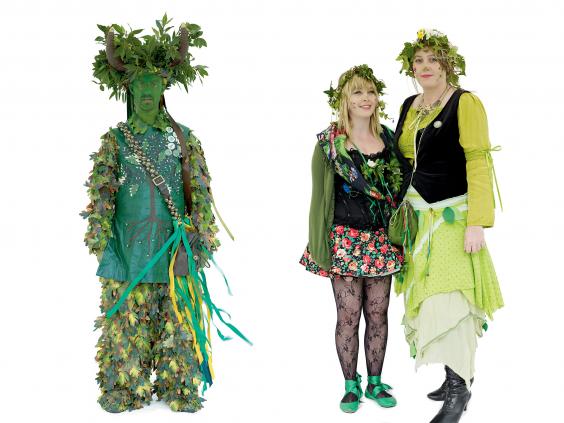 Bourne has now caught the bug, and while Arcadia Britannica documents only 10 of Britain's 700 traditional folkloric events, it's an ongoing project. Naturally it involves a lot of travel, and many of the events occur on the same days – May Day, midsummer and Bonfire Night are all popular  – which means he can capture only one ceremony a year.
Bourne confesses a particular fondness for Jack-in-the-Green in Hastings. "It's the biggest I've done and everyone local is involved – it's great fun." Thousands of people turn out for the May Day festival, many bedecked in bright-green finery. Size isn't everything, though: "At the smaller events, even the Burry Man [in Queensferry, Scotland], where it's just him and two helpers, there are always lots of people following. There's a definite sense of community. It's a rather wonderful world to discover." 1
'Arcadia Britannica' (£18.95, Thames & Hudson) is out now
Reuse content