A teenager who lost her leg in the Alton Towers roller-coaster crash in June has spoken for the first time of the devastating impact on her life.
Leah Washington, 18, described how she now has a "different path" and is "nervous for the future".
"My life is on hold while my friends are moving forward, having their own cars and leaving home," she said.
"I'll have a different path and a different life. Plans that you've thought about in your head – they're going to be different now, because of what's happened."
It also emerged that Leah almost "died twice" as emergency services played a game of human "Jenga" while trying to save her.
The Barnsley teenager is still going through the lengthy process of having a prosthetic leg fitted and in the meantime must get around on crutches or in a wheelchair, which she said has already drawn some unwanted glances.
"It's exhausting being on crutches, but I hate going out in my wheelchair, with people staring at me," she told The Mail on Sunday. "I'm 18. I can't stand not being independent. My granddad offered me a blanket in my wheelchair and I said, 'No, I'm not 90.' When I first went out in a wheelchair, I would cover up my leg, but I don't do that any more. I realise now that people just have to accept me for who I am."
The medics who saved her life said a series of emergency blood transfusions kept her conscious despite the loss of nearly a quarter of her blood.
Ms Washington was one of five people seriously injured in the incident on The Smiler ride, when the carriage she was riding in crashed into a stationary carriage in front. The rescue operation was described by one doctor as "playing Jenga with human beings".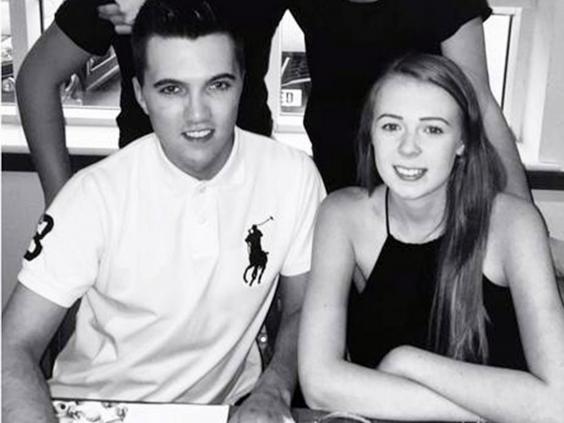 "It was the most complex job I've ever had to deal with," said trauma doctor Ben Clark of the four-hour operation. "The carriage was hanging at a 45-degree angle and if you removed a bit of metal, all four [front-row passengers] would have fallen out."
He said Ms Washington would have "definitely" died if it had been a colder or wetter day, as her excessive blood loss would have left her circulation unable to maintain body temperature.
The passengers were trapped at an angle 100ft in the air above a 20ft-deep concrete pit designed to support the roller-coaster's structure, as they waited for the emergency services to free them from the wreckage.
Ms Washington also explained how the ride had stalled several times. "It was so windy. It was freezing," she said. "I thought they were going to take us off the ride and down the safety steps, but instead we set off again. We went round and round and round and then we came around this corner.
"I saw the empty carriage and put my hands out to try to stop, but we crashed. I heard people screaming and people below us started running to the fence. I looked at Joe [Pugh, her boyfriend] and his finger was hanging off, and Daniel [Thorpe, another passenger]  had a big cut on his forehead. Then I started to lose feeling in my legs. My left leg was all pushed up and the bar was digging in. There was a bit of flesh on the seat in front and I could feel the bone in my knee. I started to panic. I was petrified."
Paramedics who tended to her while she was trapped in the ride's wreckage have revealed she almost died twice. At one moment, no pulse could be felt in her wrist even though her heart was racing – prompting fears that she could go into cardiac arrest.
When she was removed from the cart four hours later, she fell into severe shock, slumping forward and losing colour. Paramedics had to lift her jaw to enable her to breathe.
She has been praised by medics for her courage. She said: "My life is just one long list of physio and hospital appointments. But I've got to move on and deal with it."
Reuse content