It was meant to be an opportunity to paint him as a man of the people, to soften his image and boost his poor personal ratings.
But the decision to invite BBC cameras into his own home backfired when it emerged that a clip of Ed Miliband sipping a cuppa with his wife Justine in their small, cramped kitchen turned out to be their second kitchen.
It has provided plenty of firepower for his opponents, who have branded him "Two Kitchens Ed".
And now we know why Miliband has put so much focus on his pledge to cut gas and electricity costs: so he can cut the cost of having two kitchens.Miliband makes new energy prices pledge
Today he again focuses on his 'cost of living' campaign by pledging to cut energy bills by up to 10 per cent by Christmas if Labour wins in May.
Details of Miliband's latest photo gaffe emerged after Sarah Vine, the Daily Mail columnist and wife of Tory chief whip Michael Gove, showed a rare expression of sympathy for the Labour leader.
"'Very rarely do I feel sorry for Ed Miliband, but seeing him standing there in his forlorn little kitchen, staring into the middle distance while sipping from a stripy blue-and-white mug, part of me wanted to rush home from work, sling some jolly painted crockery in a bag and head over there with a tin of home-made brownies."
Another columnist - this time Jenni Russel of The Times - a family friend of the Milibands - jumped to his defence but made matters worse by revealing the kitchen pictured was just his second kitchen:
Ed Miliband's kitchen is lovely. Daily Mail pix: the functional kitchenette by sitting room for tea and quick snacks.

— Jenni Russell (@jennirsl) March 12, 2015
@hugorifkind it's not 2 kitchens! More like Times' tea prep area. Can't even sit in it.

— Jenni Russell (@jennirsl) March 12, 2015
In pictures: Ed Miliband trying to look normal
In pictures: Ed Miliband trying to look normal
1/17 The beggar

Ed Miliband casually gives money to a homeless woman in Manchester, surrounded by press photographers.

2/17 The Bacon Sandwich

Ed Miliband buys a bacon sandwich from cafe owner Antonios Foufas at New Covent Garden Market in London as he kicks off a day of campaigning on the eve of the local and European elections

3/17 The Bacon Sandwich

Ed Miliband chats with a cafe owner Antonios Foufas at New Covent Garden Market in London

4/17 The Bacon Sandwich

Ed Miliband embarked on a whirlwind campaign tour of England - but struggled at the first hurdle (a bacon sandwich). Aides intervened after just a few less-than-elegant bites

Jeremy Selwyn

5/17 Flower Shopping

Ed Miliband talks with a couple of traders at New Covent Garden Market in London

6/17 Flower Shopping

Ed Miliband purchases some red roses for his wife at New Covent Garden Market in London

7/17 Talking Business

Ed Miliband talks with a trader at New Covent Garden Market in London

8/17 Good Morning Britain

Miliband on ITV's Good Morning Britain show on 20 May 2014, a day of gaffes in which he was also caught out by BBC Wiltshire for not knowing who the local Labour leader was

9/17 '£70 Weekly Shop'

Ed was accused of being 'out of touch with reality' after he seemed not to know what he - or the average British family - spends on a weekly food shop

PA

10/17 Drop in Polls

Ed Miliband paid a visit to Leighton Hospital in Crewe to speak with the staff about the NHS, but faced difficult questions about polls showing his personal ratings falling well behind those David Cameron and George Osborne

PA

11/17 On the Sofa with Farage

Ed Miliband appeared on the Andrew Marr Show to debate with Nigel Farage - but has all but conceded defeat in the Newark by-election, allowing Ukip a free run at the Tories

BBC

12/17 Wollies in Wellies

Miliband was among a number of politicians to come under fire for 'touring' the floods in the South and South West earlier this year

PA

13/17 Wollies in Wellies

The Labour leader admitted it was 'a difficult decision for politicians whether to visit areas like this'

14/17 Missed Opportunity

Miliband's performance at the Labour conference last year failed to make much of an impression on voters, polls suggested

Getty Images

15/17 Sharing the Moment

Miliband, Nick Clegg, David Cameron and Angus Robinson enjoy their moment with Andy Murray, after the tennis player's Wimbledon win

Getty Images

16/17 Casual Husband

Miliband and his wife Justine are pictured in their hotel room in Brighton as he prepares to give his keynote speech to the annual Labour Party Conference

Getty Images

17/17 The Milibands

Just your average family of four?

Getty Images
But in the end, will anyone care that the Labour leader has two kitchens? Ed Miliband came under fire for Dan Hodges, the Blairite blogger and staunch critic of Mr Miliband, sums it up very well:
There are several valid reasons for criticising Ed Miliband. The number of kitchens he has is not one of them.

— Dan Hodges (@DPJHodges) March 13, 2015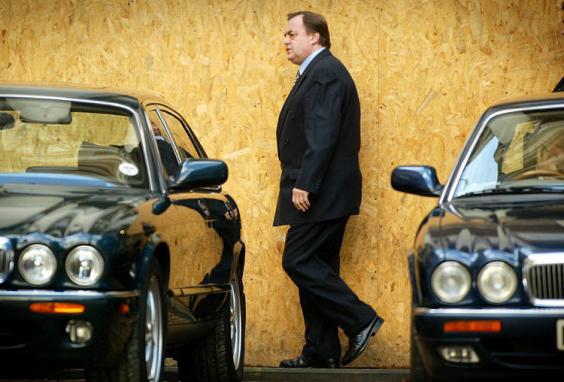 The Labour leader now faces the prospect of being dubbed 'Two Kitchen Miliband', with unfortunate comparisons to 'Two Jags Prescott'.
According to Conservative MP Nigel Adams, Miliband's photo is further proof of an "out of touch metropolitan elite".
"Clearly there's no cost of living crisis for 'Two Kitchens' Miliband," he said. "It's a bit rich lecturing people about poverty from his £2 million mansion.
"Red Ed can try as much as he likes to portray himself as a man of the people but the only people he's in touch with are the North London metropolitan elite."
Reuse content