The first badger control operations have begun in west Gloucestershire and west Somerset, the National Farmers' Union (NFU) has announced.
Five thousand badgers are expected to be culled in a controlled shooting in west Gloucestershire and west Somerset over the next six weeks as part of two pilot schemes aimed at preventing the spread of bovine tuberculosis (TB).
NFU president Peter Kendall addressed the cull in a letter to members, arguing it was "an important step not just for cattle farmers but for the whole farming industry".
He wrote: "We cannot go on culling tens of thousands of cattle every year because of TB while knowing the disease exists in wildlife uncontrolled.
"It is why the NFU will be working with the pilot companies to ensure the successful delivery of these pilot culls over the coming weeks.
"I know that many of you reading this will have suffered the misery of dealing with TB on farm - some of you for decades - and I hope now you will feel that something is finally being done to stem the cycle of infection between cattle and badgers...
"Badger control remains a controversial subject and we understand that some people will never agree with controlling badgers in this way.
"I am confident however that through the combined efforts of farmers, the NFU and government over the last year to illustrate the impact TB has on farms, and the scientific basis for badger control, more people than ever recognise the need to address the disease in badgers."
Widespread opposition to the cull remains as campaigners last night turned out at the two pilot sites to protest against what they have called an "inhumane" measure.
But Mr Kendall said that he hoped people would come to understand that whilst the culls are sad, they are "absolutely necessary".
He said: "It is also useful to remember our own survey this summer, which showed that two thirds of the public either support or have no opinion on these badger culls.
"I hope that you will continue to show support for those farmers who are facing the nightmare of TB on farm and especially for those who are in the culling areas.
"You can rest assured that the NFU is working hard to support its members and the companies concerned with the culls."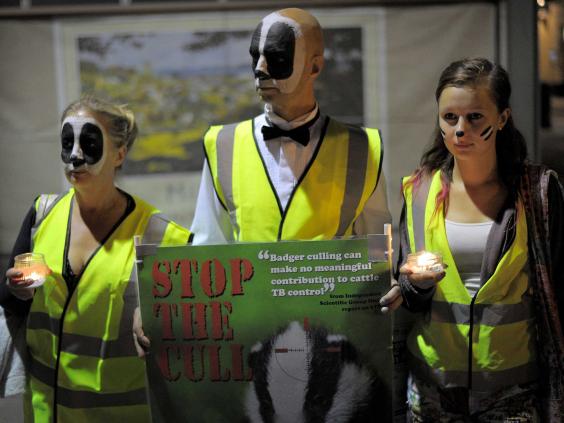 After the NFU's announcement Environment Secretary Owen Paterson spoke to back the decision. He said it was necessary to use "every tool in the box" to reduce the spread of  the infectious disease, which he added is "devastating our cattle and dairy industries".
"We know that, despite the strict controls we already have in place, we won't get on top of this terrible disease until we start dealing with the infection in badgers as well as in cattle. That's the clear lesson from Australia, New Zealand, the Republic of Ireland and the USA," he continued.
"That is why these pilot culls are so important. We have to use every tool in the box because TB is so difficult to eradicate and it is spreading rapidly.
"If we had a workable vaccine we would use it. A badger vaccine would have no effect on the high proportion of sick badgers in TB hotspots who would continue to spread the disease.
"We are working on new badger and cattle vaccines but they are years away from being ready and we cannot afford to wait while TB gets worse."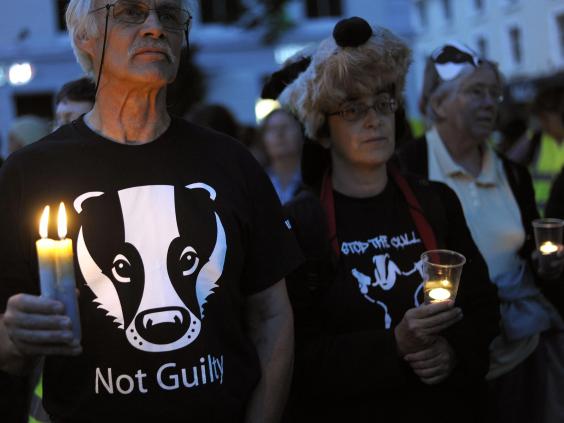 A vigil was held in protest by Somerset Badger Patrol in Minehead against the cull, who claimed on their Facebook page that 200 opponents were present for the procession. 
Stop The Cull also held protests and said more than 500 people turned out at both sites on Monday evening. One activist who is believed to run Stop the Cull was arrested by Gloucestershire Police on suspicion of aggravated trespass at a site belonging to the Department for Environment, Food and Rural Affairs (Defra).
He told ITV News that he was trying to gather photographic evidence after hearing reports that 200 "rusty cages" and "industrial sized fridges" were being prepared to hold dead badgers.
On Thursday a High Court judge made an order to stop farmers involved in badger culls being harassed and abused.
Mr Justice Turner granted an injunction at a High Court hearing in London after lawyers representing the NFU said farmers had been targeted.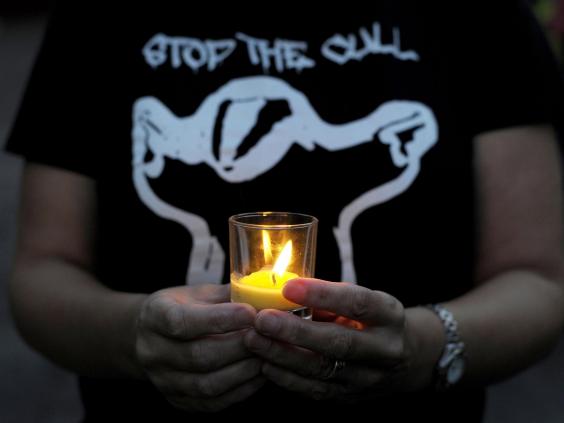 Reuse content