To many Scottish nationalists, the Battle of Bannockburn is the defining moment in their nation's history, the point at which they secured independence for centuries by defeating a vastly superior force of invading English.
Now the battle can be relived in two very different ways. One of the two oldest copies of The Brus – an epic mediaeval poem famous for its vivid depiction of the two-day bloodbath – has been painstakingly restored in time for the battle's 700th anniversary tomorrow.
And, for those not versed in old Scots, next weekend will see a "brutally realistic" re-enactment of the battle  – choreographed by a team that worked on the films Gladiator and Thor II – at a "Bannockburn Live" event near Stirling.
Forget Mel Gibson, William Wallace and Braveheart, here you will be able to speak to actors playing the rival kings, Robert the Bruce and Edward II, listen to Scottish folk music and learn, from Strathclyde University's Bannockburn Genealogy Research Project, whether you are related to anyone in the battle fought on 23 and 24 June 1314.
Robert the Bruce used a revolutionary pike formation called a schiltron to overcome Edward II's army, with thousands of English crushed to death in the retreat, or drowned in the River Forth. So many bodies piled up in the river that it was possible to walk across without getting wet, according to The Brus: "That apon drownyt hors and men, Men mycht pas dry out-our it then."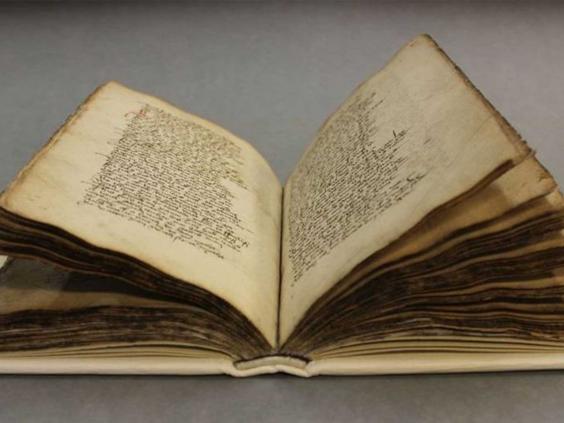 The 1,400-line poem – written by John Barbour, the Archdeacon of Aberdeen, about 60 years after the battle – is considered one of the most important sources for historians studying the Scottish Wars of Independence and remains one of the finest works written in early Scots.
No manuscript in Barbour's own hand survives, but the restored copy, kept at St John's College, Cambridge University, is one of two versions transcribed in the 15th century. Made from high-quality "rag paper", it was badly damaged when it was "poorly rebound" in the 18th century. The repair operation required specialists to gently "dry clean" its pages.
Mark Nicholls, librarian at St John's, said: "The restoration gives us the chance to display this important work just as people are looking at the significance of the battle. It's an extraordinary tale and conveys quite how bloody and brutally gory this medieval battle was."
However,  the Scottish public may not be quite as excited as some might expect, with the number of tickets for the heavily promoted Bannockburn Live event cut from 40,000 to 15,000. The organisers, Visit Scotland, insisted the event would be "an outstanding success".
Dr Fiona Watson, of Dundee University, said many "wrongly assume the battle won Scottish independence", but this was "quite untrue" as the war went on for another 15 years. "The battle is so iconic because of how Robert the Bruce associated it with independence, freedom and liberty. His eve-of-battle speech was an early articulation of Scotland as a rich, independent nation."
She doubts its political significance today. "People who will be voting [for independence] in September are doing so for economic and political reasons, not for Robert the Bruce. Bannockburn is wisely not mentioned by Scottish politicians today ... the men who faced down Edward II faced chains and slavery, and nowadays we are safely voting at the ballot box."
Reuse content