BBC Breakfast weather presenter Carol Kirkwood was giving an important update on the ongoing heatwave crisis that has struck Britain this morning when she was "upstaged" by a dog live on TV.
The incident, which initially had viewers fearing the worst, was perhaps unfairly by far the most talked-about thing to come out of the show today.
It started with an image posted to the BBC Breakfast Twitter feed at a bracing 5.15am showing Kirkwood cosying up to the dog at West Wittering in Sussex, with the caption: "Today's to be the hottest of the year so far, so @carolkirkwood's on the beach, with producer Gilly's dog, Connie!" 
But her trust was later betrayed when Connie, enjoying herself in the back of shot during the outlook for the weekend's weather, decided to answer nature's call.
Today's to be the hottest of the year so far, so @carolkirkwood's on the beach, with producer Gilly's dog, Connie! pic.twitter.com/bJGbFGap6A

— BBC Breakfast (@BBCBreakfast) July 17, 2014
It prompted very audible laughter from the studio, and presenters Charlie Stayt and Louise Minchin struggled to regain their composure before suggesting we all "move on".
The show's Twitter account also tried to play down the incident, later tweeting to confirm details of what viewers had just witnessed: "Soooo... that was awkward. Rest assured: our sources tell us it was a number one."
Minchin added that the dog had been "very well behaved just until the moment it was on telly".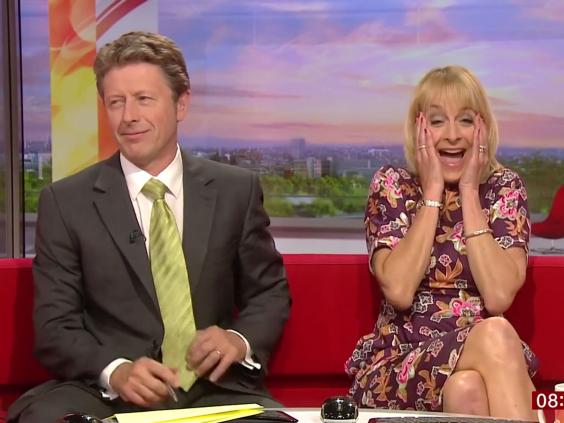 There was a mixed reaction among social media users, with some suggesting that watching a dog do its business on a beach was not quite the accompaniment they expected to their morning cornflakes.
Dog just relieved himself on BBC Breakfast live. Good morning!

— Ken Hooper (@KenHooperUK) July 17, 2014
Meanwhile, Public Health England has issued a set of advice to get people safely through the next few days, after experts predicted today will be the hottest of the year so far as temperatures soar as high as 32C in the South East.
The quango said people should consider staying out of the sun during the hottest part of the day, drink plenty of fluids and wear sun cream that is at least factor 15.
While some people were critical of the advice as "patronising", officials insisted that "high temperatures can be dangerous, especially for older people, young children and those with serious illnesses".
Reuse content