Benjy the "gay" bull, who was saved by campaigners from being sent to the slaughterhouse after failing to mate with any of his owner's cows, may not be a homosexual animal after all.
Charolais Benjy had been living on a farm in County Mayo, Ireland, when his owner had announced the bull was not sexually interested in heifers and would be fattened up for slaughtering last November.
But campaigners launched a fundraising drive to save the bull, which was backed by the late Simpsons co-creator Sam Simon, to have the bull moved to a sanctuary where he could "live out his natural life in peace and dignity".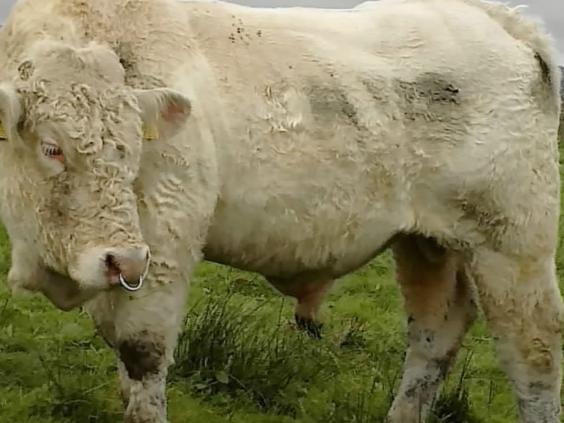 Simon, a life-long vegan, had donated £5,000 to Benjy's cause, and when he bull had been delivered to his new home the Hollywood producer had said he was thrilled the animal's fate was now "a sanctuary rather than a sandwich".
"All animals have a dire destiny in the meat trade, but to kill this bull because he's gay would have been a tragedy," he said at the time.
Within minutes of Benjy arriving at his new home he had befriended a bullock called Alex.
But his new owners have discovered that Benjy is showing an active interest in the cows at the sanctuary, rather than the bulls.
"Judging by what he was trying to do the other day with one of the cows… he isn't gay," the sanctuary's founder Wendy Valentine told the BBC.
"Benjy came to us because somebody thought he was gay. We don't know whether or not he is but the fact that someone thought he was certainly saved his life and stopped him from being sent to the slaughterhouse," Valentine said.
"Since he's been with us he's matured. He's very content. He's a large, gentle animal, he's lovely and he's a very handsome boy, but a big gentle softie."
 Additional reporting by PA.
Reuse content