The court case that saw a bakery fined £500 for discrimination after refusing to make a cake promoting same-sex marriage has provoked debate in Northern Ireland.
A judge at Belfast County Court found that Ashers Baking Company acted unlawfully by refusing gay rights activist Gareth Lee's request last year because it went against their Christian beliefs.
The cake would have featured Bert and Ernie, two muppets from Sesame Street, and the slogan "support gay marriage" to mark International Anti Homophobia Day.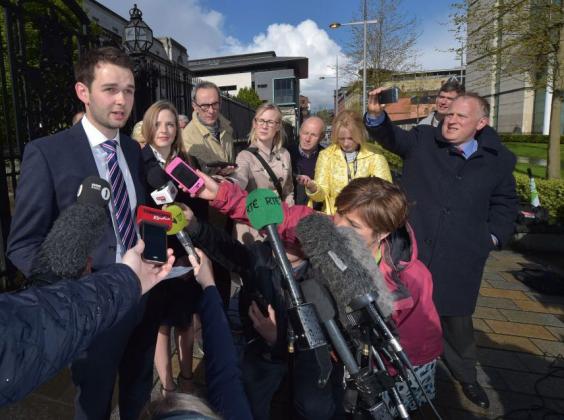 District Judge Isobel Brownlie said although the bakers were entitled to their religious beliefs, implementing them at work impinged on others' rights.
"The defendants have unlawfully discriminated against the plaintiff on grounds of sexual discrimination," she added.
"This is direct discrimination for which there can be no justification."
But many people disagreed with the verdict, saying it was the bakers' right to refuse.
Horrendous decision over the #Ashers case today. Apparently free will and thought no longer exists. Disappointing. http://t.co/pVvUBoElpl

— Darren Hughes (@dazlo3500) May 19, 2015
I think it's unfair to call it discrimination if I'm not icing a cake that supports gay marriages if my belief is against it

— Ibu Owo Rasheedi (@ade_kunle_) May 19, 2015
@arctictay but I don't think it was discrimination because all that happened was they didn't make the cake for them because of their beleifs

— Jack Macaulay (@JackMac335) May 19, 2015
@standardnews discrimination against the bakery if they don't want to bake a cake who has the right to make them

— Rodger Brown (@rodgerbrown997) May 19, 2015
Shops should be allowed to serve who they want right or wrong, this is human rights gone mad.Gay Cake http://t.co/OERVWs7y03

— Paul Jarrett (@PaulRCJarrett) May 19, 2015
This "gay cake" malarkey is ridiculous. Want to make a statement and use my company to do it? Should have the right to refuse you business.

— Nick Clarey (@nclarey) May 19, 2015
Others supported it, saying the legal case for discrimination was clear.
Verdict in Gay Cake row: Asher's Bakery guilty of discrimination. Amazing day for LGBT* rights & equality in Northern Ireland!

— Gary Spedding (@GarySpedding) May 19, 2015
#Ashers verdict is a triumph for equality. The law's prohibited discrimination. At long last the egalitarians can say "Let them eat cake"

— Alice Evans (@_alice_evans) May 19, 2015
Refusing to ice a gay marriage cake is discrimination. Simple as that.

— R (@whatfamm) May 19, 2015
A good day for fans of #gaycake. Though, isn't every day? I mean, cake is already amazing. A gay cake is fabulousness squared.

— Nigel Fletcher (@nigelfletcher) May 19, 2015
Karen and Colin McArthur, who co-founded the Co Antrim bakery, were not in the courtroom but have said they may appeal against the verdict.
Among the Christian supporters in the public gallery were Lagan Valley MLA Paul Givan, who is seeking to introduce a "conscience clause" into equality legislation.
Gay marriage remains a divisive issue in Northern Ireland and the devolved Assembly at Stormont has repeatedly rejected attempts to have it legalised.
The debate comes days before Friday's referendum on the question of legalising same-sex marriage in the Republic of Ireland.
Additional reporting by PA
Reuse content