Every year the betting industry pays for the rehoming of some 1,300 retired racing greyhounds. Unfortunately for Many Memories, the bookmakers' largesse did not extend as far as her. 
Weighing just 14kg – half that of a healthy female greyhound – she was removed in a pitiful state from its owner last month by a dog warden in Doncaster. The rescue charity which took in Many Memories, who last raced a year ago, said it was the single worst case of emaciation it had seen in its 20-year history, adding: "It is entirely possible she may not make it."
MPs are now drawing attention to continuing problems with welfare in greyhound racing, despite the introduction of new legal safeguards in 2010, and warned the gambling industry is failing to do enough to protect the dogs.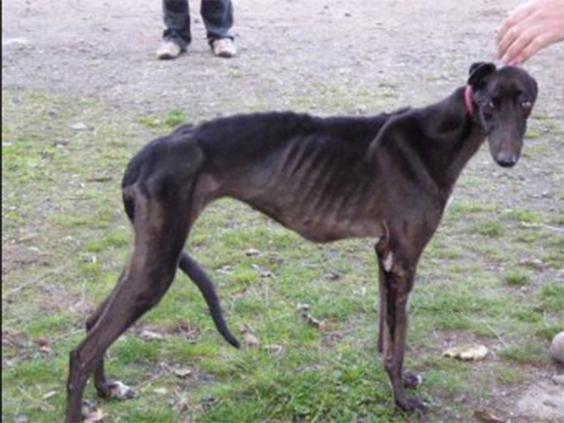 The amount contributed by bookmakers towards the welfare of greyhounds under a voluntary levy scheme has fallen by nearly 50 per cent in the past decade – despite the industry making profits of £237m from the sport in 2014 – according to the House of Commons environment, food and rural affairs select committee. At the same time, up to 3,700 dogs are going unaccounted for each year. 
In a report on greyhound welfare, the MPs said the Government should consider imposing a compulsory levy on bookmakers, after hearing evidence that profits from online and overseas betting were not included in contributions. One online exchange, Betfair, announced in 2013 it was stopping its voluntary contribution of about £800,000 a year.
Neil Parish, chairman of the committee, said: "Bookmakers who profit from greyhound racing should contribute to welfare standards regardless of whether the profits are from high street stores, online or overseas betting. The welfare of racing greyhounds shouldn't be at the whim of bookmakers who can simply choose to contribute or not."
The fate of greyhounds once they finish their racing careers has long been a vexed topic, with animal welfare campaigners raising concerns that thousands of dogs go unaccounted for each year amid reports of routine use of euthanasia.
Figures provided to the committee showed that 1,086 greyhounds raced at tracks licensed by the Greyhound Board of Great Britain were either put down or suffered serious leg injuries in 2014, accounting for 0.33 per cent of all dogs raced in the UK. The MPs said this figure was considerably lower than figures provided by welfare groups and called on the industry to be more transparent. 
In a statement, the Association of British Bookmakers said: "90 per cent of betting shops contribute to the British Greyhound Racing Fund – contributions which come to £7m a year."