Britain First has been accused of hijacking the poppy as Remembrance Day approaches to promote its own agenda.
The far-right group is using the symbol, which is a registered trademark of the Royal British Legion, on its website masthead and in Facebook posts driving more people to its page.
It is seen alongside Britain First's logo telling people to "take our country back" and crudely superimposed into the centre of the European Union flag with a message about "national sovereignty".
Members of opposition group Exposing Britain First believe many Facebook users are sharing poppy posts without realising who it comes from or what they stand for.
"They share these images to trick people into liking and sharing and therefore increasing their reach on Facebook," a spokesperson said.
With more than 547,000 "likes" Britain First has an online following that far outstrips the Conservatives, Labour and Liberal Democrats, arguably making it the UK's biggest political site.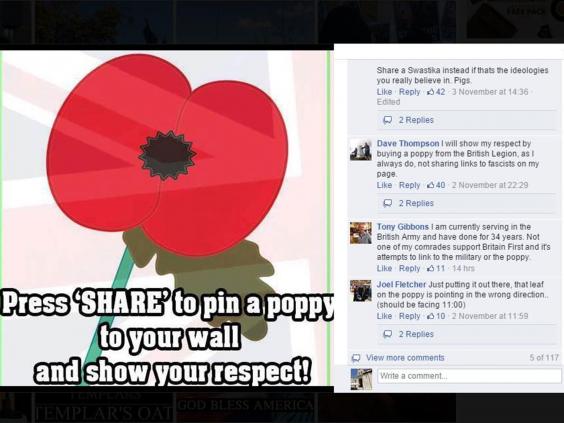 So far there have been more than 133,000 shares for a picture of a poppy telling people to "press share to pin a poppy to your wall and show your respect".
"We will remember them…please share," another post read, drawing 640 "likes".
Another photo showed Britain First's "armoured" Landrover decked out in camouflage with poppy on its bumper.
Many people picked up on the irony of Britain First, which has been likened by some to a fascist organisation, using the symbol.
"That poppy represents those that fought against exactly what Britain First represents," one critic wrote.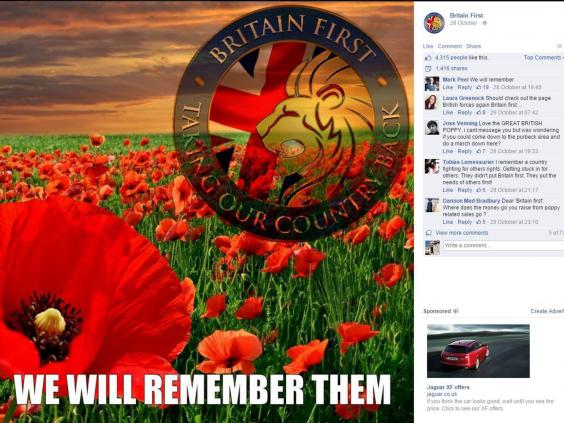 Another added: "Your use of this symbol for your cretinous ideals is beyond contempt."
Calling the stunt a "new low", a man wrote: "Hijacking a symbol of remembrance to further your own ends is nothing more than cynical and sinister politicking.
"Shame on you Britain First, I have seen your organisation post some nasty, hateful things on Facebook but even for you this is a new low."
A spokesperson for the Royal British Legion told The Independent it does not authorise the use of the poppy for "political or partisan use".,
"The poppy is a symbol of remembrance and hope, which is a trademark of The Royal British Legion used for supporting our Armed Forces community," she added. "We ask consumers to make sure the products they purchase are official poppy merchandise supplied through our licensed partners or www.poppyshop.org.uk."
It is not the only time Britain First has come under fire for using unrelated events and causes for its own purposes.
Last month it threatened "direct action" against journalists at The Sun and Daily Mail after being accused of exploiting actress Lynda Bellingham's death.
The group's post included a photograph of Mrs Bellingham above the caption: "RIP actress Lynda Bellingham. Britain First", garnering more than 6,000 'likes' and 500 shares.
On voting slips in the European elections, Britain First used the slogan "Remember Lee Rigby", sparking an apology from the Electoral Commission to the murdered fusilier's family.
Military support is a particular theme on its Facebook page, which offers up a mixture of pro-military memes, Crusades images and capital punishment debates, broken up with adoring pictures of the monarchy and dogs.
One post asks: "When a dog attacks a child and scars them for life, the dog is put to sleep. Shouldn't we do the same to paedophiles?"
There are also slogans, like "Save Your Country (UK) BAN HALAL" and "this is England - love it or leave it".
Britain First, formed in 2011 by former members of the British National Party, proclaims itself as a "patriotic political movement".
Complete with its own "Defence Force", members are known for conducting "mosque invasions" with Bibles and carrying out so-called "Christian patrols" in ethnically diverse areas.
Volunteers dressed in matching khaki jackets and flatcaps are organised into "battalions" to go and confront councils and mainstream politicians.
The founder of Britain First, Jim Dowson, resigned earlier this year complaining that the group was being "being overrun with racists and extremists".
Its deputy leader, Jayda Fransen, is currently running for Parliament in the Rochester and Strood by-election.