A British Airways flight from Las Vegas to London was diverted to an airport in Canada upon the pilot's request following an "emergency".
Flight BA274 was evacuated after it landed at Montreal at 5.47am local time following a request from the pilot to make the landing.
The request to land is reported to have been made due to a 'bomb threat'.
British Airways has confirmed the plane landed at Montreal this morning after the Captain diverted the aircraft "as a precaution".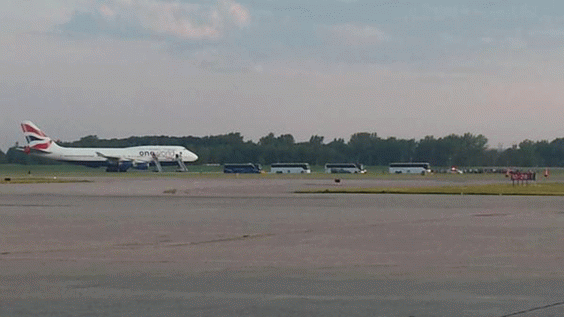 Francois Asselin, spokesman for Montreal's Pierre Elliott Trudeau International Airport, told The Independent the plane and the luggage were due to be searched by police, a move which he said was "part of the normal process for a bomb threat".
Mr Asselin said the the pilot requested to divert to Montreal at about 4.44am local time and made the landing just before 6am.
He said the aircraft was evacuated and passengers' luggage was being removed from the aircraft.
A Montreal Police SPVM spokesman told MailOnline the pilot requested to landing because "he said there was an emergency during the flight".
The plane was carrying 312 people when it set off from McCarran International Airport at 9.30pm PT on Tuesday, CBCNews reported.
Twitter user Ewen Sommerville tweeted that his parents had been on the flight and had been told there was a "suspect device".
He said the plane was "diverted to Montreal, landed, evacuated, then plane was searched".
A BA spokesman said: "Our flight from Las Vegas to Heathrow landed safely this morning at Montreal and customers left the aircraft as normal after the Captain took the decision to divert the aircraft as a precaution.
"The safety and security of our customers, crew and aircraft are our highest priorities at all times.
"We are looking after the customers and will provide hotel rooms for them and will rebook them to other flights as soon as we can.
"We are working with the Canadian authorities and giving them our fullest support."
Reuse content