Britain's prostitutes fear any attempt to criminalise their clients would have "disastrous consequences" for their safety and could put lives in danger.
More than nine out of 10 say they are against criminalising the buying of sex and eight out of 10 fear it would impact on their safety, according to the biggest ever survey of the nation's sex workers on legislation.
The findings of the survey, seen by The Independent, are being revealed as the Commons Home Affairs Committee begins accepting evidence for a controversial inquiry into prostitution laws.
The wide-ranging inquiry by the committee, led by Labour's Keith Vaz, will assess whether the burden of criminality should shift from those selling sex to those who are paying for it.
Some including the Conservative MP Fiona Bruce are calling for buying sex to be criminalised under laws similar to those in Sweden, saying it could end the exploitation of vulnerable women.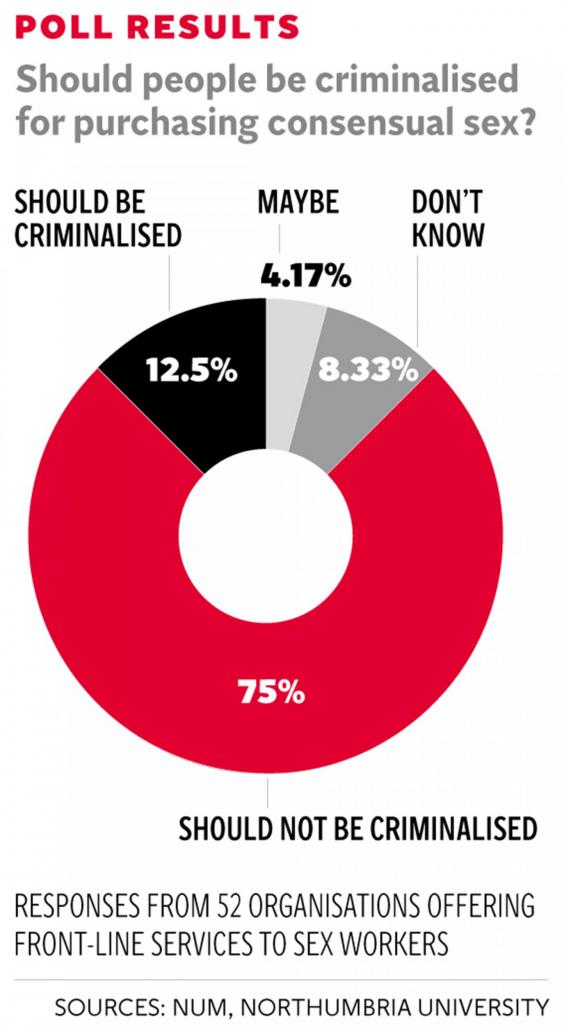 But the idea has drawn an angry response from Britain's sex workers, who say they fear it could put them in danger.
Around 96 per cent of those who took part in the survey by National Ugly Mugs, a project that seeks to end violence against sex workers, said people should not be criminalised for buying sex from a consenting adult and 82 per cent said they would feel less safe if the law were introduced.
More than 200 sex workers took part in the survey, along with 52 organisations that offer frontline services to between 20 and 2,000 sex workers.
One sex worker said: "Criminalising the purchase of sex will make me less safe at work. Anything that makes my clients more apprehensive prohibits me from screening them thoroughly and therefore impacts my security. If my clients were criminalised, I wouldn't stop selling sex. I would continue to do so in a more dangerous context and I would potentially feel compelled to take bookings I would previously have rejected in the interests of my safety."
Love and sex news: in pictures
Love and sex news: in pictures
1/13 Timetable of Love

A new study has revealed that Sunday at 9am is the most popular time of the week for Brits to get busy in the bedroom. Our weekends tend to be a lot sexier than our weekdays, with three of the top five most common times for sex falling on a Saturday, at 11.30am, 10.30pm and 11.30pm

Getty Images/iStockphoto

2/13 Singletons judge potential partners on their phones, says new study

A new study has found that women are 92 per cent more likely than men to judge a potential partner negatively for having an older phone model.

Getty Images/iStockphoto

3/13 Online dating risk

A new report by the National Fraud Intelligence Bureau has found that last year, singles were conned out of £39 million by fraudsters they'd met on dating sites and apps. Con artists are increasingly creating fake online profiles and tricking people on dating sites into handing over often large sums of money.

Getty Images/iStockphoto

4/13 Sainsbury's sells same sex valentine's day cards for first time

For the first time, Sainsbury's is selling a range of Valentine's Day cards that represent same-sex couples. The simple designs feature illustrations of a woman and a woman, and a man and a man, with the caption 'You + Me.'

5/13 Mother's blood pressure before conception could influence sex of child, study suggests

Pregnant woman measures the blood pressure with automatic sphygmomanometer.

Getty Images/iStockphoto

6/13 Couples oversharing on social media do so to mask relationship insecurities, expert suggests

Couple sitting on couch with their phones in their hand

Getty Images/iStockphoto

7/13 Injection of 'romantic' hormone could help treat psychosexual problems

Getty Images/iStockphoto

8/13 One in ten British women experience pain during

Getty Images/iStockphoto

9/13 Erectile dysfunction 'linked to risk of early death'

Men who suffer from erectile dysfunction (ED) are 70 per cent more likely to die early, a new study has found. US scientists believe that the disorder may be linked to poor cardiovascular health, and suggested that men with ED should be screened for health issues that could cut their lives short

Rex Features

10/13 Watching porn does not cause negative attitudes to women

The average porn user may have more egalitarian views towards women than non-users, a contentious new study has suggested. Researchers at Western University in Canada have even argued that many pornography fans might be "useful allies" in women's struggles for equality in the workplace and in public office. They reported in the Journal of Sex Research that the 23 per cent of people who said they had watched an "X-rated" film during the previous year were no more or less likely to identify as feminists than those who did not watch porn.

Getty

11/13 The characteristics of men who pay for sex

Men who pay for sex share similar traits to rapists and sex offenders, according to new research. A study from University of California, Los Angeles (UCLA), claims that men who have sex with female sex workers feel less empathy for them than men who do not buy sex. Part of this reason is due to the fact that they view them as "intrinsically different from other women," according to the authors.

Getty Images

12/13 Heartbreak can actually change the rhythm of your heart

Losing a loved one really can break your heart, research suggests, although not for ever. People who lose a partner are at an increased risk of developing an irregular heartbeat for the next 12 months, scientists found. The risk seems to be greatest among the under 60s and when the loss of the partner was least expected

Getty

13/13 'Weird' sexual fetishes are actually very normal

A number of sexual fetishes considered anomalous in psychiatry are actually common in the general population, a study has found. According to the Diagnostic and Statistical Manual of Mental Disorders, Fifth Edition (DSM-5), sexual interests fall into two categories: normal (normophilic) and anomalous (paraphilic). Researchers asked 1,040 Quebec residents, representative of the general population, about their experiences of sexual behaviour considered abnormal by the DSM-5. The study, published in The Journal of Sex Research, found that of the eight types of anomalous behaviour listed in the DSM-5, four were found to be neither rare or unusual among the experiences and desires reported by men and women
More than one sex worker is raped or attacked every day in Britain, according to figures from 2014. London has the highest number of incidents – more than two a week. A man was arrested last weekend after a prostitute was found dead in a flat in Aberdeen.
The act of buying and selling sex is not currently illegal in England and Wales, although many activities associated with prostitution are illegal. They include activities linked to exploitation, such as managing a brothel, and activities that can cause a public nuisance, such as buying or selling sex in public.
Campaigners are calling for prostitution to be decriminalised as in New Zealand, which they say has improved safety for sex workers. More than 67 per cent of sex workers who took part in the survey said they wanted prostitution to be decriminalised in that way. Less than three per cent said they wanted to see the introduction of a "sex buyer law".
The Independent told last month how the establishment of a permanent "managed" prostitution zone in Leeds, where prostitutes can work without risk of prosecution, has seen a huge increase in the number of those willing to report violent crimes to the police. Alex Feis-Bryce, the chief executive of National Ugly Mugs, said: "We know from supporting sex workers when they are victims of crime every day that they are targeted because the offenders know that they are unlikely to report it to the police. "Sex workers are less likely to report to the police in areas where they or their clients are criminalised.
"This survey sends a strong message to policy makers that when it comes to something as fundamental as safety and human rights, they need to listen to the voices of sex workers and the evidence and put aside their moralistic, ideological objections." Dr Mary Laing from Northumbria University, who assessed the survey results, said they reflect broader academic findings which show that criminalisation of sex workers or their clients "only leads to violence, stigma and marginalisation". Concerns about the inquiry have also been raised by the English Collective of Prostitutes, which campaigns for the abolition of prostitution laws.
Reuse content