Under the shadow of Exeter Castle, a sea of besom brooms and black hats stretched as far as the eye can see. The smell of jasmine incense filled the air. At one point a collective cackle was heard. The Grand Witches' Tea Party was under way.
It was in this part of Devon, during the height of England's witch trials some 322 years ago, that three women were sent to the gallows for crimes that ultimately amounted to little more than being old and senile.
The so-called Bideford witches – Temperance Lloyd, Mary Trembles and Susannah Edwards – were accused by their neighbours of casting spells, and sentenced to death. The three were killed just as the 17th-century witch-hunts came to an end in England, making theirs some of the last official public hangings in England.
The scar of that incident remains. This weekend more than 300 witches and other supporters gathered to draw attention to the plight of the Devonshire trio and campaign for a posthumous pardon.
That looked close to happening last year when the Exeter MP, and former Culture Secretary, Ben Bradshaw, described the executions as a "stain on our history".
But the petition gained just 426 signatories and the campaign's momentum gradually slowed. Now campaigners are trying again.
"By getting them pardoned we are making a statement that this bigoted behaviour should not be tolerated nowadays," explained Jackie Juno, the event's 51-year-old co-founder, and self-confessed contemporary witch, from Bovey Tracey. "It would prove that humanity could change for the better."
Throughout the day, the green patches of Rougemont Gardens near the castle were dotted with black-clad attendees of all ages. Rebecca Hanson, 34, from Instow, North Devon, came with her son and described herself as a follower of "Wiccan principles".
"Misogyny is still a massive part of our culture," she told The Independent. "It's symbolic to get together to remember how women were being persecuted."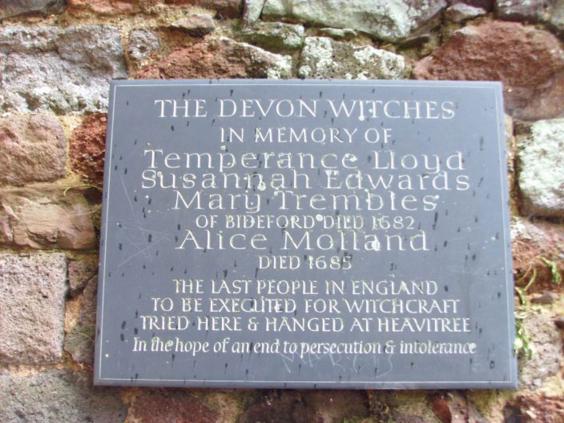 But the tea party was not just about local history. The event was designed to draw attention to the struggles faced by women the world over
Flyers for the charity Womankind were distributed alerting people to issues affecting women around the world today, including female genitalia mutilation (FGM).
A poem was read during a distinctly sombre ceremony: "I'm your mother dragged from my bed to the gallows. I am your sister, a conquest of war at gunpoint. I am your daughter, a victim online at some point." Some ceremonial brooms went up in solidarity.
Most of the witches in attendance were keen to bury popular myths. "Spells? This is not Harry Potter," the schoolteacher and "old ways" witch Selkie Shell told The Independent.
"It's about intent and people having good intentions. If everyone had good intent the world would be a better place. Magic is that simple – it's about good intent."
Later, after the deaths of the Bideford witches were commemorated and flowers laid, the party hit a more cheery note. Tea was served and various bands played, including The Mysterious Freakshow.
Its lead singer Fay Pink is a 37-year-old "pink witch" who like many of her contemporaries intends to vote for the Green Party next year. "We are living under a government that has no idea about the people of this country, let alone those of developing countries or elsewhere," she says.
The conversation turns to Isis and the oppression of women under the guise of Islam. "There is a real beauty around tradition – but it also is responsible for a lot of evil.
"Oppressed women are often too afraid to disrupt entrenched positions in patriarchal societies.
"But many are beginning to break through and realise that we need more women in power in society. That's still a long way away."