Charlene Tyler, the woman whose sunbathing photo was taken and used by the Sunday Mirror with the intention of honeytrapping MPs, has said that Brooks Newmark should not have resigned over the scandal.
Mr Newmark resigned from his position as Minister for Civil Society on Saturday when he was informed of the newspaper's sting, in which he had unwittingly sent an intimate picture of himself to a male tabloid journalist, thinking it was a young, attractive, female party activist.
Ms Tyler's picture of her torso and legs posted with the hashtag "#sunbathingselfie" was used by the newspaper to help create the fake online profile of "Sophie Wittams," the "twentysomething Tory PR girl" that began messaging MPs, but her tattoos had been edited out of the image.
Test case for IPSO Will be making formal complaint over attempted entrapment by Mirror. Appears even single MPs can't have a "private life"

— Mark Pritchard (@MPritchardMP) September 28, 2014
Mr Newmark said when he resigned that he had been "a complete fool" and apologised for his actions. "I have no one to blame but myself. I have hurt those I care about most," he said at the time. 
But Ms Tyler, from Lincolnshire, has defended the MP's behaviour, instead condemning the actions of the Sunday Mirror.
"I think grown adults can do whatever they like as long as both of them are over the age of consent," Ms Tyler told the Telegraph. "I don't think it's something to resign over."
"I hope the MP is OK. It makes me feel really awful that this will ruin his life," she said.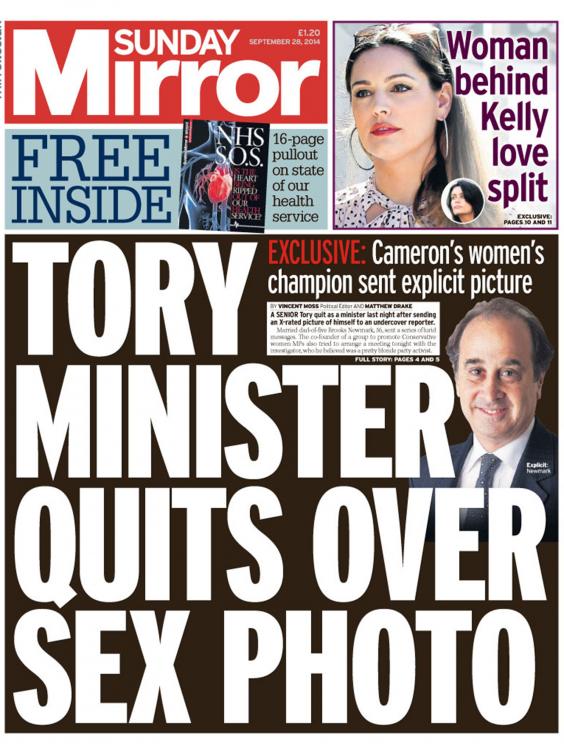 She added: "The fact that a newspaper was stealing my photograph is quite wrong. The newspaper's taken it too far."
A 22-year-old Swedish model was also caught up in the sting when the Sunday Mirror used one of her Instgram "selfies" as the main picture for Sophie Wittams' profile without her permission. Malin Sahlén told Aftonbladet, a Swedish national newspaper, that the use of her image was "disturbing".
Conservative MP Mark Pritchard, who was contacted by the fake Sophie Wittams as part of the sting, has said he is to make a formal complaint over the scandal.
Mr Pritchard told the BBC he thinks "questionable techniques" were used in the newspaper's investigation, and that he will complain to the Independent Press Standards Organisation (IPSO) over the incident.
"It is in the public interest that their actions are fully investigated," he said, adding: "This is the first real test as to whether the new body, IPSO, has any teeth."
The Sunday Mirror maintains that the story was conducted in the public interest. Alison Philips, weekend editor at the Mirror, told the Guardian that the investigation was brought to the paper by a freelance reporter.
"The investigation, which had a clear public interest, was carried out following information from a reliable source," she said.