A bus company has been slammed for a new advert printed on the back of its vehicles to promote its new ticket system, which shows a topless woman holding a sign stating: "Ride me all day for £3".
The New Adventure Travel Group tweeted a picture of the ad on the back of one of its busses with the message: "New X1 starts today! Ride our busses for only £3 a day! #natgroup #cardiff #X1 #crosscity #busservice". This tweet has since been deleted.
People instantly slammed the image online as "appalling," "sexist," and "absolutely unacceptable" and have called for it to be removed.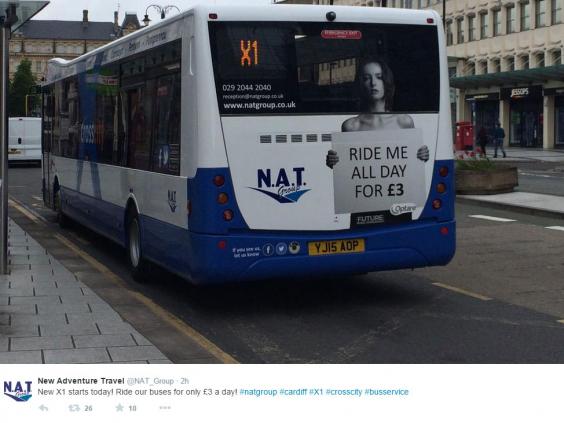 Many replied directly to NAT Group's promotional tweet. We are Cardiff said: "It represents the commodification of a woman's body and trivialisation of prostitution, and has no place in 2015."
NAT Group has since released a statement saying its objectives had been "to make catching the bus attractive to the younger generation" and that while it's slogan was "a little tongue in cheek," it had no intention of offence and apologised for the messaging.
Michelle Davis tweeted: "How am I supposed to explain this ad to my primary school kids?" while user Guy O'Donnell asked: "Surely you don't think that's OK?"
Xavier tweeted to the company: "@NAT_Group bus in Cardiff is vile. Women face enough harassment on busses without use of sexually explicit language".
.@NAT_Group just saw this advert on a bus in Canton, and it's an absolutely unacceptable way of advertising a bus ticket @EverydaySexism

— We Are Cardiff (@WeAreCardiff) May 11, 2015
.@nat_group HOW AM I SUPPOSED TO EXPLAIN THIS AD TO MY PRIMARY SCHOOL KIDS?? Thanks but no thanks, won't be taking advantage #everydaysexism

— Michelle Davis (@michelledavis) May 11, 2015
@swpolice @EverydaySexism @NAT_Group inciting rape with disgusting advert on buses - ride me all day for £3

— Annegre (@greengranma) May 11, 2015
@NAT_Group I hope everyone boycotts you for this.

— Helen (@airheadhell) May 11, 2015
Apparently @NAT_Group runs special buses for those creepy sweaty-handed heavy-breathing guys who make women feel uncomfortable on the bus.

— Gabe Moshenska (@GabeMoshenska) May 11, 2015
The company is understood to have created an advert using an image of a topless man holding the same sign, but people have called for both adverts to be removed completely.
Cardiff MP Stephen Doughty said he has spoken to the MD at NAT Group to express his disgust at the adverts, and was told they were a "misjudgement" that will be removed.
Just spoke to MD @NAT_Group to express disgust at adverts - he tells me it's a "misjudgement" + will scrap within the hour #everydaysexism

— Stephen Doughty (@SDoughtyMP) May 11, 2015
NAT Group's statement reads: "In view of the reaction to our bus advertising today we wish to set out our position:
"Firstly we have stated that our objectives have been to make catching the bus attractive to the younger generation.  We therefore developed an internal advertising campaign featuring males and females to hold boards to promote the cost of our daily tickets.
"The slogan of 'ride me all day for £3' whilst being a little tongue in cheek was in no way intended to cause offence to either men or women and, if the advert has done so then we apologise unreservedly.  There has certainly been no intention to objectify either men or women.
Ten of the most controversial adverts of all time
Ten of the most controversial adverts of all time
1/10 Agent Provocateur

Lingerie company Agent Provocateur is famed for its raunchy adverts, but this 2001 offering - voted best cinema ad of all time - gained particular notoriety due to its star - Kylie Minogue...Sexually gyrating on a mechanical bull in her lacy undies

Youtube/Agent Provocateur

2/10 Calvin Klein

This sultry Calvin Klein ad featuring Hollywood star Eva Mendes was quickly banned - the main issue being that there's a flash of Ms Mendes' nipple in the clip

Youtube/Calvin Klein

3/10 Renault

This racy Renault advert featuring Dita Von Teese and Thierry Henry was deemed to risqué for UK daytime TV after being first aired on ITV in 2011

Youtube/RenaultUKOfficial

4/10 VIP

An advert for VIP e-cigarette's triggered a number of complaints recently after the innuendo laced advert featured a young women suggestively asserting: 'I want you to get it out... put it in my mouth'

Youtube/vipcigarette

5/10 Ikea

Ikea's Tidy Up campaign, launched first in France in 2001 raised a few questions of taste - not least for a 30 second clip showing a child playing with a vibrator as if it were a toy rocket

Youtube/Ikea

6/10 Ford

Ford's ad for its SportKA made it to British TV in 2003 but was soon banned after numerous complaints from animal rights activists - it shows a pigeon being bashed by the car's bonnet

7/10 Skin Skin

This hilarious Argentinian condom ad shows a young man disguise the fact he has just whipped out a condom when his partner's father walks in by putting it in his mouth and blowing a bubble

Youtube

8/10 Ann Summers

Ann Summers' online only ad titled 'Flick Your Bean' showed a naked girl crawling along the floor...flicking a bean

Youtube/annsummersuk

9/10 Zazoo

Another condom advert, this time from Belgium, has been widely lauded as one of the most controversial of all time - it shows a young boy screaming in a supermarket because he wants some sweets, before bringing up the face of his disappointed father along with the words 'use condoms'

10/10 Volkswagen

Volkswagen attracted a storm of criticism in 2005 after an apparent ad for its Polo car appeared online. The clip shows a suicide bomber detonating outside a coffee shop, but the car stays in tact. It was soon revealed that the ad in fact had nothing to do with Volkswagen and was instead a spoof made by advertising creatives Lee Ford and Dan Brooks
"Given the volume of negativity received we have decided to remove the pictures from the back of the buses within the next twenty four hours."
NAT Group has yet to reply to a request for comment.