Charities and politicians are demanding urgent changes to housing policy across Britain and warning that thousands of homeless children's lives may be at risk because they are disappearing from support services after being rehoused. 
The calls come after an investigation by The Independent uncovered cases of homeless children dying from neglect and abuse after families were moved out of their local authority boundaries. Other evidence in the report suggested that the transfer of homeless families to other parts of the country could have resulted in suicides and miscarriages.
Councils are shunting homeless families out of their local areas on an unprecedented scale to save money on accommodation, as the legacy of the housing crisis and the the Government's cuts to welfare are felt, but they are frequently neglecting to share records with each other, meaning thousands of vulnerable women and children are completely off the radar of support services. 
Figures obtained exclusively by The Independent show that at least 64,704 homeless families were moved out by London boroughs between July 2011 and June 2015, with more recent data yet to be collated.
The Independent's research suggests at least one third of families are moved without information being shared with the receiving council, though it is not known how high that figure could potentially be. Councils are legally obliged to send notification under Section 208 of the Housing Act 1996. 
Housing and children's charities are now calling for an urgent review of the practice. Barnardo's chief executive Javed Khan told The Independent:  "Children's lives can be put at risk if homeless families fall off the radar of authorities."
"[Councils must] share information more effectively to stop that happening". 
Shelter's chief executive Campbell Robb said that out-of-area moves are "far too common and can have a disastrous effect on health and wellbeing" but that one problem is the Government not giving councils "realistic budgets to find accommodation locally".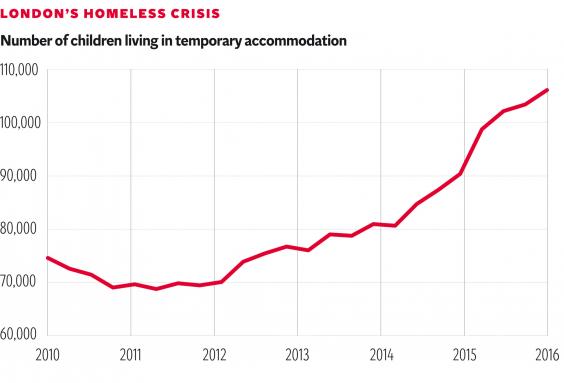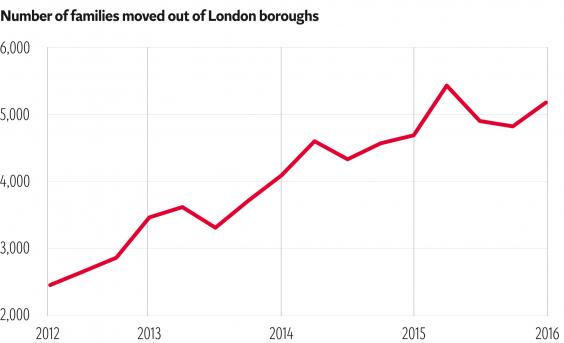 Mr Robb also said: "The modest proposals in the Budget to tackle homelessness are simply inadequate given the scale of this problem, and will not reach the thousands of homeless families hidden away in cramped B&Bs and dingy hostel rooms."
The Coalition Government cut housing benefit rates by 40 per cent, reducing the amount of housing available to councils and forcing them to look further afield for accommodation for their residents. Councils have responded by moving more and more homeless families out of the area in a desperate search for cheaper rents. 
The National Society for the Prevention of Cruelty to Children (NSPCC) is calling for an "urgent review" of out-of-area homeless placements, warning of a "lifelong legacy" of problems for families. Evidence in the report suggested that the transfer of homeless families to other parts of the country could have resulted in suicides and miscarriages, as well as neglect. 
Exactly one year ago, on 2 April 2015, the Supreme Court ruled that routinely moving homeless families out of area is unlawful, and numerous cases in senior courts have reiterated councils' duty to notify each other when they move families, many of which are extremely vulnerable. But several legal experts told The Independent that this judgement is being completely ignored. 
London Councils, the representative body for London's 32 boroughs (from which around 90 per cent of out-of-area moves take place), refused to comment specifically on the problems with information sharing uncovered by The Independent. London Councils, The Independent understands, has been aware of issues for a decade, but problems were still being raised in reports and serious case reviews as recently as December last year. 
Affordable housing: New social butterflies
Affordable housing: New social butterflies
1/4

All lit up: an artist's impression of Time House in south London

2/4

Low profile: the Angell Town houses in Brixton, south London, reinterpret 19th-century terraces and villas and replaced a 1970s tower-block estate

3/4

Thrusting concern: Abbotts Wharf in east London, built by "a socially conscious developer", Jestico & Whiles, has 201 units lining the Limehouse Cut Canal, with a café and cycle paths

4/4

Mirror effect: the Selwyn Street development in Oldham recalls traditional nearby terraces. A park has been built on formerly derelict space
A London Councils spokesperson said that the current information sharing database, called Notify, is "presently under review and the outcome of that review has not been decided". 
Sadiq Khan, Labour's candidate for Mayor of London, said he was "shocked at what The Independent has uncovered in this investigation" and that the practice "is tantamount to social cleansing". 
"Either the current Government, with the deep cuts they're imposing on local authorities, don't care or, worse still, are happy to sit by and let it [social cleansing] happen," he said. "What we need is nothing short of a complete overhaul of housing policy in London."
Tim Farron, the Liberal Democrat leader, told The Independent: "We're really starting to see the dangerous impact a Tory-only government is having on our country, and the chances young children have to succeed.
"The Chancellor is blinkered to the impact his policies are having on families who are struggling to get by.
"Enough is enough. It is time Cameron and Osborne realised that their dogmatic approach to welfare, housing and our vital public services will have a damaging and long lasting effect on children in Britain. Instead of improving life chances, Osborne is treating the poorest families in Britain as an afterthought."
Dave Hill, president of The Association of Directors of Children's Services (ADCS), said: "The importance of close liaison and good communications between local authorities is particularly pressing where there are vulnerable children or safeguarding concerns, but we also have a role to play in finding school places and helping families access childcare."
The ADCS would not comment on whether it is already aware of an issue with information sharing for out of area homeless placements. 
The Department for Communities and Local Government (DCLG) declined to comment on The Independent's investigation and would not confirm or deny that policy is being reviewed, but admitted "we know more must be done on homelessness" and said it is "considering all options, including legislation, to prevent more people becoming homeless in the first place".
Reuse content