The six-year British inquiry into the 2003 Iraq invasion and its aftermath, which completed its last hearing in February 2011 with the promise to report back in "some months", will now not be published before the general election in what has been called a "betrayal of the British public".
The chairman of the Iraq Inquiry, Sir John Chilcot, is expected to set out his reasons for the further delay in an exchange of letters with David Cameron on Wednesday, government sources said.
The inquiry was set up in 2009 by the Prime Minister at the time, Gordon Brown, and took public evidence from its last witness in 2011.
The former minister Norman Baker, who has led calls for it to be published, told The Independent: "This is a shocking development. It is a betrayal of the British public who are entitled to see this report before the election. It is now six years since Sir John started and he finished taking evidence a long time ago. You have to ask what are the reasons for this delay."
The former shadow Home Secretary, David Davis, said: "Frankly this isn't good enough … It is incomprehensible as to why this is being delayed. We need to know why."
Much of the most recent delay was understood to be down to protracted disagreements between Whitehall and the US State Department over declassifying communications between George W Bush and Tony Blair before, during and after the Iraq war. But at the start of this year the Government admitted that talks over the publication of the gist of those conversations were now complete.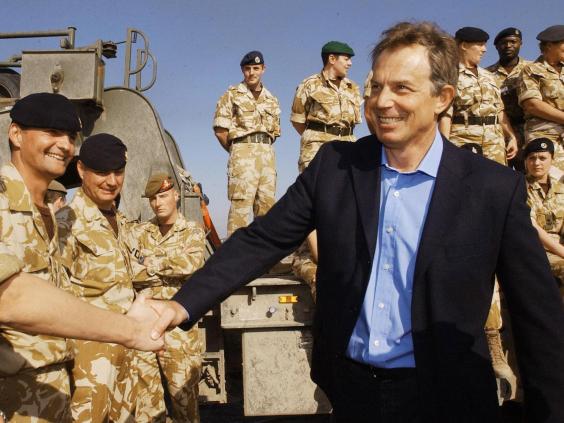 It is understood the publication date of the inquiry was discussed by the UK and American delegations when Mr Cameron met Barack Obama at the White House last week. But the threat of a Commons vote will have added urgency to the issue.
Earlier this month Lord Hurd of Westwell – who was Conservative Foreign Secretary from 1989-95 – said the delay has gone beyond "questions of mere negligence" and was now a "scandal" with dangerous implications.
Mr Blair has insisted he is not the culprit behind the delay in publication; his allies have suggested the blame lies with the Civil Service and sensitivities about the relations between the UK and US intelligence agencies.
Tony Blair: A career of controversies
Tony Blair: A career of controversies
1/11 The Tony Blair 'selfie'.. A journalist takes a picture of Kennard Phillips 'Photo Op', depicting Prime Minister Tony Blair taking a 'selfie' in front of an explosion in Iraq, during a press viewing of the exhibition Catalyst: Contemporary Art and War

2/11 Protesters pictured outside the QEII Conference centre in London in 2011 as former British PM Tony Blair give his evidence in the Chilcot Iraq Inquiry

3/11 David Lawley-Wakelin, who disrupted Tony Blair's testimony at the Leveson Inquiry by bursting into the court

4/11 Blair giving evidence

5/11 Tony Blair visiting troops in Iraq in 2007

6/11 Blair meeting with troops in Basra, Iraq in 2003

7/11 Britain's Prime Minister Tony Blair speaks to British soldiers at Divisional Headquaters in Basra, May 2007

8/11 British Prime Minister Tony Blair eats dinner with British troops in Basra, Iraq, 21 December, 2004

9/11 Syrian president Bashar El Assad during his official visit to the United Kingdom in 2002. Mr Blair tried to engage Mr Garcia in a conversation about Syria. The former Prime Minister made clear he was very much in favour of military intervention last summer.

10/11 Syrian president Bashar El Assad and wife Asma during their official visit to the United Kingdom in 2002. Mr Blair tried to engage Mr Garcia in a conversation about Syria

11/11 Former Prime Minister Tony Blair's signature adorns a program he signed for an Iraq veteran during a reception at the Guildhall in London following the service of commemoration at St Paul's Cathedral honouring UK military and civilian personnel who served in Iraq
Mr Cameron has said he has no control over when the Chilcot report will appear after previously urging the inquiry to publish before Christmas. The report is understood to be over a million words long and will contain details of discussions of more than 200 cabinet meetings.
Today the US attorney Nancy Hollander joined the voices from across the Atlantic calling on the British people to "continue to advocate" for its publication.
Reuse content